In Victory for Online Free Speech, Supreme Court Upholds Block on Internet Censorship Law
June 29, 2004 12:00 am
---
---
Justices Call Criminal Restrictions on Speech "A Repressive Force in the Lives and Thoughts of a Free People"
FOR IMMEDIATE RELEASE
NEW YORK – Recognizing the severe consequences of criminalizing online free speech, the Supreme Court today upheld a ban on yet another government attempt to censor the Internet, saying that content-based prohibitions of speech "have the constant potential to be a repressive force in the lives and thoughts of a free people."
At issue was the Child Online Protection Act, which imposed draconian criminal sanctions, with penalties of up to $50,000 per day and up to six months imprisonment, for online material acknowledged as valuable for adults but judged "harmful to minors."
"Today's ruling from the Court demonstrates that there are many less restrictive ways to protect children without sacrificing communication intended for adults," said ACLU Associate Legal Director Ann Beeson, who argued the case before the Justices last March and earlier in 2001.
"By preventing Attorney General Ashcroft from enforcing this questionable federal law, the Court has made it safe for artists, sex educators, and web publishers to communicate with adults about sexuality without risking jail time."
The speech that was criminalized under the law included sexual advice and education, web-based chat rooms and discussion boards involving sexual topics, and websites for bookstores, art galleries and the news media.
The Court first blocked enforcement of the Child Online Protection Act in 2001 in response to an ACLU challenge, but sent the case back for further review. Today's 5-4 ruling affirms a second appeals court decision rejecting the law.
In ruling against the law today, the Court noted that there are a number of less restrictive methods that are "likely more effective" than the law in protecting minors without affecting adults.
Internet filters "impose selective restrictions on speech at the receiving end, not universal restrictions at the source," Justice Anthony Kennedy said in his majority opinion. "Above all," he wrote, "promoting the use of filters does not condemn as criminal any category of speech, and so the potential chilling effect is eliminated, or at least much diminished."
That conclusion came as a great relief to the ACLU's clients, including Dr. Mitch Tepper, whose website, http://www.sexualhealth.com, provides sex information for people with disabilities, including articles such as "Sex Toys and Where to Purchase Them," and "Hands-Free Whoopie."
"I am relieved that I no longer have to worry that Attorney General Ashcroft may come knocking at my door because someone may consider my website 'harmful to minors,'" Dr. Tepper said. "This law restricted words as well as images, and it included websites like mine that provide sexual advice and education."
As a result of today's ruling, the government could return to the lower court for a full trial.
"We urge John Ashcroft to stop wasting taxpayer dollars in defending this unconstitutional law," Beeson said. "If he insists on going back to trial, we are confident that the lower court will again find that the law went too far. As the Supreme Court today pointed out, there are even more ways today to protect children online than existed when Congress passed this law," she added.
COPA represents Congress' second attempt to impose severe criminal and civil sanctions on the display of protected, non-obscene speech on the Internet. A first attempt, the Communications Decency Act of 1996, was declared unconstitutional by all nine justice of the Supreme Court in Reno v. ACLU.
In 2002, the Supreme Court upheld a law requiring public libraries throughout the country to install blocking software on their computers to censor sexually explicit speech as a condition of federal funding.
Briefs supporting the ACLU challenge in Ashcroft v. ACLU (03-218) were filed by a broad range of mainstream media and arts organizations, including the Association of American Publishers, American Society of Newspaper Editors, the Recording Industry Association of America and Volunteer Lawyers for the Arts.
An ACLU feature on the case is online at /node/23705
Stay Informed
Every month, you'll receive regular roundups of the most important civil rights and civil liberties developments. Remember: a well-informed citizenry is the best defense against tyranny.
By completing this form, I agree to receive occasional emails per the terms of the ACLU's privacy policy.
The Latest in Privacy & Technology
ACLU's Vision
The American Civil Liberties Union is a nonprofit organization whose mission is to defend and preserve the individual rights and liberties guaranteed to every person in this country by the Constitution and laws of the United States of America.
Learn More About Privacy & Technology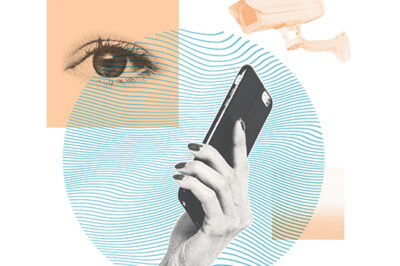 The ACLU works to expand the right to privacy, increase the control individuals have over their personal information, and ensure civil liberties are enhanced rather than compromised by technological innovation.