FOR IMMEDIATE RELEASE
Contact: media@aclu.org [2]
Police Forced Artist to Cover Classical Image of Nude 'Eve'
DALLAS-The American Civil Liberties Union of Texas today announced that it has filed a lawsuit against the city of Pilot Point and its police department, charging that police officers violated an art gallery owner's freedom of expression by coercing him to remove a mural depicting the biblical story of Eve.
"It is unconstitutional for government officials to censor a work of art because it might offend a small group of people," said ACLU of Texas Executive Director Will Harrell. "It is also a misuse of resources to have our law enforcement officials act as art critics."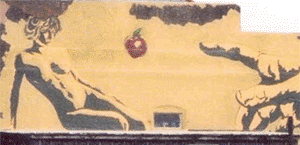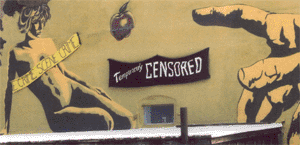 Above: Dwight Miller commissioned this mural for the exterior wall of his northern Texas art gallery. Below: Miller was forced to cover his mural after local police threatened to arrest him under a pornography statute.
Dwight Wesley Miller drew the attention of local police after displaying a mural depicting the creation of Eve on an exterior wall of his art gallery in the northern Texas town of Pilot Point. The mural borrows heavily from Michelangelo's "Creation of Adam" fresco in the Sistine Chapel, and in particular from a portion of the fresco that depicts God reaching out to touch Adam. At the far end of the mural sits a classical female nude, in a pose that is a variation of Adam in the Michelangelo creation scene. God's finger points at an apple, a traditional image of the forbidden fruit in the Garden of Eden, suspended between God and Eve.
Because Eve's breasts were bare in the mural, the Pilot Point Police Department repeatedly threatened, in writing, to prosecute Miller under a criminal statute aimed at those who would victimize children by selling or displaying to them hard-core pornography. In order to avoid the expense and embarrassment of being charged with such a sordid crime, Miller covered Eve's breasts with a "Crime Scene Banner" tape.
"The threats against Mr. Miller by law enforcement were baseless and wholly inappropriate," Harrell said. "The Farmers and Merchants Gallery mural is no more pornographic than the Sistine Chapel or countless other works of art portraying classical nude figures."
The ACLU said that the U.S. Supreme Court has repeatedly ruled that simple representations of nudity are a constitutionally protected form of artistic expression. The Court has also declared that the First Amendment bars government officials from censoring works that some people might find offensive or morally improper.
The lawsuit, Miller v. City of Pilot Point, was filed on January 6 in U.S. District Court for the Eastern District of Texas. Attorneys for Miller are Michael D. Napoli and Frederick Linton Medlin of Dallas law firm Kirkpatrick & Lockhart Nicholson Graham LLP.
For a copy of the complaint, go to: /node/34996 [3].