UPDATE: On July 9, 2013 the ACLU and ACLU of North Carolina Legal Foundation submitted a request asking North Carolina Attorney General Roy Cooper to agree to allow an additional claim challenging the state's ban on marriage for same sex couples to be added to Fisher-Borne v. Smith. The ACLU is now pursuing three new federal marriage cases – in Pennsylvania, North Carolina, and Virginia. These cases are a piece of our post-DOMA, post-Prop 8 plan for winning the freedom to marry nationwide. Learn more: https://www.aclu.org/out-freedom

In North Carolina, six pairs of loving lesbian and gay parents are fighting for what every
parent wants: safety and security for their children.

Meet two of those families.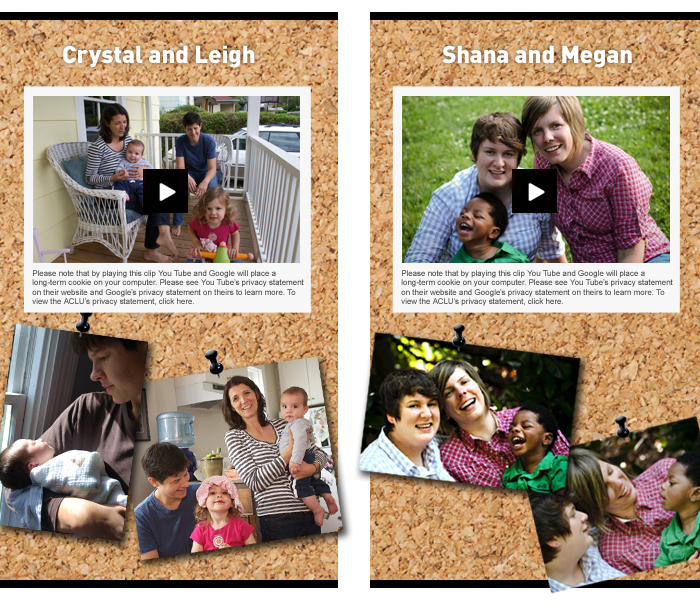 THE ISSUE:

A second-parent adoption occurs when one partner in an unmarried couple adopts the other partner's biological or adoptive child; this can occur in both gay and straight relationships. The ACLU is challenging the ban on second parent adoption in North Carolina on behalf of six families. Each family consists of a child or children being raised by two gay or lesbian parents who are in committed, long-term relationships with each other. In each of these loving families, the child has a legally recognized relationship with only one parent (either through birth or adoption), although, in reality, the child is being raised by both parents.

Children denied a legally recognized, second parent are left vulnerable. They may not be covered by their non-legal parent's health insurance plan; or if the child is sick or injured, hospital staff may prevent the non-legal parent from visiting the child in the hospital or from consenting to needed medical care. In some cases, a child may be ripped from the only home he or she has ever known if one legal parent dies.

Adoption decisions, including second-parent adoption, should be made on a case-by-case basis, based on what's in the best interest of the child. This case is about ensuring that all parents can protect their families. We can all agree that children are better off when they grow up in secure and loving homes. When it comes to second-parent adoption, the only question is whether these children will have two legal parents who can protect and care for them.

 

RESOURCES:

An Ally's Guide to Talking About Adoption by LGBT Parents »

Finding Children Forever Homes: LGBT Foster and Adoptive Families »

States Where Same-Sex Couples Are Able to Get Joint or Second Parent Adoption »

States Where Same-Sex Couples Are Barred From Getting Joint and/or Second Parent Adoptions Statewide »

Support Parents Who Seek to Protect Their Children Through Second Parent Adoption »