Bio
"This is who I am, and it's frustrating to know that a place I've lived all my life is treating me like they don't want me here. Having access to care means I'm able to be myself, and be healthier and more confident – physically and mentally. The thought of having that wrenched away and going back to how I was before is devastating." – Dylan
Dylan, who is 17, lives with his mom, Joanna, and his younger brother in a small town of 10,000 people where Joanna owns a boutique she has been running for two years.
When Dylan finished seventh grade, he told his mom he is a boy in a note he made his brother give to her. While Joanna was initially surprised, she looked back on his life and realized that it made sense. Dylan had "rejected all things feminine" from the moment he could make decisions about his life. And he had also been experiencing depression as well as anxiety in social situations. Dylan has now been on testosterone for over two years, which has been transformative for him. He's now a happy, confident kid.
Dylan has been attending school virtually since January 2020, when Joanna took him out of school because he was being bullied for being transgender. He plans to return to school in person this fall, where he enjoys his psychology class.
If HB 1570 takes effect, Dylan would lose the medical care he has been relying on for a better part of year and which he needs to sustain his health and well-being. The family is considering leaving the state if HB 1570 takes effect.
---
Featured work
Jun 8, 2023
Let Trans Kids Speak for Themselves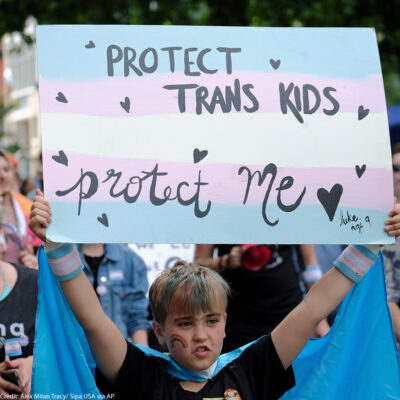 Let Trans Kids Speak for Themselves