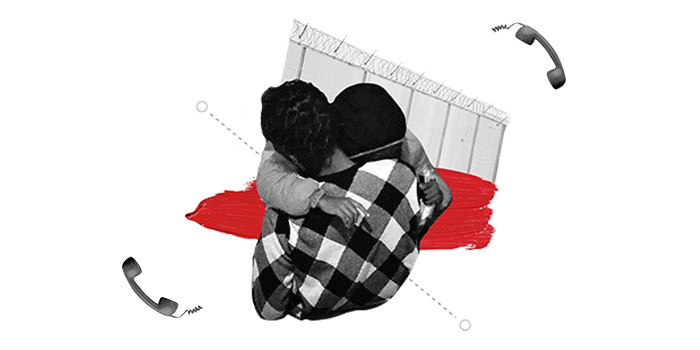 Castro v. Department of Homeland Security
Last Update:
April 17, 2017
What's at Stake
The ACLU filed habeas petitions on behalf of more than two dozen families who fled horrific violence and persecution in Central America and whose applications for asylum in the United States were denied after a cursory expedited review.
Summary
The government is arguing that these families have no recourse to U.S. courts even if, as in their cases, the process that led the government to try to deport them was flawed and the decision is incorrect. As stated in the petitioners' brief, "[t]here has never been a time in this country when noncitizens on U.S. soil have not been able to challenge the legality of their removal."
The petitioners in this case include:
A mother and her 2-year-old daughter from El Salvador who fled to escape severe physical abuse at the hands of the mother's ex-partner (her daughter's father), who raped the mother and threatened to kill her.
A mother and her 7-year-old son who fled Honduras to escape from a gang leader who threatened to kill the mother and abduct her son if she continued to resist his sexual advances.
A mother and her 7-year-old son who fled El Salvador to escape from death threats from a deadly gang against whom the mother's partner (and son's father) cooperated with local police.
These families were ordered deported after a brief interview with a government officer that was seriously flawed. These mothers and children never even had a full opportunity to present their claim to an immigration judge, yet the government seeks to return them to the persecution from which they fled.
The government's position — that families cannot challenge their deportation in U.S. courts — would upend centuries of law recognizing that individuals on U.S. soil may challenge the validity of their deportation orders. It would also give the government unfettered authority to ignore Congress' goal of ensuring that bona fide asylum-seekers are provided a full hearing on their asylum claims and ultimately receive protection in the U.S. if they prevail at the hearing. Absent judicial review in cases like these, the government could deport hundreds of families who are entitled to asylum to abuse, rape, and death in their home counties.
The petitions filed on behalf of each family charge the government with violating their rights under the Due Process Clause of the U.S. Constitution, the Immigration and Nationality Act, the Foreign Affairs Reform and Restructuring Act of 1998, the United Nations Convention Against Torture, the Administrative Procedure Act, and the implementing regulations of these statutes.
These families were detained at a detention center in Berks County, Pennsylvania. Nineteen of these families remain detained, some of whom have been held in detention for more than eight months.
Their petitions were filed in the Eastern District of Pennsylvania and were consolidated to allow for consideration of the threshold question of whether federal courts have jurisdiction to review the petitioners' claims.
The district court concluded that it lacked jurisdiction and that decision was appealed to the U.S. Court of Appeals for the Third Circuit, which is currently considering these claims on expedited basis. The government refused to stay its removal during the pendency of proceedings before the Third Circuit, but the Third Circuit rejected the government's arguments in opposition to a stay and ordered that their removal be stayed pending resolution of the appeal.
TIMELINE: First habeas cases filed in November 2015. District court ruling in February 2015. Federal appeals court heard arguments on May 19, 2016. Federal appeals court ruling in August 2016. Federal appeals court denied petition for rehearing en banc in October 2016. Cert petition filed in the Supreme Court in December 2016. Cert petition denied in April 2017.
Support our on-going litigation and work in the courts
Donate now
Learn More About the Issues in This Case