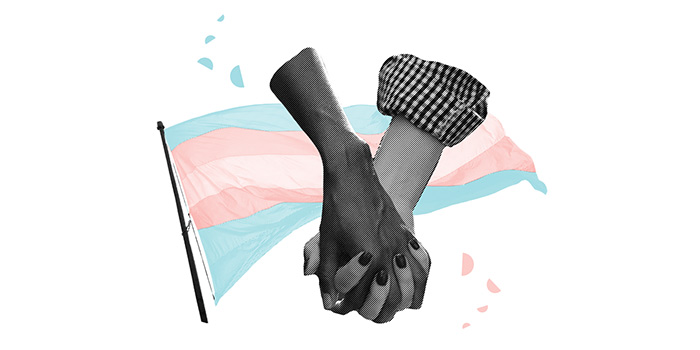 K.C. v. Medical Licensing Board of Indiana
Last Update:
November 27, 2023
What's at Stake
Four Hoosier families, joined by medical providers, are challenging an Indiana law passed in April 2023 barring access to gender-affirming care for transgender youth. Indiana is home to over 4,000 transgender adolescents and the health care targeted by this law is supported by the entire mainstream of the medical community.
Summary
In April 2023, Indiana passed SB 480 into law, prohibiting health care professionals from providing or even referring transgender people under 18 for gender-affirming health care. This care is broadly supported by medical organizations and laws like SB 480 are opposed by the American Medical Association, the American Psychological Association, and the American Academy of Pediatrics.
On April 5, 2023, the ACLU and the ACLU of Indiana filed a lawsuit on behalf of four Hoosier families with transgender youth and Dr. Catherine Bast, medical director at Mosaic Health & Healing Arts. The plaintiff families will be denied the gender-affirming care their children are currently receiving, as well as future care, if Senate Bill 480 is allowed to take effect on July 1, 2023.
The lawsuit, first filed in U.S. District Court in the Southern District of Indiana, alleges that Senate Bill 480 violates the U.S. Constitution on multiple fronts, including the Equal Protection Clause of the Fourteenth Amendment. In addition, the lawsuit claims that the law violates the federal requirements of the Medicaid Act and the Affordable Care Act, because it prohibits essential medical services that would otherwise be authorized and reimbursed by Medicaid.
Two of the parent-plaintiffs, Beth and Nathanial Clawson, note that their plaintiff daughter, currently 10 years old, is fearful about what will happen to her if she cannot get gender-affirming medical care when puberty begins.
"Starting around the age of two years old, our daughter began telling us who she is," said Beth Clawson. "When she was three-and-a-half years old, after researching gender dysphoria and consulting with both her therapist and pediatrician, she socially transitioned. That means we started using she/her pronouns and letting her dress as a girl. That was seven years ago, and she hasn't wavered at all in knowing who she is."
"As her parents, the most important thing to us is that she knows that we love her, trust her, and will do whatever it takes to ensure that she has every opportunity to grow and develop as her true self regardless of her gender identity," added Nathaniel Clawson. "Laws that ban her ability to access gender-affirming care take that opportunity away from her."
UPDATE: On July 11, 2023, Defendants filed a Notice of Appeal to the U.S. Court of Appeals for the Seventh Circuit. The District Court's June 16, 2023 Preliminary Injunction remains in effect.
Legal Documents
10/18/2023


Reply for Defendants-Appellants

Reply for Defendants-Appellants

Date Filed: 10/18/2023

Court: Appeals Court (7th Cir.)

Affiliate: Indiana

Download Document

09/26/2023




Amicus Briefs in Support of Plaintiffs-Appellees

Amicus Brief of American Academy of Pediatrics et al.

Date Filed: 09/26/2023

Court: Appeals Court (7th Cir.)

Affiliate: Indiana

Download Document

Amicus Brief of State of California et al.

Date Filed: 09/27/2023

Court: Appeals Court (7th Cir.)

Affiliate: Indiana

Download Document

Amicus Brief of 81 Local Governments and Local Government Officials

Date Filed: 09/27/2023

Court: Appeals Court (7th Cir.)

Affiliate: Indiana

Download Document

Amicus Brief of Biomedical Ethics and Public Health Scholars

Date Filed: 09/27/2023

Court: Appeals Court (7th Cir.)

Affiliate: Indiana

Download Document

Amicus Brief of the United States

Date Filed: 09/27/2023

Court: Appeals Court (7th Cir.)

Affiliate: Indiana

Download Document

Amicus Brief of Foreign Non-Profit Organizations

Date Filed: 09/27/2023

Court: Appeals Court (7th Cir.)

Affiliate: Indiana

Download Document

Amicus Brief of Good Trouble Coalition Indiana, Inc.

Date Filed: 09/27/2023

Court: Appeals Court (7th Cir.)

Affiliate: Indiana

Download Document

Amicus Brief of Elliot Page et al.

Date Filed: 09/27/2023

Court: Appeals Court (7th Cir.)

Affiliate: Indiana

Download Document

Amicus Brief of GLBTQ Advocates & Defenders et al.

Date Filed: 09/27/2023

Court: Appeals Court (7th Cir.)

Affiliate: Indiana

Download Document

Amicus Brief of Conservative Legislators, Former Legislators, and Activists

Date Filed: 09/27/2023

Court: Appeals Court (7th Cir.)

Affiliate: Indiana

Download Document

09/20/2023


Brief of Appellees

Brief of Appellees

Date Filed: 09/20/2023

Court: Appeals Court (7th Cir.)

Affiliate: Indiana

Download Document

08/25/2023




Amicus Briefs in Support of Defendants-Appellants

Amicus Brief of Family Research Council

Date Filed: 08/25/2023

Court: Appeals Court (7th Cir.)

Affiliate: Indiana

Download Document

Amicus Brief of Alabama et al.

Date Filed: 08/28/2023

Court: Appeals Court (7th Cir.)

Affiliate: Indiana

Download Document

Amicus Brief of Alliance Defending Freedom

Date Filed: 08/28/2023

Court: Appeals Court (7th Cir.)

Affiliate: Indiana

Download Document

08/21/2023


Opening Brief of Appellants

Opening Brief of Appellants

Date Filed: 08/21/2023

Court: Appeals Court (7th Cir.)

Affiliate: Indiana

Download Document
07/11/2023


Notice of Appeal

Notice of Appeal

Date Filed: 07/11/2023

Court: District Court (S.D. Ind.)

Affiliate: Indiana

Download Document

Order Granting in Part Plaintiffs' Motion for Preliminary Injunction

Date Filed: 06/16/2023

Court: District Court (S.D. Ind.)

Affiliate: Indiana

Download Document

06/01/2023


Stipulation of Facts

Stipulation of Facts

Date Filed: 06/01/2023

Court: District Court (S.D. Ind.)

Affiliate: Indiana

Download Document

04/06/2023




Motion for Class Certification

Plaintiffs' Motion for Class Certification

Date Filed: 04/06/2023

Court: District Court (S.D. Ind.)

Affiliate: Indiana

Download Document

Plaintiffs' Memorandum in Support of Motion for Class Certification

Date Filed: 04/21/2023

Court: District Court (S.D. Ind.)

Affiliate: Indiana

Download Document

04/06/2023




Motion for Preliminary Injunction

Plaintiffs' Motion for Preliminary Injunction

Date Filed: 04/06/2023

Court: District Court (S.D. Ind.)

Affiliate: Indiana

Download Document

Plaintiffs' Memorandum in Support of Motion for Preliminary Injunction

Date Filed: 04/21/2023

Court: District Court (S.D. Ind.)

Affiliate: Indiana

Download Document

Defendants' Memorandum in Opposition to Plaintiffs' Motion for Preliminary Injunction

Date Filed: 06/02/2023

Court: District Court (S.D. Ind.)

Affiliate: Indiana

Download Document

Plaintiffs' Reply Memorandum in Support of Motion for Preliminary Injunction

Date Filed: 06/12/2023

Court: District Court (S.D. Ind.)

Affiliate: Indiana

Download Document

04/05/2023


Complaint

Complaint

Date Filed: 04/05/2023

Court: District Court (S.D. Ind.)

Affiliate: Indiana

Download Document
Support our on-going litigation and work in the courts
Donate now
Learn More About the Issues in This Case