After a day-long hearing yesterday in Atlanta, the Georgia State Board of Pardons of Paroles today denied clemency to Troy Anthony Davis, in the face of a million cries of #TooMuchDoubt. Troy is scheduled to be executed Wednesday September 21, at 7 p.m.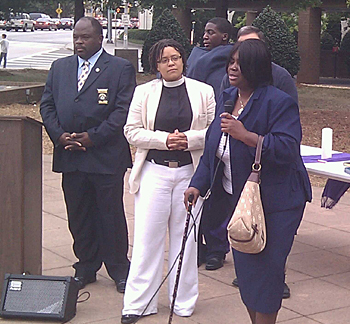 Kim Davis, Troy's sister, speaking on his behalf.
On the Friday before the hearing — the Global Day of Solidarity — more than 3,000 people marched in Atlanta calling for justice for Troy. Roughly 1 million people have contacted the parole board directly to urge clemency. We were all ignored.
During the hearing, I attended an all-day vigil outside the parole board with dozens of activists from around Georgia and the United States. At the top of every hour, the group stood together in a circle to pray. Eleven times we prayed for Troy Davis, his family, the family of Officer Marc MacPhail, and, most of all, the members of the Board of Pardons and Paroles. Clergy from a half-dozen different religious traditions and activists from all philosophical stripes came together with one simple message: executing Troy Davis is wrong.
Speakers during the vigil included NAACP President Ben Jealous, death penalty abolition director for Amnesty International Laura Moye, local activists, religious leaders, and friends and family of Troy Davis.
Calling for justice under the Georgia state capitol.
They spoke about the ongoing corruption of the Chatham County District Attorney's Office, which was responsible for many other suspect death sentences in which race and misconduct by law enforcement were the norm. They spoke about the injustice of the death penalty and the misuse of the state's power to take a life. But most of all they spoke about Troy's commitment to the truth and their conviction that we cannot stand by while his execution takes place.
The tenor of the vigil was hopeful, yet fearful and uncertain. No one knew when the Parole Board would issue its decision and the tension grew as the hours passed. The news came only this morning: the Board denied Troy's clemency.
In the face of the Board's decision, activists in Atlanta and Georgia are taking to the streets again. Organizers are asking supporters to wear black arm bands emblazoned with the words "Not in My Name."
Activists are in Stockbridge, Ga., calling on the doctors and nurses at CorrectHealth — the for-profit medical corporation that oversees all executions in Georgia — to call in sick tomorrow to delay the execution.
The Southern Center for Human Rights is calling for a general strike or sick-out of all execution personnel — doctors, nurses, and guards should stay home tomorrow. The protests will begin at 7 p.m. at the capitol building in Atlanta.
We have one more day to stop this execution, and we're not giving up. You should continue to take action from wherever you are:
Email and call the Board of Pardons and urge them to reconsider: 404-656-5651.
Contact the Chatham County District Attorney and urge him to withdraw Troy's death warrant: phone: 912-652-7308, fax: 912-652-7328.
Contact CorrectHealth and call for a general strike of all execution personnel – doctors, nurses, and guards should stay home tomorrow. Urge them not to participate in this travesty of justice: Phone: 770-692-4750; Fax: 770-692-4754
Keep following my tweets at @ACLU for live updates from Georgia, and remember to never be silent in the face of injustice.
Learn more about the death penalty: Sign up for breaking news alerts, follow us on Twitter, and like us on Facebook.