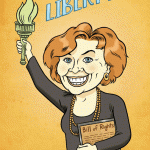 It is with the fondest of memories and some sadness that I leave the post of ACLU president. I'm deeply grateful for the privilege of having led the ACLU for almost 18 years, and I am extremely proud of the ACLU's work during my presidency.
I can't thank enough the Board members and staff from all over the country, and ACLU Executive Director Anthony Romero, for their tireless efforts in leading our country's most important civil liberties struggles. It has been an amazing journey working with them all. And, of course, none of that work would have been possible without the generous support of our incredibly loyal and engaged members and donors.
I take enormous pride in so many of the accomplishments that we have achieved together.
Over the years we have labored together to preserve and promote civil liberties on every major front, from defending free speech and privacy in the then-new Internet world of the early 1990's, to fighting against government secrecy, abuses of power, and human rights violations since September 11, 2001.
We have also greatly increased youth involvement in the defense of civil liberties. I am so moved by the many ACLU staff members from around the country who have told me that they were motivated to become involved with the ACLU when they heard me speak on their college campuses! Having been making the rounds of campuses for more than two decades now, I couldn't be more overjoyed that this investment has borne such excellent fruit! The impressive new generation of activists is an endless source of inspiration.
And we have dramatically expanded and increased the strength of the ACLU state affiliates, as well as increased integration of international human rights strategies into our traditional civil liberties mission.
I have always felt that one of the greatest strengths of our organization is that we neutrally defend all fundamental freedoms for all people, regardless of their ideology – and even if they themselves have opposed civil liberties. Given the breadth and non-partisan nature of our agenda, I have never met anyone who doesn't strongly agree with us on at least some important civil liberties issues. Of course, that also means that just about everybody disagrees with us on some important issues; indeed, you could hardly be a thoughtful civil libertarian and agree with every single one of the countless positions that the ACLU has taken throughout its long history! As an activist, I am a congenital optimist, so I prefer to emphasize the common ground that unites us civil libertarians with each other and everyone else.
This Saturday is an exciting day for all of us: a new ACLU president will be elected, bringing the fresh perspectives and ideas that are essential to the vitality of any organization. Today, there are two declared presidential candidates, both of whom I have known very well, and worked with very closely, for many years. Either one of them will make a superb president.
The transition in ACLU leadership takes place at a time of profound transition in our country. Our nation is about to elect a new president, and we have recently seen dramatic economic upheavals and government responses. While we can't forecast the outcomes of the elections, or what new developments will continue to change the world, we can confidently forecast that there will always be challenges to civil liberties requiring the ACLU's eternal vigilance.
That is why I am honored, even after stepping down from the ACLU presidency, to continue in my role as co-chair of the ACLU's Campaign for the Future: Leading Freedom Forward. The ACLU will always be on the front lines of the fight to protect and advance fundamental freedoms. I look forward to watching the new ACLU president partner with the ACLU's outstanding Executive Director, Anthony Romero, to lead that fight with vigor, integrity and passion.
Strossen's role as president of the ACLU will conclude at the end of the upcoming National Board meeting this Sunday. She will remain an active ACLU lay leader in other capacities, including as co-chair of the ACLU's Campaign for the Future. She also has been nominated to the ACLU's National Advisory Council. Strossen will continue in her "day job" as Professor of Law at New York Law School, where she works with NYLS's Justice Action Center.
Strossen's bio is available online at: www.aclu.org/about/staff/13278res20020211.html