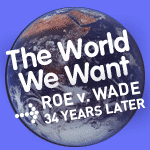 There's certainly a different buzz in Washington — both in the halls of Congress and in the reproductive rights community. It's hard not to be excited when you can point to a true blue pro-choice Speaker of the House, a Senate Majority Leader who cares about family planning, and any number of pro-choice committee chairs in both the House and Senate. These changes mean that we have the opportunity to make a real difference in women's reproductive lives. And, even better, we can now control the movement of the many extreme, anti-choice bills that drove us mad these past years. Elections matter! Voting matters!
Of course, it's not easy sailing from here on out. The anti-choice folks are still going to do what they can to impose their agenda and control women's reproductive lives. And expanding abortion rights isn't really high on the congressional agenda.
But, on this the 34th anniversary of Roe v. Wade, it's still a happier, brighter day for women!
To learn more about what's on the horizon for the new Congress check out the 2007 Federal Legislative update.