Back to

News & Commentary
People Power Activists Are Already Confronting the Powers That Be From Coast to Coast and Demanding Freedom Cities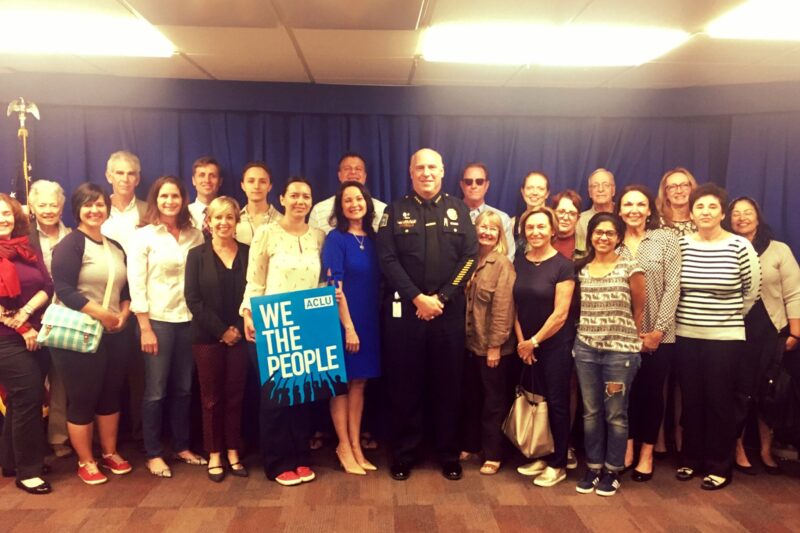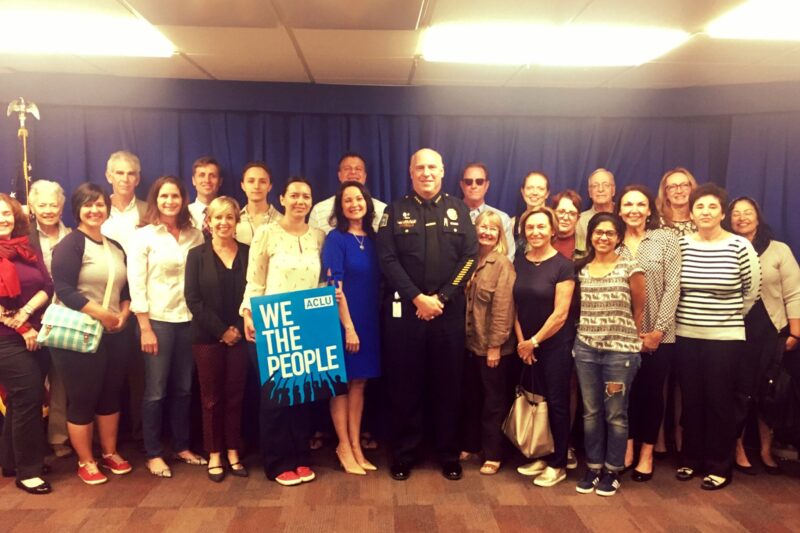 Three weeks ago, people from across the country tuned in on a Saturday night as the ACLU kicked off a new grassroots mobilization program called People Power, which laid out a new strategy and vision for resisting the Trump administration's worst abuses of our freedoms. We wanted people to do more than donate and march — we wanted them to organize in their communities, meet with local law enforcement officials, and change local policies to establish Freedom Cities where immigrants and Muslims would be better protected from the Trump administration's attempts to trample on civil liberties.
The response that night was incredible: #PeoplePower was the number one trending topic on Twitter across the nation. The event attracted more than one million views online, and Americans attended more than 2,300 events to begin forming activist groups in their communities.
That's what happened on March 11. Here's what's happened since. In the past three weeks, People Power activists have put another 800 events on the map and set nearly 200 meetings with law enforcement officials. That work is beginning to pay off.
Deep in the heart of rural Oregon where Trump won 64 percent of the vote, the Umatilla County sheriff was taken to task in a meeting with activists and pressed to address how his policies impact vulnerable immigrant communities.
In Maine's Sagadahoc County, People Power's local community held what they describe as a "lengthy discussion" with their sheriff and reported the county to be a Freedom City in line with all nine policies set by the ACLU. We are working with the team to verify these policies are clear and firmly established.
In New York, law enforcement officials in Lewisboro indicated support for the Freedom Cities platform after a packed meeting with community members, where activists presented a petition with hundreds of names.
In California, activists rallied in support of a bill that would protect immigrants across the entire state of California by ensuring state and local officials don't assist Trump's deportation agenda. The legislation has already won passage through the California Senate.
In Michigan, People Power activists were heavily involved with passing a pro-immigrant resolution through Ann Arbor's city council that spells out when city officials can and can't ask about someone's immigration status.
When the head of U.S. Immigration and Customs Enforcement, the government agency responsible for executing Donald Trump's vision for deportations, came to Sacramento, California, he was met with fierce resistance from hundreds of People Power protesters who told him: "Here in Sacramento, we support one another — we don't deport one another."
When U.S. Attorney General Jeff Sessions visited St. Louis, just days after essentially threatening to defund cities that protect immigrants, our People Power community raised their voices in protest.
But People Power activists have engaged on issues even beyond immigration. When Donald Trump held a rally in Nashville, more than 2,500 people in Tennessee met and held their own rally outside his event to protest the administration's policies. Further, hundreds of thousands of calls to congressional offices around the country made by ACLU activists, in conjunction with our allies at Indivisible, Planned Parenthood, MoveOn, and others helped bring down a health care reform bill that would have stripped away insurance from 24 million Americans, gutted Medicaid, and defunded Planned Parenthood.
Because President Trump presents the greatest threat to civil liberties in our lifetimes, every day seems to bring a new crisis. But it's worth pausing for a moment to acknowledge that not even a month since launching a new campaign to resist this administration, 200,000 people have joined our movement and given us much to celebrate. 60,000 people have signed up to attend events, including 2,400 this week alone.
We're having a major impact, and we've only just begun. Change is being created across the country even as this is being written. I'm so excited to stay in the trenches with all of you as we fight for the values we hold dear.