Back to

News & Commentary
When Black Mourners are Threatened with Official Violence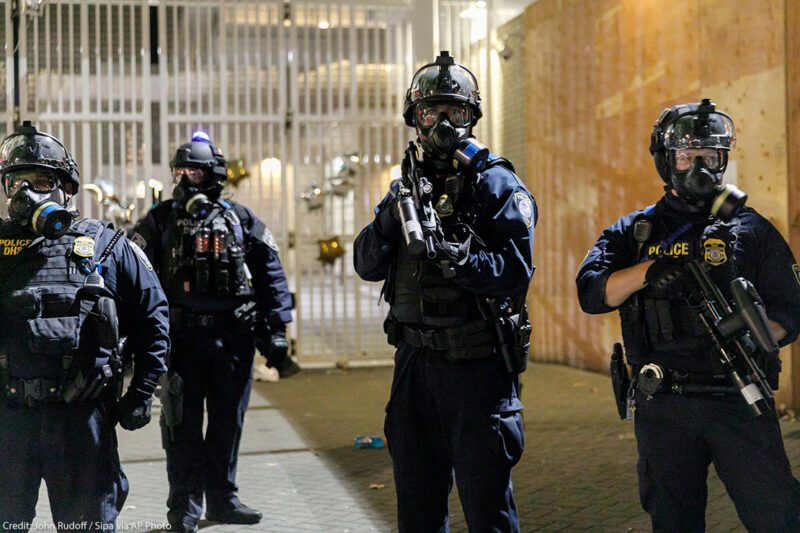 Police and federal agents were ordered to monitor George Floyd's burial and authorized to use "deadly force" if necessary. This racist, harmful role for policing is all the more reason for the need to fundamentally rethink the role of policing in American society.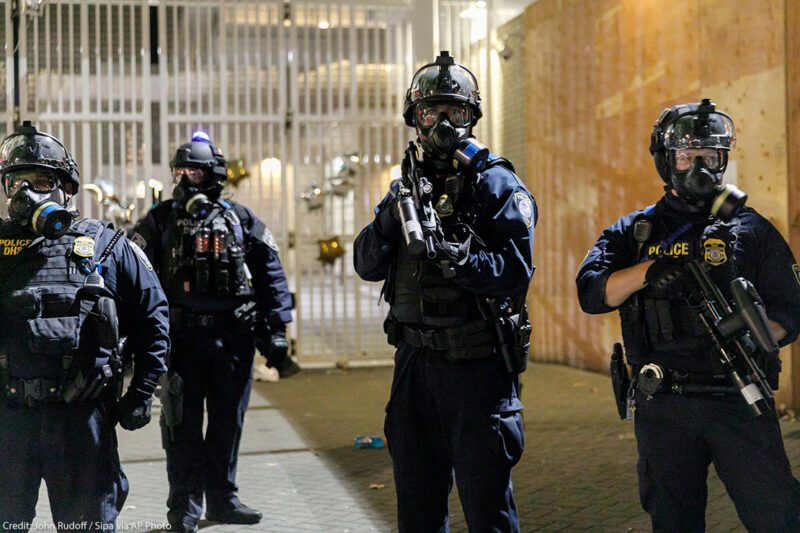 In early June, as people around the globe joined in massive protests against the police brutality and racism that killed him, George Floyd was laid to rest at the same Pearland, Texas cemetery where his mother is buried. Led by a horse-drawn carriage containing his body, George Floyd's grieving family and hundreds of supporters walked slowly from the church to the burial ceremony.
What they did not know is that on the rooftops above them, six teams of snipers were positioned to fire on the crowd of mourners. Manned surveillance aircraft and drones circled in the sky above. And hundreds of local and state police, federal agents including Border Patrol, and National Guard personnel were prepared to descend upon the mourners with extreme violence at even the slightest provocation.
All of this was revealed in police records that the ACLU of Texas obtained earlier this month. The records also show the federal tactical teams were authorized to get "geared up" and "ready to deploy" in view of the crowd in response to as little as "verbal aggressive language" against police officers or throwing empty water bottles. And their instructions permitted rapid escalation, including the use of gas munitions and even "use of deadly force anytime under Ch. 9 Texas Penal Code" against the mourners if the federal agents, police officers, or soldiers believed it necessary.
A Powerpoint briefing deck created in preparation for these deployments describes the "mission" of this multi-agency force as "provid[ing] security for Pearland Police Department, Dawson High School, and the surrounding area with officers stationed for a quick response to rioting and looting." The only apparent factual basis for these fears were social media posts and messages that a handful of Pearland residents shared with the police department, in many cases expressing their fears that the burial would lead to looting and other property damage.
There is a peculiar kind of racist imagination at play in these messages and the broader discourse on "looting": the notion that rather than paying their respects to the dead and watching in anguish as George Floyd is lowered into the ground, Black mourners will use the funeral and burial as a reason to fan out across a small Texas town and steal goods from its stores. In this warped framework, any gathering of Black people expressing sadness or anger is a threat to be surveilled, and something that must be neutralized if its participants show the smallest sign of organized resistance. This results in heavily armed police and federal agents being given full permission to wield violence, including deadly violence, against Black people even in times of grief. In this framework, no corner of Black life is free from the threat of police violence — including mourning the people whose lives were taken by that same violence.
This same racist, harmful role for policing — planning violence against Black people in order to deter real or imagined threats to white property ownership — dates back to slavery. Such white fears were common during slavery, because systems of white supremacy require force to maintain themselves. Indeed, the first municipally-funded police department in America was the Charleston City Watch and Guard, a specialized form of slave patrol that monitored Black social gatherings, shut down underground meetings, and sought to block enslaved Black people from organizing resistance to or escape from bondage.
After the end of the Civil War, slavery ended but the mission of police departments and local sheriffs did not change much. Across the former Confederacy, these agencies enforced the Black Codes: an arbitrary set of restrictions that made it hard for newly-freed Black people to organize politically or move to new places in search of better opportunities. Texas was no exception; the Texas Rangers in particular were widely known in the nineteenth century for extrajudicial killings of Mexican Americans and bounty hunting of Black people who escaped from slavery. Meanwhile, their investigation of a 1919 race riot focused less on the Ku Klux Klan than on civil rights groups that they blamed for inciting the riot (at the height of this riot, a mob of nearly 1,000 white people burned down multiple Black-owned houses and killed Black people without law enforcement intervening). It was more than a century after the end of the Civil War, in 1988, that a Black person was first appointed to join the Texas Rangers. And this was not confined to the South: Police in northern cities adopted similar racist practices as more Black people arrived as part of the Great Migration.
Targeting George Floyd's burial march with snipers and aerial surveillance fits all too comfortably into this history. Not only are the white fears the same, but the weapons and agencies being used to placate those fears and maintain white supremacy are the same. Now, they're just upgraded with 21st century technology and assisted by Customs and Border Protection (CBP), which has grown to become the country's largest federal law enforcement agency and claimed broad powers in communities across the nation.
As a result, George Floyd's family and community cannot even mourn his death at the hands of police without being surveilled by aircraft and drones, under the watch of snipers, federal tactical teams, and National Guard members ready to unleash tear gas and bullets on them at a moment's notice.
It would be both lazy and wrong to blame this on "bad apples." Multiple officials at the local, state, and federal levels approved this militarized and potentially lethal response to George Floyd's burial ceremony. This is about the rot at the core of American policing.
It is time for us to fundamentally rethink the role of policing in American society. While crime has been trending downward for decades and violent crime and property crime have fallen significantly since the early 1990s, over the past four decades, the cost of policing in the United States has almost tripled, resulting in further lethal violence and harm against Black communities. Until we address how white supremacy so easily uses policing as a weapon against Black communities, and until we concretely reduce the role, power, and responsibilities of the police in American life, Black mourners of the next victim of police violence will be forced to wonder whether a sniper on a nearby rooftop is awaiting orders to interrupt their mourning with yet more violence.
Learn More About the Issues on This Page