Back to

News & Commentary
"You Have the Right to an Attorney..." We All Know the Hollywood Version, But What's the Real Story?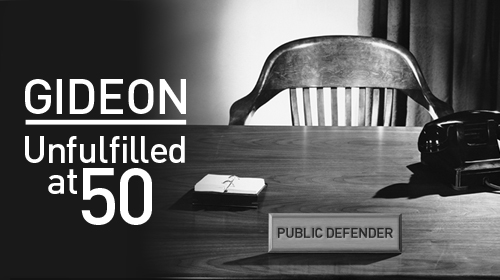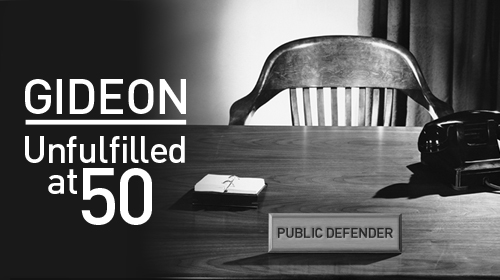 "You have the right to remain silent. You have to right to an attorney…If you cannot afford one, one will be provided for you at no cost to you…"
We all know this refrain, echoed time and time again by cops on TV and cops on our neighborhood streets. But is this promise actually fulfilled for those who cannot afford to hire a lawyer?
Until Gideon v. Wainwright guaranteed legal representation regardless of your ability to pay, dire poverty could unfairly stack the scales of justice against a poor person charged with a felony. This coming Monday will mark the 50th anniversary of Gideon, and we should take a moment to acknowledge our debt to Clarence Earl Gideon, whose handwritten petition to the Supreme Court resulted in this landmark decision holding that a poor person accused of a felony is entitled to counsel if he cannot afford his own lawyer.
https://youtu.be/HI8C2GaMJDQ
By playing the YouTube video above, YouTube will place a permanent cookie onto your computer.
But to truly pay tribute to Gideon's legacy, we should also be honest about the fact that too many people are still failing to get an adequate defense in 2013. Today, about 80% of criminal defendants nationwide cannot afford their own lawyer. Dedicated public defenders face a severe lack of funding and massive caseloads, and many describe having only minutes with their clients before entering the courtroom. With their liberty and their livelihoods on the line, poor people desperately need public defenders who are competent, zealously advocate for their clients, and are supported by adequate resources.
Our criminal justice system needs to do better. Over the next year, the ACLU will share stories that illustrate the state of indigent defense 50 years after Gideon. We hope that these real-world accounts will motivate us to examine how we can better fulfill our Constitutional duty to provide competent and well-resourced counsel for the poor.
Our first story, on Monday, will profile Benjamin Rush, Jr., a dedicated and severely overextended public defender from Memphis, Tennessee.
We all know the Hollywood version. Bookmark this page and check back throughout the year for the real story.
Learn more about criminal law reform and other civil liberty issues: Sign up for breaking news alerts, follow us on Twitter, and like us on Facebook.
Learn More About the Issues on This Page