Back to

News & Commentary
Judy Heumann's Legacy Lives On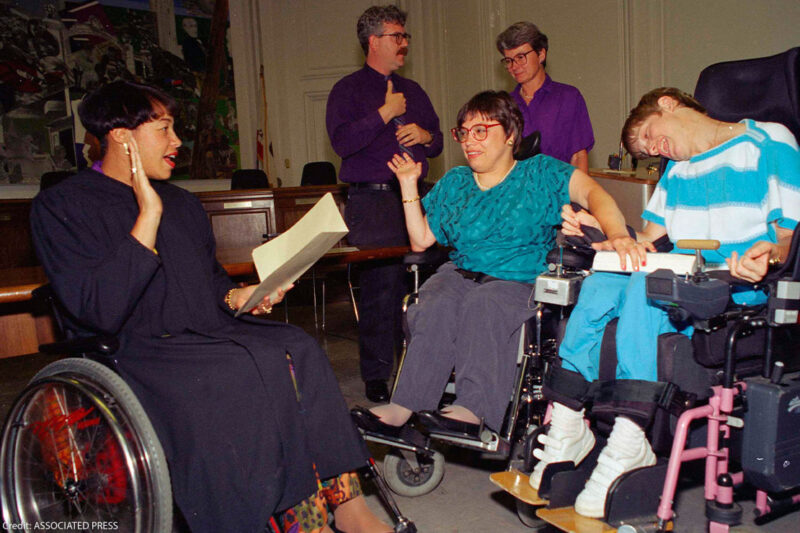 The disability rights pioneer passed away on March 4. Her work inspired a generation of activists.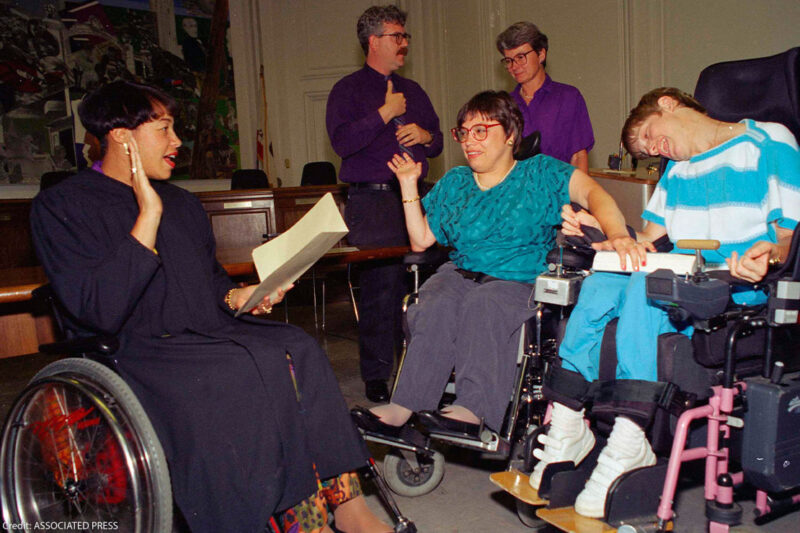 "I wanna see a feisty group of disabled people around the world…if you don't respect yourself and if you don't demand what you believe in for yourself, you're not gonna get it." – Judy Heumann
Judy Heumann, a civil rights titan who spent her life advocating and fighting for integration, accessibility, and dignity for people with disabilities, died on March 4. Her spirit and advocacy will live on in the generation of disabled activists she inspired and empowered to take up the mantle.
When Judy was born, the fight for civil rights didn't include people with disabilities. Disabled people faced rampant discrimination and segregation in American life. Disabled people experienced high rates of unemployment and were taught in separate schools. Changing these institutions wasn't just a calling for Judy, it was a necessity. At a young age, Judy learned that the world did not see her the way she saw herself, and she spent the rest of her life committed to changing that.
At 18 months old, Judy contracted polio that left her partially paralyzed and began using a wheelchair for mobility. In elementary school, the principal told Judy's parents that because of the wheelchair, she was a "fire hazard" and asked that she not return. It took her mother four long years of fighting to get Judy enrolled in school — even then she was made to take her classes in the basement with other disabled students, separate again from her non-disabled peers.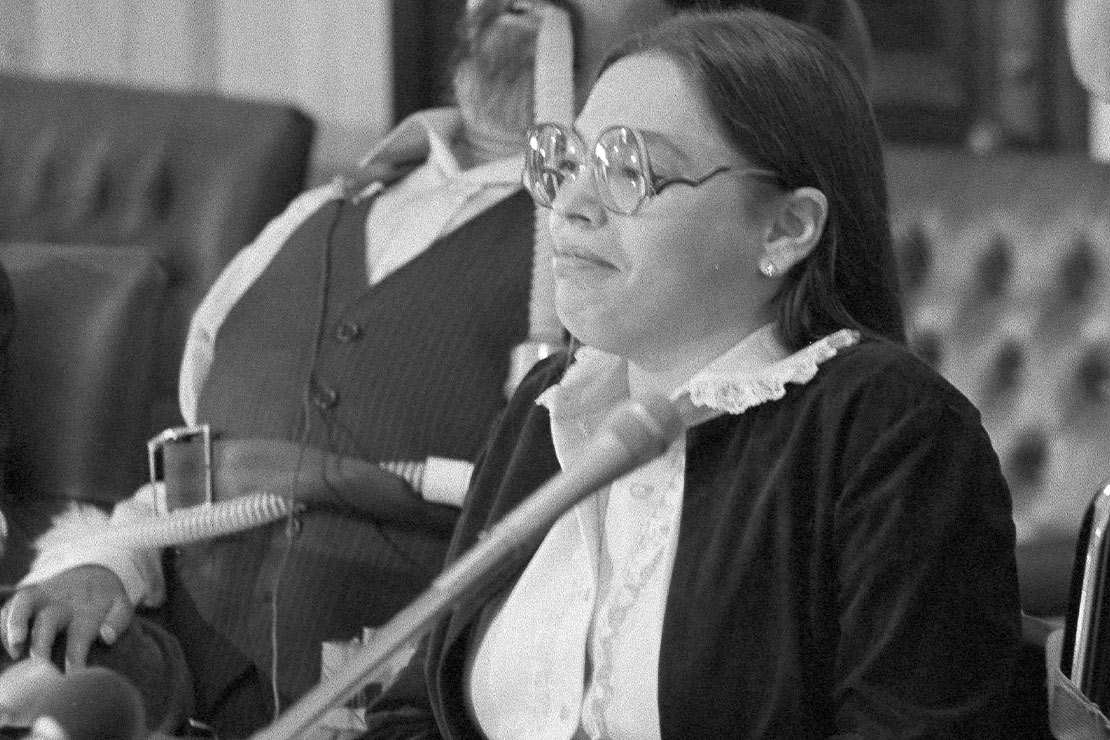 This wasn't uncommon at the time. People with disabilities were routinely separated from their peers until robust disability rights legislation was passed, due in no small part to Judy's advocacy.
When Judy graduated college and sought to teach in elementary schools, she was again turned away. Despite passing her written exam, Judy had "failed" the physical exam because it required her to walk to care for the students in the event of an emergency. This sounded both familiar and wrong. So Judy called up the ACLU for support to sue the city for discrimination. The ACLU denied her case, saying that what she was experiencing wasn't discrimination. (The ACLU has since formally apologized to Judy for our grave error. We also now have a Disability Rights Program at the ACLU).
Judy is often referred to as the mother of the disability rights movement, and for good reason.
That didn't stop Judy. She charged forward, suing New York City for discrimination. She won, becoming the city's first teacher in a wheelchair. She taught for three years and continued organizing for accessibility, eventually taking her fight to the national stage. It wasn't enough for her to fight for her own inclusion, Judy wanted change for everyone.
In 1973, Congress passed Section 504 of the Rehabilitation Act, which prohibits discrimination against people with disabilities in federally funded programs and services. After two vetoes from President Nixon, the act finally became law in 1973. But four years after it took effect, the law still had no "implementing regulations," making it useless — much to the ire of disability rights advocates like Judy.
After years of fruitless letter writing and pleas to lawmakers, Judy and other disability rights activists turned to grassroots mobilization, organizing protests throughout the country. In San Francisco, Judy, along with about 100 people with disabilities, occupied the Department of Health, Education, and Welfare's building. The U.S. government kept asking for compromise. The protestors refused. Days turned into weeks. U.S. government officials cut off phone lines and water. In response, the disabled protestors mobilized not just the disability community, but everyone from Mayor George Moscone, to Safeway, to the Black Panthers to bring in food and support. After 28 days, the Carter administration finally relented.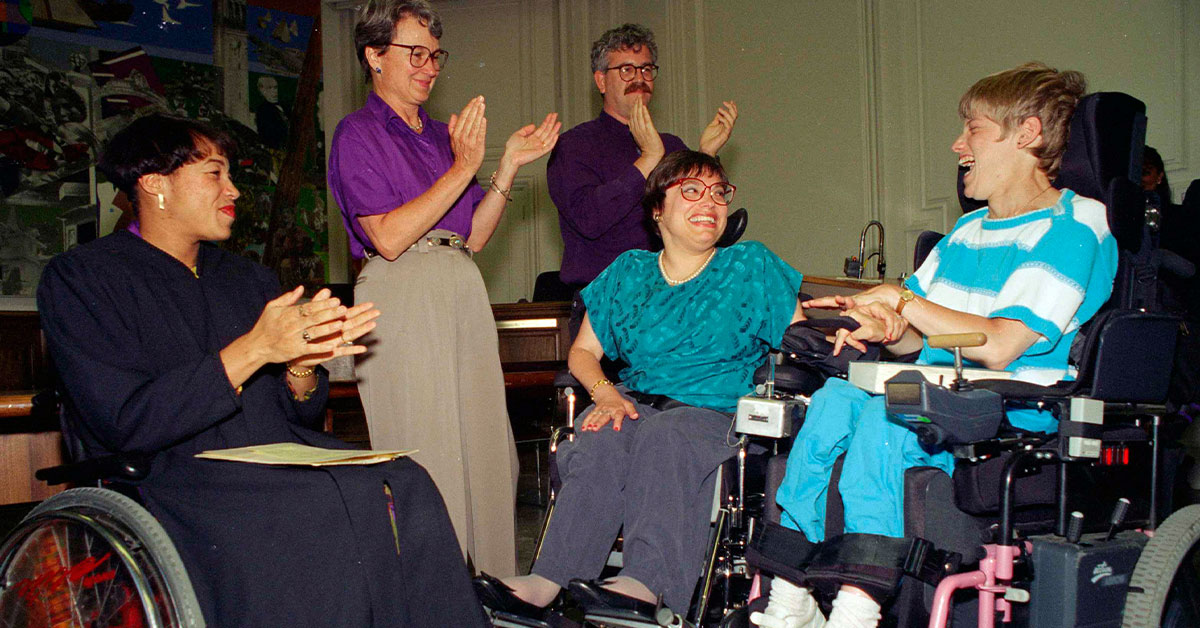 Their protest still remains the longest peaceful occupation of a federal building in history. They reached their goal and in turn, sparked a movement.
Capitalizing on the success of Section 504, Judy and the movement set their sights on the next battle: more rights. Section 504 applies only to federally funded programs, but as Judy and others recognized, disability discrimination is deeply rooted and widespread. People with disabilities experienced overt discrimination — they could legally be refused service at a restaurant, denied a job, or denied housing simply because of a disability.
She lives on in every disabled person who is feisty enough to pursue their dreams.
In 1990 Congress passed the Americans with Disabilities Act (ADA), the most significant piece of civil rights legislation ever passed for people with disabilities. The ADA went further than Section 504, prohibiting discrimination based on a disability, requiring public services to be accessible to people with disabilities, requiring equal access to state and local government services, and mandating employers provide reasonable accommodations to employees with disabilities. As always, Judy was there, working with hundreds of other advocates to get the ADA drafted and passed.
After fighting the institutions that discriminated against her, Judy was hired to join them. In 1993, President Clinton named her assistant secretary of the Department of Education. She oversaw the government's education programs for students with disabilities — just decades after she was deemed too dangerous to be a student or teacher in a regular classroom. She later worked in the Obama administration, as an adviser for the World Bank, and was appointed the first director of the Department of Disability Services in Washington, D.C.
Judy is often referred to as the mother of the disability rights movement, and for good reason. Not only did she usher forward sweeping changes for disabled people around the world, she mentored, befriended, inspired, and empowered countless disabled people who now carry on her legacy.
Hers was one of the first voices to tell us that we matter and that we are worth fighting for. Now, we continue the fight. Judy lives on in every disabled kid who gets to join their classmates in school and every disabled adult who lives in the community, not an institution. She lives on in every disabled person who is feisty enough to pursue their dreams.
Learn More About the Issues on This Page