by Patricia Polacco, Guest Author
This week marks the 30th anniversary of Banned Books Week, an annual event that celebrates the freedom to read and calls attention to the wealth of creative expression that is stifled when books can be barred from library shelves. The ACLU has always believed that our country functions best when citizens exercise their right to freely explore the world around them, and we'll be blogging about banned books and censorship all week. Join the conversation using #IReadBannedBooks.
In Our Mothers' House, by Patricia Polacco, is a children's book about three adopted children and their two mothers. In response to complaints from a subset of parents that the book "normalizes a lifestyle we don't agree with," Davis School District in Utah has instructed its elementary school librarians to remove all copies of the book from the library shelves and place the book behind a counter where students must have written parental permission to read it.
As a children's author of over 85 books for young readers, I have the privilege of visiting schools all over our country. I am allowed the wonder of observing young students first hand, and get to talk to children on a daily basis.
One year I was visiting a fourth grade class and the teacher had arranged for me to hear essays that her students had written entitled: "My Family."
I heard one after another and was moved by their perspectives and the love they held for their families. Then, one little girl stood up and began to read. She was immediately asked to take her seat by an aide. The aide said scornfully, "No dear…you don't come from a real family…sit down!"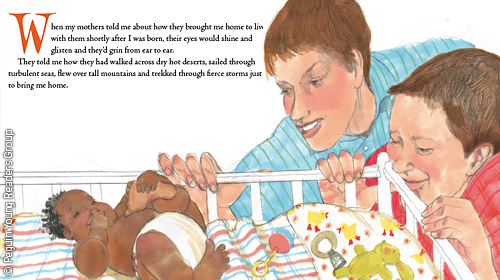 This child came from a family of two mothers and two adopted siblings. I was so appalled and insulted on that child's behalf that I immediately, after school that day, went back to my hotelroom and wrote, In Our Mothers' House.
I have been asked almost every day by children who come from untraditional families," Mrs. Polacco, when are you going to write a story about us?"
As far as this book being banned in Utah, I do believe in any parents' right to decide what their own child will read, see, or experience. Where it becomes a matter of infringing on the First Amendment rights of others is when a parent takes steps to make sure that no one else's child will read a book that they object to.
Please note that by playing this clip You Tube and Google will place a long-term cookie on your computer. Please see You Tube's privacy statement on their website and Google's privacy statement on theirs to learn more. To view the ACLU's privacy statement, click here.
(In this video, residents of Salt Lake County read In Our Mothers' House in celebration of the freedom to read during Banned Books Week)
It is most unfortunate that In Our Mothers' House, which is simply a story about the love of two mothers for their children, has been misunderstood.
Learn more about Banned Books Week: Sign up for breaking news alerts, follow us on Twitter, and like us on Facebook.