Back to

News & Commentary
Alabama's Arizona Copycat: "Why Do You Think My Daughter Is Not From Here?"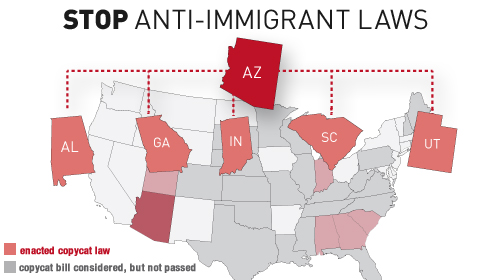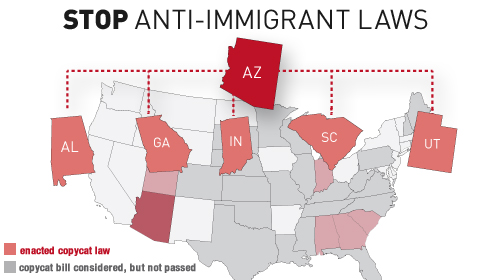 By Cineo Gonzales, Taxi Driver and Legal Resident
I hate what is happening to my children, and I'm pretty sure to a lot of children out there.
Cineo Gonzales
My daughter, she is a very charismatic [child] and very friendly with everybody, very smiley, and she is a good [student] – 90 plus all the way around.
The third of this month, she arrived from school just like every other day. And that day she arrived, and I asked her, "Did you get any homework?" And she said, "No, but I got some papers." And I said, "Wow, let me see those papers." And she said, "My teacher gave me this paper."
In front of the entire class, Cineo's daughter and another Latino student were handed documents explaining HB56 in Spanish. No other student in the class received the documents.
So I say, "Well, next day I [am] going to go and talk to the principal. And I ask her why [did] they give this paper to my daughter? What was the reason they [gave] this paper to my daughter, and her answer was that they [gave] this paper to all the children that appear they are not from here. And I ask her, "Why [do] you think my daughter is not from here?"
Far as I can see and far as I can feel my daughter is being singled out and racial profiled and discriminated because of her color and race and origin from where they think she is from. What happened to my daughter is happening to a lot of children. You feel helpless, you know, to see it happen to citizens of this great country.
%3Ciframe%20width%3D%22480%22%20height%3D%22274%22%20frameborder%3D%220%22%20allowfullscreen%3D%22%22%20src%3D%22https%3A%2F%2Fwww.youtube.com%2Fembed%2FE_tYd8dYomA%3Fautoplay%3D1%26version%3D3%22%3E%3C%2Fiframe%3E

Privacy statement. This embed will serve content from youtube.com.
Please note that by playing this clip You Tube and Google will place a long-term cookie on your computer. Please see You Tube's privacy statement on their website and Google's privacy statement on theirs to learn more. To view the ACLU's privacy statement, click here.