Back to

News & Commentary
ACLU Lens: Justice Department Report Accuses Puerto Rico Police of Abuse, Corruption and Illegal Conduct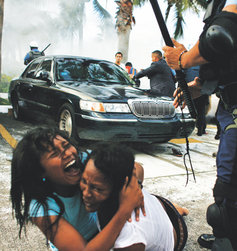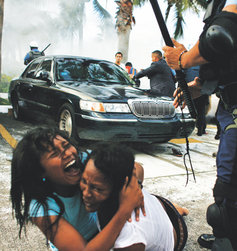 Today, the New York Times reports that a Justice Department investigation has accused the Puerto Rico Police Department of widespread civil rights violations, corruption and illegal conduct.
ACLU Executive Director Anthony D. Romero responded to today's story:
The report confirms a breathtaking level of violence and corruption throughout the PRPD. With the facts laid bare, it is now the responsibility of the Puerto Rican government and the Justice Department to make sure the police abuse and brutality end as quickly as possible.
Calling the report "a blistering condemnation of the second-largest police force in the United States," the Times notes:
The Justice Department began the investigation in part due to complaints by the American Civil Liberties Union. In June, when President Obama visited the island, the A.C.L.U. sent him a letter contending that the police had "engaged in a level of brutality against U.S. citizens" with a degree of impunity that "would not be tolerated in the 50 states."
In a press release announcing the findings of the investigation, the Justice Department stated that, "the Puerto Rico Police Department (PRPD) has engaged in a pattern and practice of misconduct that violates the Constitution and federal law," including, "[u]se of excessive force; [u]se of unreasonable force and other misconduct designed to suppress the exercise of protected First Amendment rights; and [u]nconstitutional stops, searches and arrests." You can read the Justice Department's full report here.
Since 2004, the ACLU of Puerto Rico has documented numerous incidents of serious police misconduct. These incidents have increased both in their frequency and intensity since 2008, at which time the Department of Justice opened an investigation in response to our complaints.
Most recently, in March-May 2011 the national office of the ACLU conducted fact-finding research in Puerto Rico, and in May 2011 convened a high-level delegation that went on a two-day fact-finding mission to further research the rise in police brutality in the Commonwealth.
To coincide with President Obama's visit to the island in June, in addition to the letter, the ACLU ran this ad in the major daily papers urging him to address these issues.
In July, the ACLU participated in a congressional briefing to discuss preliminary findings from our fact-finding research. A final report of our findings will be released this fall.
In the News:
UPDATE: This post has been updated to include more links .
Learn more about free speech: Sign up for breaking news alerts, follow us on Twitter, and like us on Facebook.