Back to

News & Commentary
Father of Mike Brown: "If I Could Have Stood Between Officer Wilson's Gun and My Son, I Would Have."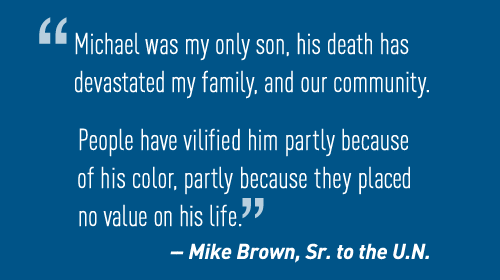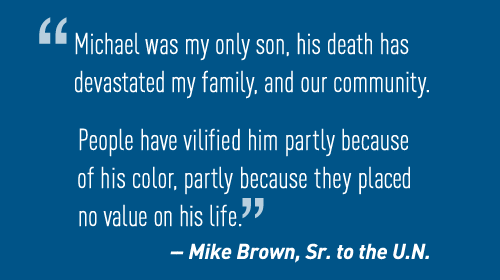 The parents of Michael Brown – the black teenager killed by a police officer while walking, unarmed, in Ferguson, Missouri this summer – are in Geneva this week, as a United Nations committee reviews the United States' compliance with the Convention Against Torture, and Other Cruel, Inhuman or Degrading Treatment or Punishment. The following is a statement delivered by Mike Brown, Sr., at a briefing on Tuesday to members of the U.N. Committee Against Torture. Read more about this week's review here.
My name is Michael Brown, Sr.
I come before you today representing the voice of my son, and of parents and children of color across the country.
On August 9, 2014, my son Michael O.D. Brown, Jr., was shot and killed by Ferguson, Missouri, police officer Darren Wilson.
Michael was my only son, his death has devastated my family, and our community. People have vilified him partly because of his color, partly because they placed no value on his life.
We understand that whatever the grand jury decides in Missouri, it will not bring Michael back. We also understand that what you decide here may save lives.
If I could have stood between Officer Wilson's gun and my son, I would have, because no father wants to see his child dead in the streets.
We agree with the U.N. Committee on the Elimination of Racial Discrimination's recommendations and call to action for the United States to:
Make a commitment to address racial discrimination in a comprehensive and coordinated manner and adopt a National Plan of Action on Racial Justice.
Prohibit racial discrimination in all its forms in federal and state legislation, including indirect discrimination, covering all fields of law and public life.
As a result of our experiences, and in memory of my son, my wife and I will work to ensure no other family or community has to experience what we have.
We will work to promote nonviolence, peace, and understanding, and to improve human rights and social justice policies to unite governments around the world to eliminate the human rights violations that result from racial profiling and police violence in an effort to prioritize, protect, empower, and strengthen the value and dignity of life for all people, especially men and women of color and their children.
Learn more about police brutality and other civil liberties issues: Sign up for breaking news alerts, follow us on Twitter, and like us on Facebook.
Learn More About the Issues on This Page