Back to

News & Commentary
Battling for Reproductive Rights: Ohio's Religious Communities Advocate for Abortion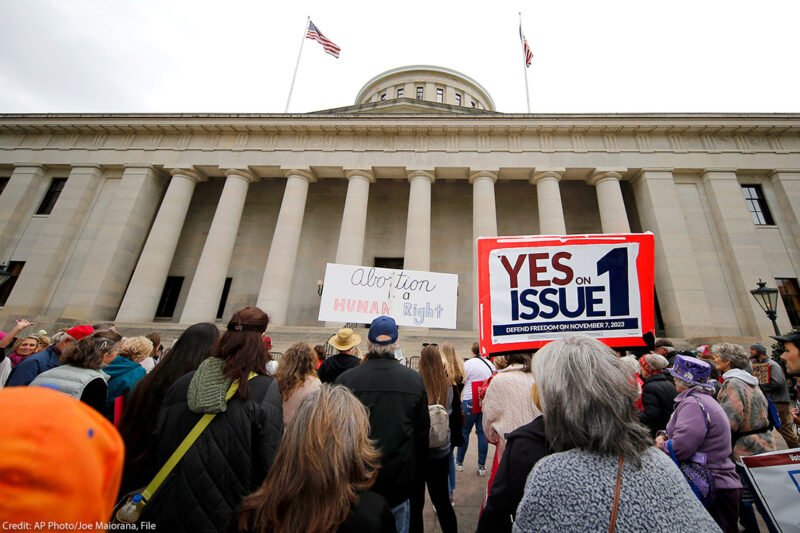 Two Ohio advocates share how they're fighting for reproductive freedom in their state.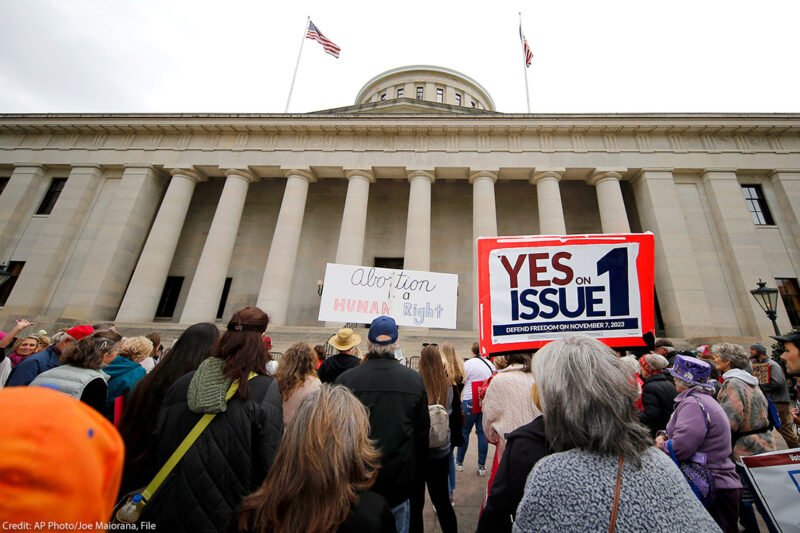 Next week, Ohio voters will decide whether to pass Issue 1, a state constitutional amendment protecting decisions about pregnancy including contraception, fertility treatment, miscarriage care, and abortion. Ohioans from every walk of life — and across the political spectrum — have come together to put an end to the state's extreme abortion ban and enshrine protections for reproductive freedom in their state constitution.
As we approach the election, our friends at the ACLU of Ohio and Ohioans United for Reproductive Rights are working to get Ohioans to vote YES on Issue 1. As part of a broad multi-issue coalition, the work by local religious communities highlights how voting YES is imperative because there is so much on the line.
Here, two Ohio-based advocates discuss their efforts to safeguard reproductive freedom for all Ohioans. These interviews have been edited and condensed for clarity.
Elizabeth Chasteen Day
Statewide Organizing Director for the ACLU of Ohio
"When Roe was kicked back to the states on June 24, 2022, we all felt this sense of impending doom because we knew that our ban would go into place immediately, which it did. The six-week ban did so much damage in the three months it was in place. We saw folks like leaders from Ohio Right to Life supporting forced birth in Ohio.
"We witnessed our friends, allies, and partners at Planned Parenthood and Preterm Cleveland and other abortion clinics and abortion providers being targeted, defunded; being [under] the threat of closing clinics that offer so much more than just abortion care. They offer reproductive health care in its totality. Yet, access to even general reproductive health care was hanging by a thread.
Religious Communities in Ohio Are Fighting to Preserve Reproductive Rights
"Looking back on June 24 and the three months after that, I choose to focus on the fact that hundreds of doctors around our state mobilized and became Ohio Physicians for Reproductive Rights. The ACLU, Planned Parenthood, Ohio Women's Alliance, Pro Choice Ohio, and many other partners immediately launched into action, immediately built these strong, robust coalitions, and immediately responded to the moment and said: not in our state, not here, not now. This is our Ohio, and therefore, our Ohio needs to look the way that we, the Ohio citizens, need it to look and feel for our safety, for our freedom, and for our families."
This is our Ohio, and therefore, our Ohio needs to look the way that we, the Ohio citizens, need it to look and feel for our safety, for our freedom, and for our families.
"One of the things that Issue 1 showed was that you can't count Ohioans out. We're not idly sitting by. We are also very clear on why [the other] state Issue 1 [which tried to raise the threshold to pass ballot measures] in 'the special election,' as we should call it, was a problem. [Legislators] know unequivocally that Ohioans support abortion access, and that is why they did this. But we will not be fooled. We care about truth, and we care about freedom. I look at this very simply: voters are the ones who control our government, but this was an attempt by our government to control voters instead.
"The other part I want to mention is how the faith communities have turned out. Specifically, our Jewish communities have really turned out. They were active in signature collection, postcard writing, stumping, talking about the ballot, door knocking, and phone banking. It's breaking stereotypes. When you create space for people to show up and for people to own a part of something, they will. It's what we saw during the signature collection and what we're seeing now.
"I believe that the movement — the social justice movement, the progressive movement — sometimes tries to other religious people because they haven't found a way to effectively connect the religious values that these people espouse with the values of humanity that progressive movements and social justice movements seek to center. Yet, when you have conversations with faith-based communities, it is easy to connect because those folks, in particular, are very concerned about their values. So, when you're able to build a bridge between the value of bodily autonomy and freedom, the value of compassion, the value of ensuring that every person has access to resources, care, family, support, and love. When you can build that bridge from those values that reproductive justice and reproductive freedom encapsulate, to the values of Christianity or the values of Islam or to the values of Judaism or other religions, you can kind of pull people over."
"I think it's important when we're having this discussion that those who oppose access to safe and legal abortions don't have a monopoly over faith. One of the reasons why I'm so passionate about making sure that people have access to the care — the medical care that they need, including abortion — is because of my faith and because much of Jewish teaching tells us about the value of life and the importance of protecting life. That also includes the lives of those who are pregnant and making the choice to have a baby or not have a baby. And, frankly, I didn't always identify strongly with my Jewish faith until I started to look more at the teachings.
"One of our rabbis spoke at the Bans Off Our Bodies rally in Cincinnati, and I just remember getting emotional watching her speak, and she came down after she was done speaking. I just gave her this big hug, and I said, 'I'm just so glad you're my rabbi.' It was like this feeling of, really, feeling seen in my faith as well. I've had conversations with other members of the Jewish community; the Jewish community is just as diverse as any other religious community.
"So, some of us agree on a lot of things, and some of us don't agree on some things. I was having a conversation with a woman in the Orthodox community about this issue. And when I started sharing with her that this amendment isn't just about access to abortion, that it's also about fertility treatments, that it's also about miscarriage care, it's also about contraception, we were able to have more of a discussion. Certainly, fertility care is important in the Orthodox community.
I think there's a lot of smoke and mirrors around this issue. At the core of it, though, is just saying that we all love our children. We all love our families. We just want to do this in our own way and keep the government out of our families.
"I'm also a board member of the Jewish Fertility Foundation. And so, making sure that all members, all women in the Jewish community, can have access to the fertility care they need so they can create the family they want when they want it. It is an issue that goes beyond reform, conservative, orthodox Judaism. The Jewish community alone collected over 10,000 signatures when we were in the signature-collecting stage, and we've contacted over 200,000 potential voters. Much of the messaging that we give is, "'Look, I'm a member of the faith community as well, and this is why I care about this issue, and you can be a person of faith and care about this issue.'
"Most people I speak with are very excited about this amendment and a handful of people I've spoken with may or may not agree. But I can say, look, I'm a mother, and I'm a person of faith as well, there's probably a lot more that we agree on than we differ on. The goal isn't necessarily to change someone's mind to suddenly say, 'Oh, okay, I, I think abortion is okay.' The goal is to say, look, do you want someone else making these decisions for you? Do you want your government to make these decisions for you? Or do you want you, your family, and your loved ones to have the opportunity to make these decisions? I think there's a lot of smoke and mirrors around this issue. At the core of it, though, is just saying that we all love our children. We all love our families. We just want to do this in our own way and keep the government out of our families."
Paid for by American Civil Liberties Union, Inc. in coordination with Ohioans United for Reproductive Rights
Learn More About the Issues on This Page