Across the country, the ACLU, allied organizations, volunteers, and organizers are mobilizing together in the ongoing battle for our reproductive freedom and bodily autonomy — regardless of which state we call home. When anti-abortion extremists attempt to enforce bans on abortion, we show up. When they prioritize abortion bans over legislation that would actually improve their constituents' lives, we show up. When overzealous prosecutors go after health care providers and patients seeking abortion care, we show up. When it's time to make our voices heard in the ballot box and the streets, we show up.
Here are some of the ways we've shown up to protect abortion access in states across the country.
---
Michigan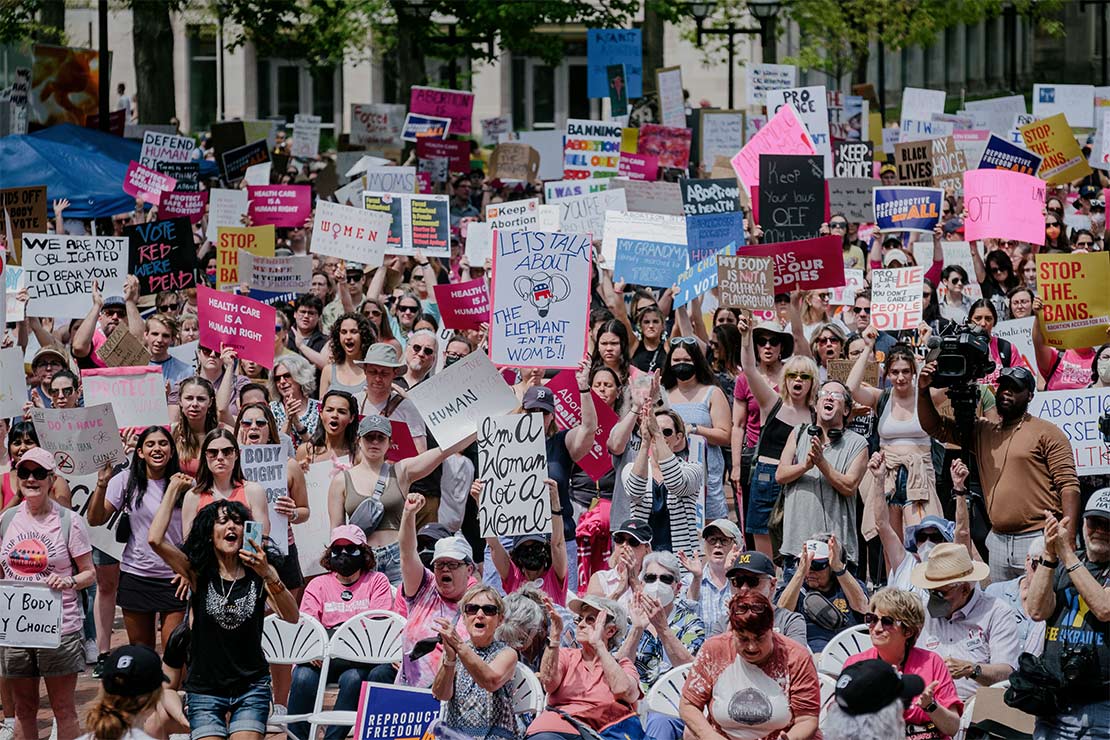 In Michigan, with coalition partners, the ACLU of Michigan co-led the fight to enshrine the right to reproductive freedom, including abortion, prenatal care, birth control, and all decisions regarding reproductive health, in the state constitution last November. Building on that historic win, our affiliate supported the repeal of an abortion ban from 1931 that threatened access to care after Roe v. Wade was overturned. The bill to repeal the 92-year-old law is now before Michigan Gov. Gretchen Whitmer, who is expected to sign it soon.
---
Virginia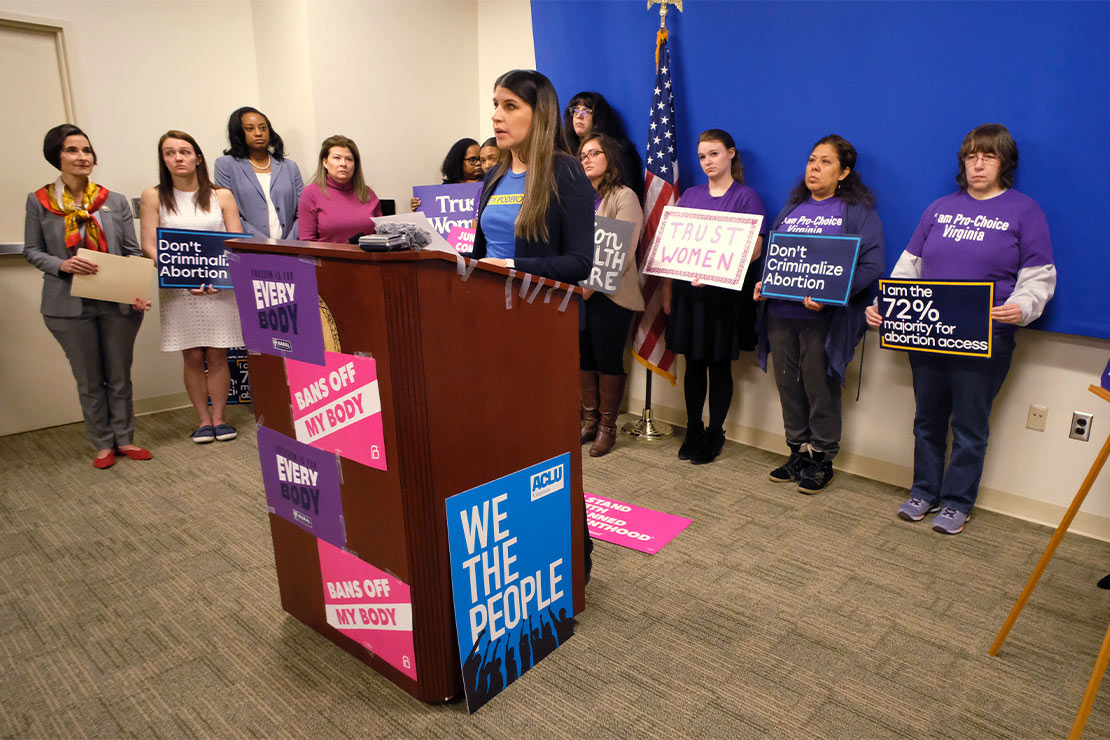 In Virginia, a special election for a state senate seat drew national attention earlier this year because of its potential to impact abortion access in the state. ACLU National sprung to action with strategic consultation and on-the-ground support from the ACLU of Virginia by launching a voter education campaign to ensure that every constituent knew the candidates' stances on abortion rights. With a clear understanding of the stakes of the election, voters rejected a candidate that advocated for limiting abortion access, and elected a candidate who increased the pro-reproductive freedom majority in the state senate — which ultimately halted Governor Youngkin's priority 15-week abortion ban in its tracks.
---
Nebraska
In Nebraska, we've been working tirelessly to mobilize supporters against a ban on abortion around six weeks of pregnancy, before many know they are pregnant, by mobilizing Nebraskans to take actions digitally and in person at the capitol, ensuring their voices are heard and abortion access isn't taken away without a fight.
---
North Carolina
In North Carolina, we've kept up the pressure on the state legislature as rumors swirled about an extreme abortion ban that politicians are considering behind closed doors, which has been delayed because of deep divisions among forced-pregnancy legislators. We won't just wait quietly for legislators to strip our rights away — we're forcing a public debate by engaging businesses of all sizes and doctors across the state to spread the word about the severe harms that banning abortion will inflict on North Carolinians.
---
New York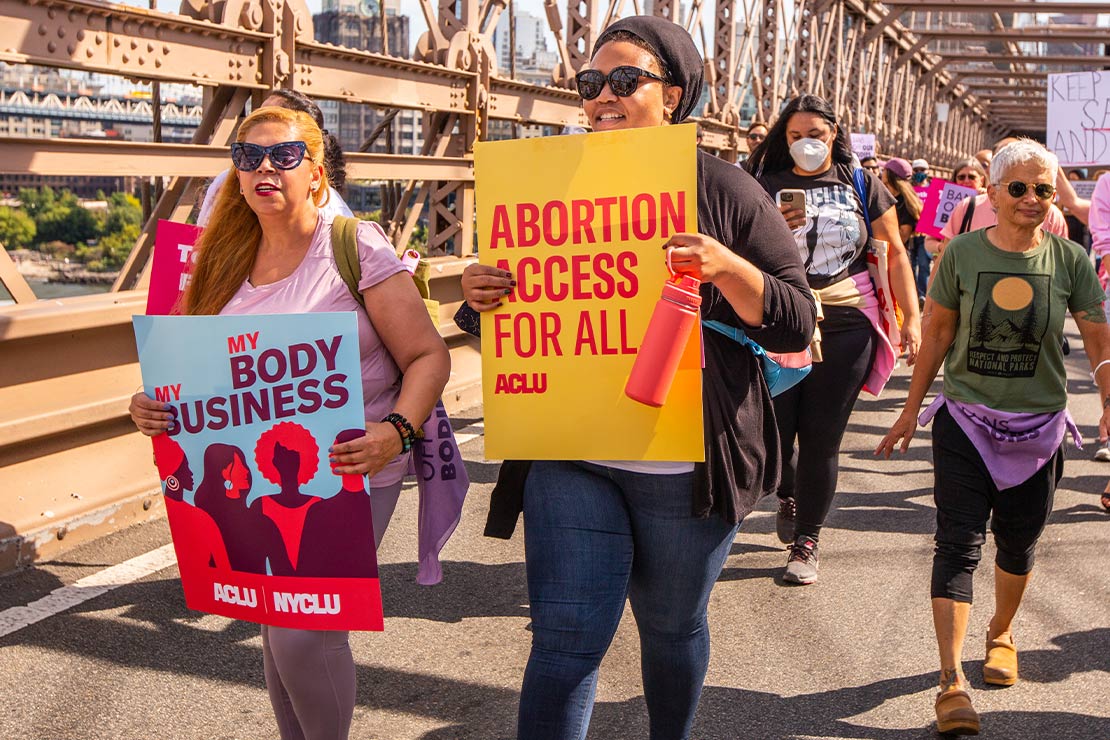 In New York, a broad coalition of state advocates helped to advance the Equal Rights Amendment through a final vote in the legislature earlier this year, officially sending the measure to the November 2024 ballot for voters to consider. If passed, the amendment would prohibit discrimination by the government based on a person's ethnicity, national origin, age, disability, or sex — including their sexual orientation, gender identity, gender expression, pregnancy, and pregnancy outcomes — protecting people's reproductive freedom and access to abortion.
The strength of the ACLU is rooted in our deep legal and policy expertise and our presence in every state, D.C., and Puerto Rico. But we don't, and couldn't, do this work alone: We collaborate with state and local allies to work on emerging issues in every zip code across the country. While abortion access and our bodily autonomy continually face dogged attacks, we will respond with relentless advocacy and won't stop fighting until every person can get the essential health care they need — no matter where they live.
Learn More About the Issues on This Page