This week, the 72nd Session of the Committee on the Elimination of Racial Discrimination (CERD) is meeting in Geneva.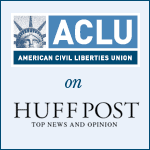 Readers of this blog will have noticed blogging from the ACLU's 10-person delegation at the meeting, addressing issues such a voting rights, racism, and the unique problems women of color face. Preceding this trip was the publication of a "shadow report" written by ACLU attorneys and staff, in response to the U.S. government's official report (PDF) on the state of racial discrimination in the country.
One of authors of the ACLU report, Laleh Ispahani, is in Geneva right now. She co-authored an article with Opportunity Agenda Executive Director Alan Jenkins in Huffington Post about what nongovernmental organizations like the ACLU hope to accomplish in Geneva. Needless to say, they have heir work cut out for them:
[T]he U.S. report ignores the very existence of critical human rights problems. It makes only passing mention of Hurricane Katrina and its terrible aftermath. It omits outright the dramatic increase in anti-immigrant violence, the exploitation of migrant workers, the persistence of police abuse, and expanded use of racial profiling. There is no reference to the now widespread phenomenon of criminal justice officials overzealously funneling students of color directly out of the school environment into the penal one.., Because these problems cannot be solved until our government recognizes them, the American promise of equal opportunity embodied in the treaty remains broken.
The delegation representing the U.S. government is scheduled to appear before the Committee on Thursday and Friday to give its assessment of he state of racial discrimination in the U.S. This blog will feature analysis of that assessment, plus more news from Geneva,for the rest of the week. You can also stay updated on the goings-on in Geneva via our CERD webpage, which features our CERD report, pictures from Geneva, and other resources.