Today the ACLU's Drug Policy Reform Project launched the website "Unnecessary Evil," the online component of a new campaign that highlights the systemic problems with today's use of informants in drug law enforcement and the critical solutions needed to address them. Unlike witnesses, informants are motivated by self-advancement.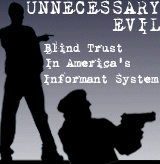 Informants work for the government, often secretly, to gather and provide information or to testify in exchange for cash or leniency in punishment for their own crimes. Preliminary research indicates that up to 80 percent of all drug cases in America may be based on information provided by informants, and yet there currently exist virtually no oversight mechanisms to ensure that informants are telling the truth.
An informant can be a useful law enforcement tool a necessary evil – when used properly. For example, if an informant's testimony is corroborated by a second source of information, and law enforcement ensure that the informant is not allowed to commit more violent crimes than those he or she is being hired to catch, the use of informants in very serious cases (such as terrorism) can be justified.
But putting police work in the hands of known criminals and blindly trusting that justice will be done is an unnecessary evil.
Unfortunately, today's informant system does just that. It lacks the oversight mechanisms and regulations necessary to ensure that informants are telling the truth. Too often, informants are pressured into lying at the expense of innocent people in order to save their own skin. A steady parade of scandals also demonstrates the sad reality that too many times law enforcement has turned a blind eye to the serious, violent crimes being committed by informants while assisting with investigations of less serious crimes, such as nonviolent drug offenses. Add to all of this, the vast over-reliance on informants in policing communities of color, and you have a recipe for disaster.
Take the story of Kathryn Johnston. Almost a year ago today, a SWAT team busted into the home of Kathryn Johnston, a 92-year old grandmother in Atlanta, Georgia. Agents were wearing bullet proof vests and carrying riot shields, and they had a warrant to conduct a "No Knock" raid. They busted down her door without warning, prying off the burglar bars to her windows as they stormed in. Johnston, out of fear and a lack of understanding about what was going on, fired one shot in defense, triggering police to respond with 39 gunshots, six of which hit Johnston, killing her.
As it turned out, Kathryn Johnston was not the cocaine dealer the police had pegged her for. She was an innocent old woman, and the community was outraged. In an attempt to justify the no-knock warrant, the Atlanta Police Department initially claimed that the police were searching for drug dealers after a police informant was said to have bought crack cocaine at Johnston's home earlier in the day. However, both a federal and state investigation revealed that this was untrue. No informant had ever given the police such information, and in fact, no such informant even existed!
The two police officers who submitted the false affidavit pled guilty to manslaughter, violation of oath, criminal solicitation, making false statements and perjury. Furthermore, the federal probe into the police department revealed that Atlanta police routinely lied to obtain search warrants, including often falsifying affidavits – demonstrating that this is not the case of one or two bad apples, but rather an entire rotten orchard. While it's true that the police lied in the Johnston case – they had an important tool that allowed them to lie with impunity: the confidential informant law, in which police know that they do not have to disclose the informant's identity or provide corroborating information. This leads to repeated abuses of power within the informant system by informants and police alike.
Kathryn Johnston would not have lost her life had some of the solutions we propose here been in effect. Blind trust in the informant system is dangerous. Our public's safety and the integrity of our justice system demand that policymakers put in place strong oversight mechanisms and regulations to ensure informant reliability.
The ACLU has made a priority of addressing the misuse of informants. To learn more about this issue, check out our new web feature on the informant system at www.aclu.org/unnecessaryevil. There you will find all the up-to-date information and resources you need to understand the problem and to advocate for concrete solutions.