Back to

News & Commentary
Honoring the Past, Paving the Future: Enhancing Voter Registration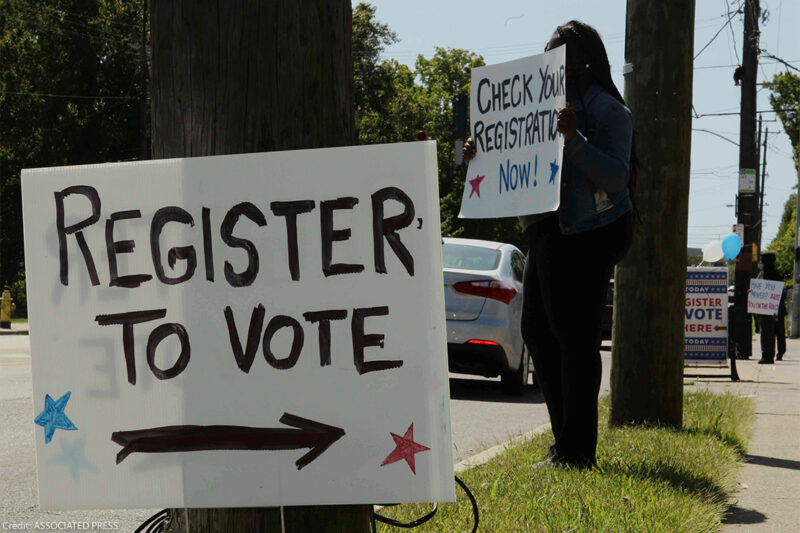 Here's how federal agencies can further expand voting access.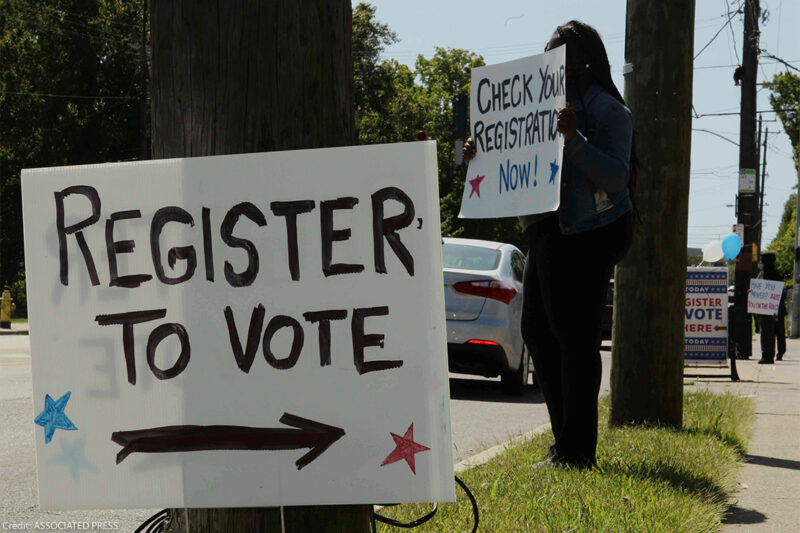 Last week marks the 30th anniversary of the National Voter Registration Act (NVRA), a landmark piece of legislation that has expanded access to the ballot for millions of Americans.
Signed by President Bill Clinton in 1993, the voting rights law strengthened American democracy. From enabling eligible voters to simultaneously register to vote when they apply for or renew a driver's license, to offering voter registration opportunities via mail-in application opportunities, the NVRA helps make the promise of democracy real. The NVRA has been an amazing success. As of 2020, 160,000 million Americans have applied to get on the voter rolls through registration services the NVRA requires at departments of motor vehicles, disability offices, and public agencies across the country.
Although we've made great progress in expanding access to voter registration, it is important to remember we still have so much work to do to expand voter registration access. In 2021, President Biden issued an executive order to increase access to voting, encouraging federal agencies to utilize an untapped provision of the NVRA that contemplates federal agencies providing voter registration services. Since this announcement, several federal agencies have made public commitments to increase access to voting information and expand voter registration opportunities.
However, there is much more that can be done, not only to embrace the whole-of-government approach encouraged by the executive order, but also the unfulfilled promise contemplated since 1993 in the NVRA to include the federal government in agency registration opportunities. Earlier this year, the ACLU along with a coalition of the nation's leading civil rights groups released a report, "Strengthening Democracy: A Progress Report on Federal Agency Action to Promote Access to Voting," to highlight, at the federal agency level, what has been done and what is still needed to help ensure every eligible voter has robust, easy, and equal access to the ballot box.
A few agencies have made noteworthy headway. For example, by accepting National Voter Registration Act designations for the tribal institutions it operates, the Department of the Interior has moved to ensure that eligible students who attend these institutions have regular access to high-quality voter registration.
The Department of Veterans Affairs has also begun working with state election officials to secure NVRA designations. And by incorporating voter registration into the Volunteer Income Tax Assistance program, the Treasury Department is helping to address persistent income-based gaps in voter registration by improving access to voter registration among people with low incomes.
Although progress has been made, for the most part, the ACLU and our partners found that most agencies have either made minimal progress on their initial strong commitments to expand voter access or have left important opportunities on the table. This must change; we must make the promise of democracy real for every single American.
Here are a few things federal agencies can do now to fully implement the executive order:
The Department of Health and Human Services should add an effective voter registration opportunity to the application for benefits on HealthCare.gov by the next open enrollment period.
United States Citizenship and Immigration Services should provide a robust opportunity to register to vote to all newly naturalized U.S. citizens.
The Department of Education should add a voter registration opportunity for applicants using the Free Application for Federal Student Aid.
The Bureau of Prisons, the agency within the Department of Justice which oversees federal prison facilities, and the U.S. Marshals Service, which oversees people in federal pre-trial custody, amongst other activities, should also fully implement the executive order. While both agencies have made efforts to improve voter access for eligible voters who are currently incarcerated in federal prisons or held in federal pre-trial custody, there is still more that can be done to ensure the full implementation of systems facilitating civic engagement and access to the ballot. You can read more about the steps they can take here.
As we honor the 30th anniversary of the NVRA, we must never allow the indispensable legacy of this pivotal voting rights law to fade into the past. Simultaneously, the Biden administration must embrace an unwavering dedication to wholeheartedly executing their voting access executive order. Such action not only fortifies our democracy but also empowers millions, ensuring their voices are heard through the power of the ballot.