Back to

News & Commentary
North Carolina Is Making It Harder for People to Vote, and We're Pushing Back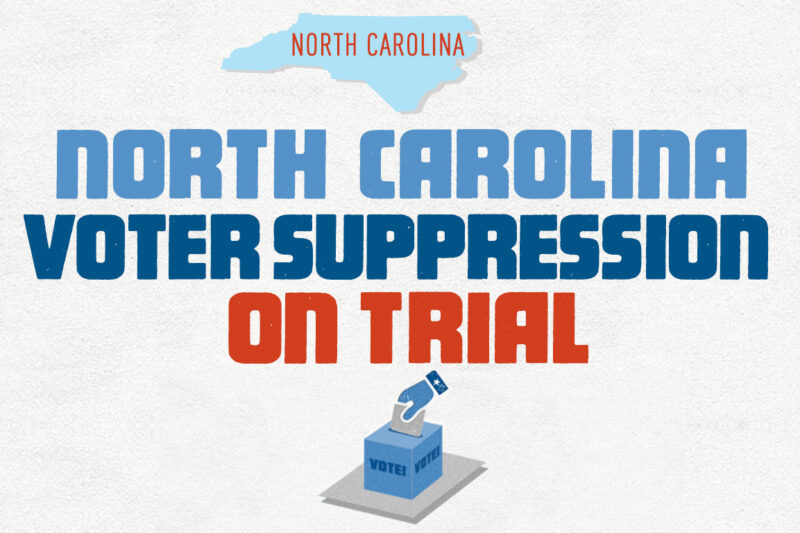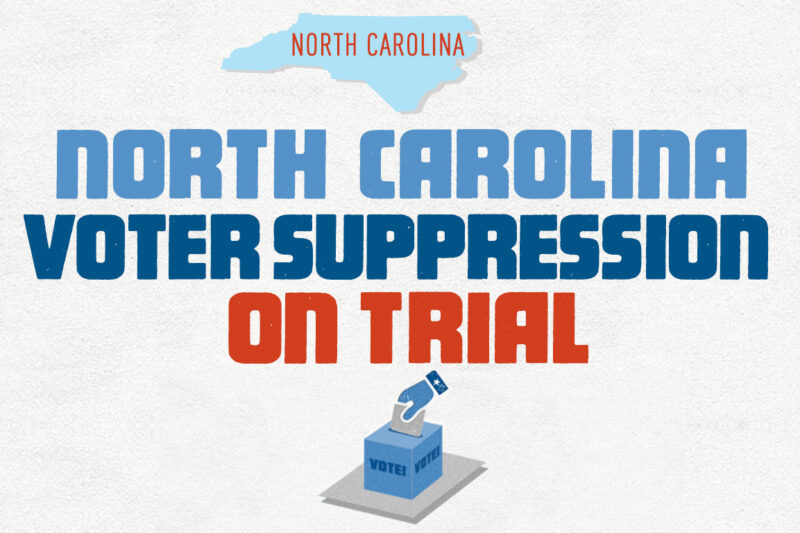 Today trial begins in our challenge to the North Carolina Voter Information and Verification Act of 2013, which election law expert Richard Hasen described as "the most sweeping anti-voter law in at least decades," designed "to make it harder for people — especially non-white people . . . — to register or cast a vote."
Along with our co-counsel, the Southern Coalition for Social Justice, the ACLU and the ACLU of North Carolina will be in court for the next two weeks challenging this law on behalf of the League of Women Voters and others.
Our case will focus on three provisions:
Early Voting. Like most states, North Carolina permits early in-person voting. Through the 2012 election, North Carolina had a 17-day early voting period. It was disproportionately used by African-American voters, 70 percent of whom cast their ballots early during the last two presidential elections. Now North Carolina has slashed a week of early voting — a period during which almost 900,000 voters cast their ballots during the 2012 election. Some of the nation's leading political scientists will explain that the loss of these voting opportunities will mean fewer votes and more congestion on Election Day. That's exactly what happened when Florida cut early voting before the 2012 election when, according to one estimate, over 200,000 votes were lost.
Same-Day Registration. Before 2014, North Carolina was one of about a dozen states that allowed voters to register to vote and cast a ballot in one stop to a voting site. Same-day registration is an important reform: States that have same-day registration have turnout that is, on average, 10 percentage points higher than other states. In the last two presidential elections, over 90,000 North Carolina voters used same-day registration. In particular, African-Americans relied on same-day registration at nearly twice the rate of white voters. For some voters, the opportunity to register and to cast a ballot simultaneously means the difference in voting or not. But North Carolina has now eliminated same-day registration.
Out-of-Precinct Votes. If a duly registered voter appeared at the wrong precinct — whether by accident or due to poll-worker error — North Carolina used to count that voter's ballot for all offices for which that person was eligible. This made sense. It doesn't matter where you vote for certain statewide offices like senator or governor. Thousands of voters' ballots were counted as a result. But the state has now ended that practice: Ballots cast at the wrong precinct — even if due to no fault of the voter — will now be discarded.
One provision of the law that won't be discussed much at trial is the new voter ID requirement. That's because, on the eve of the trial, the North Carolina legislature realized the obvious — that its strict voter ID law would undeniably disenfranchise thousands of registered voters — and backed down by establishing an affidavit procedure by which voters lacking ID will apparently be permitted to cast ballots. The parties are taking a closer look at the revised voter ID law and deferring judicial consideration of it until a later time.
Chief Justice Roberts recently wrote, "There is no right more basic in our democracy than the right to participate in electing our political leaders." We agree. See you in court, North Carolina.