At Liberty Podcast
At Liberty Podcast
Judy Heumann on Disability Discrimination and The Fight For Rights
November 11, 2021
All episodes
Today we are running a conversation between Amber Hikes, the ACLU's Director of Diversity, Equity, and Inclusion, and disability rights icon Judy Heumann on CVS v. Doe, a case that the Supreme Court was set to hear on Dec 8.
The case threatened to attack the very foundation of disability rights laws, specifically by threatening Section 504 of the Rehabilitation Act. If CVS had pursued the case and won, people with disabilities would no longer have the ability to sue for discrimination that is based on ignorance as opposed to animus, or actual intent to harm. In this conversation, Judy discusses the disability rights laws we've fought for and won and explains why disability discrimination is consistently questioned by both the general public and the courts.
Yesterday CVS reached a settlement likely thanks to the pressure of disability advocates over the past few weeks. Though this case will no longer be heard by the Court, we're running this conversation, recorded late last week, because the argument that CVS presented has been seen in copycat arguments in different cases across the country. This issue is likely to get to the Supreme Court in some form soon. For more information on these kinds of cases, follow the ACLU across social and subscribe to our email list. We'll keep you updated.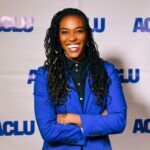 Amber Hikes
Deputy Executive Director for Strategy & Culture, ACLU
they/she
Amber Hikes (they/she) is a social justice advocate, community organizer, TED Talk Speaker, and unapologetically queer and Black. As Deputy Executive Director for Strategy & Culture, Amber serves as chief counselor and principal partner to the executive director, overseeing the critical functions of organization strategic planning and programmatic priority setting. In this capacity, Amber also…
Amber Hikes
Judy Heumann
Disability Rights Advocate
She/her/hers
Judith (Judy) Heumann is a lifelong advocate for the rights of disabled people. She contracted polio in 1949 in Brooklyn, New York and began to use a wheelchair for her mobility. She was denied the right to attend school because she was considered a "fire hazard" at the age of five. Her parents played a…
Judy Heumann
This Episode Covers the Following Issues