At Liberty Podcast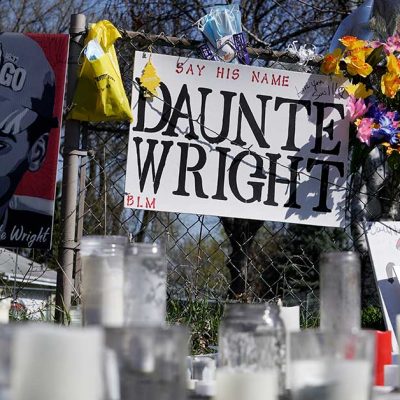 At Liberty Podcast
This Minnesota Mayor Isn't Waiting for Another Police Shooting
June 24, 2021
All episodes
Just two months ago, Brooklyn Center, a suburb of Minneapolis, was the backdrop of yet another incident of police brutality when 20-year-old Daunte Wright was fatally shot by an officer during a traffic stop. The incident happened just ten miles from the courthouse where Derek Chauvin was on trial for the death of George Floyd.
Outraged community members gathered in front of the Brooklyn Center Police Department for consecutive days demanding change. And this time, their calls were answered. One month after Daunte Wright was killed, the city council passed a resolution that created an alternative to police response for both mental health calls and some traffic stops. The resolution is called The Daunte Wright and Kobe Dimock-Heisler Community Safety and Violence Prevention Resolution, named after the two people killed by local police in the last two years.
One of the driving forces behind the resolution was Brooklyn Center Mayor, Mike Elliott. Mayor Elliott came to the US at the age of 11, fleeing from civil war in Liberia. Before running for mayor, he had started a mentoring program, working with Brooklyn Center schools to serve low-income students.
He joins us along with Taylor Pendergrass, the Deputy Director of Campaigns for the ACLU's Smart Justice program, to talk about what other communities can learn from the example of Brooklyn Center.
Molly Kaplan
Former Host of At Liberty, American Civil Liberties Union
Molly Kaplan is an Emmy-winning director who since 2012, has directed, executive produced, filmed, and edited hundreds of videos. Her work – in collaboration with some of the most talented filmmakers and animators in the country – has been screened at the Sundance Film Festival, DOC NYC, Alamo Drafthouse, Museum of the Moving Image and…
Molly Kaplan
Taylor Pendergrass
Director of Advocacy, ACLU of Colorado
Taylor Pendergrass was the Director of Advocacy and Strategic Alliances for the ACLU of Colorado. As a veteran strategist, civil rights attorney, and former ACLU national Deputy Director of Campaigns, Pendergrass has spent more than 15 years fighting for transformative social change, racial justice, and equality.
Taylor Pendergrass
This Episode Covers the Following Issues