At Liberty Podcast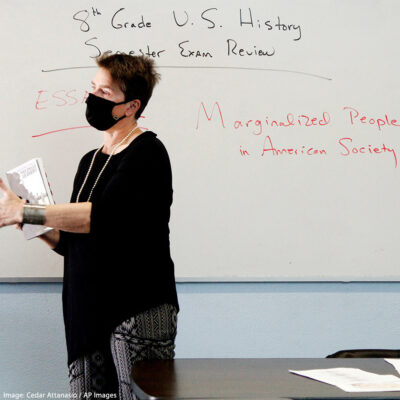 At Liberty Podcast
The Movement to Erase Black History and Culture
February 3, 2022
All episodes
February marks Black History Month, a time to recognize the significant achievements and culture of Black Americans–from bell hooks to Beyonce–and also to honor an accurate history about them, a history that we know is rife with discrimination and abuse — think: slavery, Jim Crow, and the structural racism we're still infected with today. Sadly, more and more, this history is being challenged and even erased in our culture and, right now, in our schools, through tactics like curriculum restrictions and book bans. Truths we once considered hard but self-evident are now being erased before our eyes.
Over 30 state legislatures across the country have introduced bills to limit the discussion of racial history in a wave prompted by the emergence of critical race theory as a subject of political fear-mongering. But that's just the beginning:, over 300 books by predominantly Black authors discussing race, gender, and sexuality, were also banned in the last year alone. Yes, you heard me right. We're banning books again.
When your history is banned, how do you learn about your ancestors? How do we learn from what's happened in the past and how it affects our present? When your culture is banned, how do you see yourself? How do you belong? How do you celebrate the stories, music, food, and family that made you?
At the ACLU, we believe that the first amendment is so fundamental because it should stop this kind of erasure in its tracks. That's why we're meeting this surge of censorship with new litigation and fierce advocacy.
Joining us today to share more is Emerson Sykes, a senior staff attorney with the ACLU's Speech, Privacy, and Technology Project and longtime listeners will remember Emerson as one of At Liberty's former hosts.
Somil Trivedi
Former Senior Staff Attorney, ACLU Criminal Law Reform Project
Somil Trivedi was a Senior Staff Attorney in the Criminal Law Reform Project, working closely with the ACLU's Campaign for Smart Justice. Trivedi focused on prosecutorial and criminal law reform litigation, policy, and advocacy. His work integrated novel lawsuits and amicus briefs with legislative, advocacy, and voter education efforts to change incentives for law enforcement…
Somil Trivedi
Emerson Sykes
Staff Attorney, ACLU Speech, Privacy, and Technology Project
Emerson is a senior staff attorney with the ACLU Speech, Privacy, and Technology Project where he focuses on First Amendment free speech protections. From 2019-2020, he was also host of At Liberty, the ACLU's weekly podcast. Prior to joining the ACLU in 2018, he was a legal advisor for Africa at the International Center for…
Emerson Sykes
This Episode Covers the Following Issues