ACLU and Center for Media Justice Sue FBI for Records on Surveillance of Black Activists
March 21, 2019 12:45 pm
---
---
NEW YORK — The American Civil Liberties Union and Center for Media Justice today sued the FBI and Department of Justice for records related to the surveillance of Black people and Black-led organizations pursuant to a 2017 FBI Intelligence Assessment that asserts, without evidence, the existence of so-called "Black Identity Extremists Likely Motivated to Target Law Enforcement Officers."
The intelligence assessment was disseminated to at least 18,000 law enforcement agencies nationwide. In response to the organizations' request under the Freedom of Information Act for records about the intelligence assessment, the FBI entirely refused to search for certain records and disclosed only heavily-redacted documents in response to one portion of the FOIA request.
"The FBI's baseless claims about a fictitious group of 'Black Identity Extremists' throws open the door to racial profiling of Black people and Black-led organizations who are using their voices to demand racial justice," said Nusrat Choudhury, deputy director of the ACLU's Racial Justice Program. "Our government's shameful practice of using surveillance as a weapon against racial justice activism was wrong in the past, and has no place in our present. The public needs to know whether FBI is manufacturing a threat to improperly surveil, investigate, and prosecute Black people for constitutionally protected activity."
The ACLU and Center for Media Justice's FOIA request followed significant public concern about the basis for the FBI intelligence assessment, which is dated August 3, 2017, and was leaked to Foreign Policy magazine. The intelligence assessment provides no evidence of the existence of a group of so-called "Black Identity Extremists" and appears to wrongly group together Black people who, in the FBI's own words, "perceive[ ] racism and injustice in American society." It asserts that six isolated incidents of violence against police officers by Black people purportedly demonstrate the existence of a shared ideology motivating violence against law enforcement. The intelligence assessment also shows that the FBI considers associations, online activity, and "violent anti-white rhetoric" when determining whether a person is a so-called "Black Identity Extremist."
"As a Black activist and member of the Black Lives Matter Network, I am concerned that the FBI is deploying high-tech tools to profile, police, and punish Black people who stand up for racial justice," said Malkia A. Cyril, co-founder and executive director of the Center for Media Justice. "The surveillance of Black people who protest police violence smacks of COINTELPRO, which targeted civil rights leaders and ordinary Black people who had the courage to protest racial inequality and discrimination. The public deserves to know whether the FBI is wasting valuable resources to target those who object to racism, police violence against Black people, and injustice in America."
Although the majority of individuals who shot and killed police officers in 2016 are white, the FBI appears to be allocating investigative resources to surveil Black people based on unsupported allegations that a shared ideology linked to "Black identity" is motivating violence against law enforcement.
The FOIA lawsuit complaint is here: https://www.aclu.org/cases/center-media-justice-et-al-v-federal-bureau-investigation-et-al
A blog on the lawsuit is here: https://www.aclu.org/blog/racial-justice/race-and-criminal-justice/fbi-wont-hand-over-its-surveillance-records-black
Stay Informed
Every month, you'll receive regular roundups of the most important civil rights and civil liberties developments. Remember: a well-informed citizenry is the best defense against tyranny.
The Latest in Racial Justice
ACLU's Vision
The American Civil Liberties Union is a nonprofit organization whose mission is to defend and preserve the individual rights and liberties guaranteed to every person in this country by the Constitution and laws of the United States of America.
Learn More About Racial Justice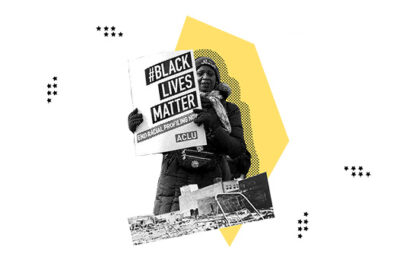 The Racial Justice Program (RJP) fights to eradicate racial injustice in the U.S. and works to foster a society in which people of color and communities of color have full access to the rights and benefits of American society. Working with affected communities, RJP litigates, advocates, and educates to strike at the roots of racial injustice.