ACLU Files Federal Class Action Lawsuit Challenging Discriminatory Cash Bail System That Punishes Poor People in Detroit
April 14, 2019 2:45 pm
---
---
DETROIT — Today, the ACLU of Michigan, the national ACLU, and the law firm Covington & Burling LLP filed a federal class action lawsuit against the 36th District Court in Detroit for violating the constitutional rights of people who are presumed innocent but are confined to jail because they cannot afford to pay bail following their arrest. The lawsuit seeks an overhaul of an unconstitutional cash bail system that discriminates against poor people, locking them up because they cannot afford to pay while allowing those who have money to go free.
"A person's freedom should not depend on how much money they have," said Dan Korobkin, ACLU of Michigan Deputy Legal Director. "Bail was originally intended to ensure a person returns to court to face charges against them. But instead, the money bail system has morphed into mass incarceration of the poor. It punishes people not for what they've done but because of what they don't have."
"Detroiters deserve a justice system that is smart, fair, and works for everybody," said Aaron Lewis, a partner at Covington, which is co-lead counsel in the lawsuit. "The cash bail system is devastating to families, it separates parents from their children, it harms communities and businesses, and it wastes taxpayer dollars keeping people locked in jail who should be at home."
The lawsuit, filed on behalf of seven Black plaintiffs in U.S. District Court, describes a two-tiered legal system in which a person's freedom depends on their ability to afford bail, a clear violation of due process and equal protection. The lawsuit also claims violations of the right to counsel because poor people accused of crimes are not provided attorneys to represent them when bail is being set.
The lawsuit additionally notes that Michigan's court rules actually mandate meaningful inquiry into an arrested person's ability to pay bail, and require pretrial release without cash bail except in extraordinary circumstances such as a truly severe flight risk or danger to the community. Additionally, Michigan's Indigent Defense Commission now requires that counsel be appointed to represent defendants at arraignment. But these requirements are blatantly violated in the 36th District Court, where arraignments last only a few minutes, defendants appear without counsel, ability-to-pay determinations are not conducted, and 85% of those who are arraigned while under arrest are required to pay cash bail in order to be released.
Detroit's 36th District Court is the largest district court in Michigan and one of the busiest courts in the United States. Named as defendants in the lawsuit are its chief judge, who has overall responsibility for its operation, and the five magistrates who regularly set bail at arraignments. The Wayne County Sheriff was also named in the lawsuit because his office has administrative responsibility over the jails where people who cannot afford bail are detained. The case is a class action and asks a federal court to order systemic reforms to Detroit's pretrial bail system.
Before filing the lawsuit, the ACLU observed hundreds of court proceedings, which are described below:
The vast majority of bail arraignments are done via video teleconference between a 36th District courtroom and the Detroit Detention Center (DDC) where arrested people are initially held;
The DDC guards instruct those arrested off camera that the only purpose of the arraignment is to plead 'not guilty,' they are only to answer 'yes' or 'no' to the judge's questions, and they should not attempt to explain their situation to the judge;
The typical arraignment lasts just 2 to 4 minutes, with the bail-setting phase lasting less than a minute;
Magistrates begin by reading the person's charges and rights in a rapid-fire manner and then ask if the person understands the charges and their rights. If the person does not understand the charges, the magistrate often recites the charges or rights again using the exact same verbiage but speaks a bit slower and in a louder often more exasperated tone;
When setting bail, magistrates make no inquiry into the person's ability to pay;
In 85% of the cases, the arrested person was required to pay cash bail in order to be released;
After setting bail, magistrates instruct the person to step away from the camera. If the person complains that they cannot afford it or attempts to ask questions, they may be "shushed" by guards; and
In 95% of the cases, the arrested person does not have an attorney. But, ironically, magistrates doconsider ability to pay for people who can afford legal representation, as was the case on March 1, 2019, when Chief Magistrate Wood told an arrested person that having an attorney present was a factor in reducing their bail since the arrestee was "taking this case seriously because he's retained counsel."
Research is clear that with each day in jail, the chance for a fair trial diminishes as it is tougher to mount a defense when behind bars. Pre-trial detention is the single greatest predictor of a conviction and a sentence to jail or prison time. It is also more likely that the person will plead guilty even when innocent just to go home. Also, just three days behind bars puts a person at risk of losing their job, home and custody of their children.
For many people, paying bail is simply not possible. In 2017, the number of people in Detroit living below the poverty line was 34 percent, with the median household income about $30,000, less than half of the nationwide median household income. The federal reserve recently reported that 40 percent of adults in the U.S. are unable to afford a $400 emergency expense.
The bail system is also very costly to taxpayers. The Wayne County Jails collectively house more than 1600 people every night. About 62% are there as pre-trial detainees, typically because they cannot afford bail. It costs about $165 a night to detain a person in Wayne County jails, so pre-trial detainees cost taxpayers about $164,000 a day or about $59 million a year. Around half of the pretrial detainee population in Wayne County are held on charges exclusively originating in the 36th District Court.
The use of bail also has a severely disparate impact on people of color, including African Americans, who are more likely to be held in jail because they cannot afford bail.
"36th District Court's broken bail system is wreaking devastating consequences in a city where the population is nearly 80 percent African-American," said Twyla Carter, senior staff attorney with the ACLU's Criminal Law Reform Project. "In addition to being unconstitutional, this further impoverishes people who are already facing extraordinary challenges and enduring severe racial disparities in our criminal legal system. That is why we are challenging bail systems like this across the country. They are dooming people who are presumed innocent but can't afford their freedom. We will continue to challenge bail systems where prosecutors, judges, and law enforcement rely on an unfair and ineffective money bail system."
The court filing and further documents can be found here: https://www.aclumich.org/en/press-releases/aclu-files-federal-class-action-lawsuit-challenging-discriminatory-cash-bail-system
Read stories of a broken bail system here: https://www.aclumich.org/en/our-work/campaigns/stories-broken-bail-system
Stay Informed
Every month, you'll receive regular roundups of the most important civil rights and civil liberties developments. Remember: a well-informed citizenry is the best defense against tyranny.
By completing this form, I agree to receive occasional emails per the terms of the ACLU's privacy policy.
The Latest in Smart Justice
ACLU's Vision
The American Civil Liberties Union is a nonprofit organization whose mission is to defend and preserve the individual rights and liberties guaranteed to every person in this country by the Constitution and laws of the United States of America.
Learn More About Smart Justice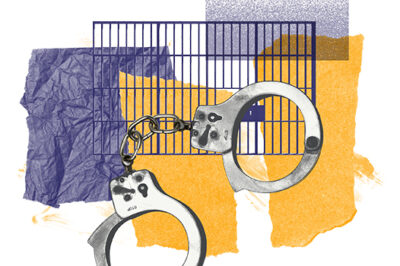 The ACLU Campaign for Smart Justice is an unprecedented, multiyear effort to reduce the U.S. jail and prison population by 50% and to challenge racism in the criminal legal system.