ACLU of Florida Challenges Discriminatory Voting Act
August 15, 2001 12:00 am
---
---
FOR IMMEDIATE RELEASE
MIAMI – The American Civil Liberties Union of Florida's Equal Voting Rights Project today sued Florida and Monroe County election officials in an effort to halt the implementation of several sections of Florida's much-heralded Election Reform Act of 2001. The ACLU claims that portions of the act passed by the Florida Legislature last spring are racially discriminatory.
""Today's lawsuit challenges some of the lesser publicized but negative changes enacted by the Florida legislature that will undo many of the positive election reforms and disenfranchise even more minority voters than were disenfranchised in November 2000,"" said Howard Simon, executive director of the ACLU of Florida.
The suit, Major v. Sawyer, challenges the posting in all polling places of a list of ""Voter Responsibilities,"" which requires in part that a voter ""study and know candidates and issues,"" ""bring proper identification to the polling station"" and ""know how to operate voting equipment properly.""
""These provisions, and their prominent display as required by the Reform Act, are a throwback to the days of literacy tests, which are illegal under the Voting Rights Act of 1965,"" said Simon. ""These provisions may disproportionately impact race and language minorities in exercising their right to vote.""
The lawsuit also seeks to halt the implementation of a new felon purging process and provisional ballot system until those provisions have been fully reviewed and approved by the U.S. Department of Justice.
The Voting Rights Act explicitly outlaws any requirement that a voter be able to demonstrate the ""ability to read, write, understand or interpret any matter,"" or demonstrate ""knowledge of any particular subject."" Further, Section 5 of the Voting Rights Act requires the Department of Justice to review all voting changes to be implemented in Monroe County for possible discriminatory effects because the county has a history of using literacy tests and otherwise discriminating against minority voters.
""This suit sends a clear message that electoral reform must move us forward, not take us back,"" said Charles Major, a plaintiff in the lawsuit. ""We are heading into 2002. We should not be going backwards to a time before there were any civil rights laws.""
Although under Florida law a voter without identification is still entitled to vote by affidavit ballot, the new list of responsibilities fails to inform the voter of this. This gives voting rights advocates cause for concern since recent census data show that blacks and Latinos are far more likely than whites to move frequently and to be impoverished. As a result, they are less likely to have photo identification or to know their correct precinct after a recent move.
""I know elderly people here who have never driven a car in their entire lives,"" said Norma Jean Sawyer, a member of the Florida Voters League. ""They don't have photo ID. You tell them ID is required and give them no options and they will not vote.""
The fact that minorities tend to move more frequently than whites and be erroneously purged as felons forms the basis of the suit's challenge to the disqualification process for provisional ballots, which disqualifies all otherwise valid ballots cast in the wrong precinct.
""Unfortunately, the provisional balloting system as it is set up now will encourage both poll workers and voters to use the provisional ballot any time a voter is not on the rolls,"" said Charles Elsesser, project attorney and co-director. ""A person who moves and then goes to the wrong precinct might be given a provisional ballot instead of being directed to the correct precinct. That person's ballot would later be 'rejected as illegal' without his or her knowledge.""
Major v. Sawyer is not the first attempt by the Florida Equal Voting Rights Project to prevent the implementation of these three provisions of the Florida Election Reform Act. On April 27, 2001, the project sent a letter to Florida Speaker of the House Tom Feeney and other legislative leaders urging them to revise the election reform package to eliminate the Voter Responsibilities list. On July 19, 2001, the project sent a letter of comment to the U.S. Department of Justice asking the department to object to the list, the new felon purge process and the disqualification process for provisional ballots.
The text of both letters, along with their accompanying press releases, can be found at http://www.aclufl.org/votingrights.html
To read the complaint visit http://www.aclufl.org/electionlaw081501.html
Stay Informed
Every month, you'll receive regular roundups of the most important civil rights and civil liberties developments. Remember: a well-informed citizenry is the best defense against tyranny.
By completing this form, I agree to receive occasional emails per the terms of the ACLU's privacy policy.
The Latest in Voting Rights
ACLU's Vision
The American Civil Liberties Union is a nonprofit organization whose mission is to defend and preserve the individual rights and liberties guaranteed to every person in this country by the Constitution and laws of the United States of America.
Learn More About Voting Rights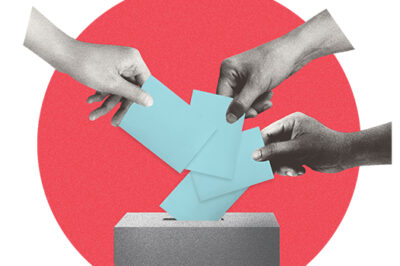 Voting is the cornerstone of our democracy and the fundamental right upon which all our civil liberties rest. The ACLU works to protect and expand Americans' freedom to vote.