ACLU, Insane Clown Posse File Lawsuit Challenging FBI Gang Designation
January 8, 2014 12:00 am
---
---
FOR IMMEDIATE RELEASE
CONTACT: 212-549-2666, media@aclu.org
DETROIT – The American Civil Liberties Union of Michigan, along with the Detroit music duo Insane Clown Posse (ICP), filed a federal lawsuit today on behalf of Juggalos, or fans of ICP, claiming that their constitutional rights to expression and association were violated when the U.S. government wrongly and arbitrarily classified the entire fan base as a "hybrid" criminal gang. The lawsuit was filed on behalf of four Juggalos and the two members of ICP.
"The Juggalos are fighting for the basic American right to freely express who they are, to gather and share their appreciation of music, and to discuss issues that are important to them without fear of being unfairly targeted and harassed by police," said Michael J. Steinberg, ACLU of Michigan legal director. "Branding hundreds of thousands of music fans as gang members based on the acts of a few individuals defies logic and violates our most cherished of constitutional rights."
Juggalos are the self-identified fans of ICP. They often express their affinity for ICP by painting their faces to look like clowns, and displaying the "hatchetman" logo and other ICP insignia on their clothing, jewelry, body art and bumper stickers. Juggalos often come together at concerts or their annual week-long summer gathering. They consider themselves a "family" of people who love and help one another and enjoy one another's company. Juggalos are not an organized fan club, but a group of people who bond over the music and a philosophy of life, much like "Deadheads" bonded around the Grateful Dead. The federal government estimates that there are more than a million Juggalos in the United States.
In 2011, Juggalos were officially identified as a "hybrid gang" by the U.S. Department of Justice (DOJ), when the fan group was included in the DOJ's third National Gang Threat Assessment. As a result of this unjust designation, "individual Juggalos are suffering improper investigations, detentions and other denials of their personal rights at the hands of government officials" or denied employment according to the lawsuit filed today in the U.S. District Court for the Eastern District of Michigan.
For instance, Brandon Bradley, 20, a self-identified Juggalo, has on numerous occasions been stopped and detained by law enforcement officers in California. Each time, the officer has wrongly accused Brandon of being in a gang and has interrogated him about being a Juggalo and his affiliated tattoos and clothing. Another plaintiff, Scott Gandy, was told he would not be accepted in the Army because his ICP tattoo was a gang symbol.
"It's unfair that police are treating fans of ICP like criminals just because of the music we like," said Brandon. "Even though the Juggalo community has had a positive effect on my life, now I feel I have to cover my tattoos in certain areas or risk being harassed by police. It's wrong to make me hide who I am."
The lawsuit asks a judge to order the DOJ to remove the Juggalos from the government's list of gangs so that the fans of ICP will no longer be unconstitutionally and unjustifiably singled out as targets for scrutiny and harassment by law enforcement authorities throughout the country. The lawsuit goes on to assert that the DOJ's classification of the Juggalos as a gang is unconstitutionally vague and violates the Juggalos' constitutional rights to association and speech.
"It's time for the FBI to come to its senses and recognize that Juggalos are not a gang but a worldwide family united by the love of music," said Joseph Bruce (aka Violent J), a member of ICP. "There has never been—and will never be—a music fan base quite like Juggalos, and while it is easy to fear what one does not understand, discrimination and bigotry against any group of people is just plain wrong and un-American."
In 2012, attorneys representing ICP and their record label, Psychopathic Records, filed a Freedom of Information Act (FOIA) lawsuit against the FBI to obtain records the federal government used to justify officially designating Juggalos as a criminal gang. When those documents were finally released, they contained nothing that would warrant labeling all Juggalos as a criminal gang.
In addition to Steinberg, the Juggalos are represented by ACLU cooperating attorney Saura J. Sahu of the law firm Miller, Canfield, Paddock and Stone, and Daniel Korobkin and Kary Moss of the ACLU of Michigan. The members of the Insane Clown Posse are represented by Howard Hertz and Elizabeth Thomson of the firm Hertz Schram and Farris F. Haddad of Farris F. Haddad & Associates, P.C.
To read more about the lawsuit, including the complaint and plaintiff bios, please visit:
www.aclumich.org/juggalos.
Stay Informed
Every month, you'll receive regular roundups of the most important civil rights and civil liberties developments. Remember: a well-informed citizenry is the best defense against tyranny.
The Latest in Criminal Law Reform
ACLU's Vision
The American Civil Liberties Union is a nonprofit organization whose mission is to defend and preserve the individual rights and liberties guaranteed to every person in this country by the Constitution and laws of the United States of America.
Learn More About Criminal Law Reform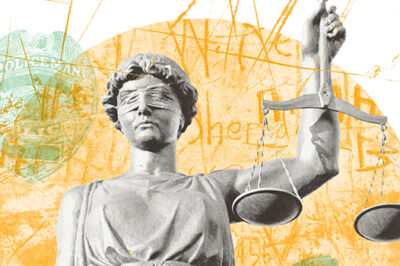 The Criminal Law Reform Project seeks to end harsh policies and racial inequities in the criminal justice system.