ACLU-NC Legal Foundation Announces Successful Settlement of Lawsuit Against Elon Police Department on Behalf of Grandfather who was Unlawfully and Repeatedly Shot with Taser
December 23, 2009 12:00 am
---
---
FOR IMMEDIATE RELEASE
CONTACT: media@aclu.org
ELON – The American Civil Liberties Union of North Carolina Legal Foundation (ACLU-NCLF) today announced the successful resolution of a federal lawsuit filed on behalf of John W. Paylor, a resident of Elon and a 55-year-old grandfather who was shot twice with a Taser by Elon police officers on June 18, 2006. The officers had surrounded the home of Mr. Paylor in order to serve him with a misdemeanor arrest warrant for using profanity on a public highway and for reckless driving. A videotape of the incident shows that Mr. Paylor was unarmed, in his underwear, and presented no threat to the officers. Nevertheless, an Elon police officer shot Mr. Paylor with a Taser, causing him to fall from his porch. Then, while Mr. Paylor was lying on the ground, unable to move from the shock of being tased and from the fall down his steps, the officer tased him a second time. Mr. Paylor has sustained permanent physical scarring from the incident. The ACLU-NCLF filed a lawsuit against the Elon Police Department and the individual Elon police officers involved on behalf of Mr. Paylor for excessive use of force in March 2009.
A settlement agreement was finalized and executed this morning, and cooperating attorneys for the ACLU-NCLF have filed papers in court ending the lawsuit. Under the terms of the settlement agreement, the Elon Police Department will implement measures designed to prevent excessive and unnecessary use of Tasers in the future. In particular, Elon police officers will undergo improved annual training on a new Taser policy and on Elon's more general use-of-force policy. Elon's new Taser policy must be consistent with policies in place in other North Carolina localities that include protections the ACLU believes are important to safeguard against excessive use of Tasers. For example, these policies prevent the use of Tasers against individuals, such as Mr. Paylor, who are not actively resisting officers. These policies also prohibit the use of Tasers against individuals, such as Mr. Paylor, who could potentially receive a secondary injury resulting from falling off an elevated location, and they also limit the number of times an individual can be tased. Other settlement terms include the following: (1) the officer who tased Mr. Paylor will undergo additional use-of-force and Taser training at the North Carolina Justice Academy; and (2) the Elon Police Chief will instruct all officers that anyone with a personal interest relating to the subject of a misdemeanor warrant shall refrain from serving such warrant in person, unless safety or exigent circumstances require that person to be present. Additionally, the Elon Police Department made a $50,000 settlement payment to Mr. Paylor for his physical, emotional and constitutional injuries.
"I am happy with this outcome," said John Paylor. "What these officers did to me was wrong, and my hope is that this settlement will prevent others from having to suffer what I suffered at the hands of Elon police."
The lawsuit named as defendants certain individual police officers of the Elon Police Department, including Officer Harold T. Dunn, and contended that the officer used his Taser to retaliate against Mr. Paylor for a verbal exchange that occurred between him and Mr. Paylor the day before. The lawsuit further alleged that the other officers who were present failed to intervene to stop Officer Dunn's unlawful actions and therefore likewise violated Mr. Paylor's constitutional right to be free from excessive force. Finally, the lawsuit contended that the Town of Elon bears responsibility for its failure to properly train its officers in the use of Tasers and for a pattern and practice of permitting its police officers to employ Tasers in an excessive and reckless manner. After the lawsuit was filed, other Elon residents came forward and described instances in which they too had been tased unnecessarily by the Elon Police Department.
"We are happy with the settlement, as this was a flagrant abuse of authority by members of the Elon Police Department," said attorney Mark J. Prak, Cooperating Attorney for the ACLU-NCLF, who represented Mr. Paylor. "John Paylor did nothing to deserve this treatment as the police videotape clearly demonstrates. This was a case of an officer abusing his position as a police officer to satisfy his own ego."
The ACLU-NCLF is a founding member of the North Carolina Taser Safety Project, a coalition of nonprofit organizations advocating for the proper use of Tasers by law enforcement and for better training for officers on the weapons' potential risks. These risks are especially pronounced when used on certain vulnerable populations, such as children, the elderly, the disabled, obviously pregnant women, and people in certain situations that place them at greater risk of harm, such as people standing atop a flight of stairs – as Mr. Paylor was here – who are at risk of injury from falling if shot with a Taser. The Taser Safety Project produced a report in 2008 which can be found online at http://acluofnc.org/files/NotThereYet.pdf.
"Tasers are becoming increasingly common in North Carolina and across the country," said Katy Parker, Legal Director for the ACLU-NCLF. "It is important that as officers employ these potentially deadly weapons, they do so only when necessary and that they exercise restraint. These weapons are not toys."
Mr. Paylor was represented by Mark J. Prak, Charles E. Coble and Charles F. Marshall of Brooks, Pierce, McLendon, Humphrey & Leonard, L.L.P. in Raleigh, North Carolina, and C. Scott Holmes of Brock, Payne & Meece, P.A. in Durham, North Carolina, as Cooperating Attorneys for the ACLU of North Carolina Legal Foundation, as well as by Katherine Lewis Parker, Legal Director of the ACLU of North Carolina Legal Foundation. A copy of the settlement agreement is available upon request.
Stay Informed
Every month, you'll receive regular roundups of the most important civil rights and civil liberties developments. Remember: a well-informed citizenry is the best defense against tyranny.
By completing this form, I agree to receive occasional emails per the terms of the ACLU's privacy policy.
The Latest in Smart Justice
ACLU's Vision
The American Civil Liberties Union is a nonprofit organization whose mission is to defend and preserve the individual rights and liberties guaranteed to every person in this country by the Constitution and laws of the United States of America.
Learn More About Smart Justice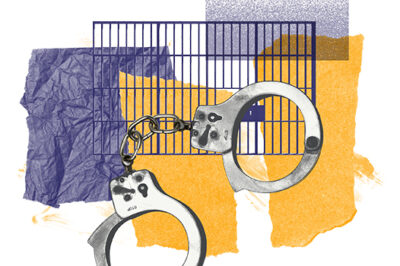 The ACLU Campaign for Smart Justice is an unprecedented, multiyear effort to reduce the U.S. jail and prison population by 50% and to challenge racism in the criminal legal system.