ACLU of North Carolina Files "Friend of the Court" Brief in Case Where Police Shot Hispanic Homeowner After Search Based on Racial Profiling
February 5, 2008 12:00 am
---
---
FOR IMMEDIATE RELEASE
CONTACT: media@aclu.org
RALEIGH – The American Civil Liberties Union of North Carolina Legal Foundation (ACLU-NCLF) filed an amicus ("friend of the court") brief last week in the Fourth Circuit Court of Appeals, in a case where police officers admitted under oath that while trying to locate a man named Rudelfo Gonzales who had escaped from his probation officers, Clayton police officers searched the property surrounding the home of Manuel Peña, an Hispanic man, in part because he happened to be Hispanic.
In Peña v. Porter, et al., Plaintiff Manuel Peña alleges that he was shot by Clayton, North Carolina police officers who targeted his property for a search and ultimately employed excessive force, as a result of the officers' discriminatory beliefs about Hispanics. Neither Manuel Peña, nor anyone in his family, knew Rudelfo Gonzales. Additionally, Gonzales had not fled in the direction of Mr. Peña's street or home. Officers in this case have admitted under oath that they targeted Mr. Peña's property in part based on an assumption that people who are Hispanic are more likely to cover for each other, and more likely to provide shelter to fugitives who are Hispanic:
Sgt. Jeffrey Porter:
· "It's been my experience in dealing with the Hispanic community that they tend to help one another more so than what Americans do. Him, being Hispanic, could have possibly ran over there, whether he knew somebody, or just hoping to find somebody that would give him shelter or aid him as far as cutting off the handcuffs."
· "If he was looking for shelter, he probably, possibly, could have been looking for shelter from another Hispanic family, somebody that would've rendered aid to him."
· Q: "One of the reasons that you went to the area of the Pena property was because you knew they were Hispanic?" A: "One of the reasons, yes."
Officer James Barbour:
"Hector [Mr. Peña's son who lived on the Peña property] himself being Hispanic, it was possible that the Hispanic was hiding at this other Hispanic's house."When trying to get Mr. Peña to come to the door, Barbour admits to saying, "Senor, I need to speak with you," and then adding, "Mucho panucho" [which means "a lot of pussy," or "big pussy," or "a lot of vagina"]. Barbour admitted in his deposition that he uttered the slang comment mentioned above to Mr. Peña "in an attempt to bond with Plaintiff and get him to come to the door." Barbour further testified: "It's a male thing that I have used and other officers have used, and just other – some of the other Hispanics in general, that they use it to bond with one another." Barbour suggested in his deposition that he would not have used the English translation on a Caucasian person because he "would probably get a different response."
Mr. Peña's lawsuit alleges that on February 2, 2004, at around 11:15 p.m., Clayton police officers entered onto his property based in part on the racially-based assumption that as an Hispanic man, Mr. Peña was likely to be hiding the Hispanic man whom they were seeking, Rudelfo Gonzales. Officers peered into Mr. Peña's window and saw that he was asleep. They tapped on the door and window of Mr. Peña's camper, but he did not hear them. However, their presence on his property as they searched around his camper roused the approximately 80 chickens in his chicken coops, and their squawking and the barking of a nearby dog woke him up. Fearing that an animal was getting into his chicken coop, Mr. Peña grabbed his rifle and opened the door. Mr. Peña alleges that before he even knew what happened, he was immediately shot by the officers. Mr. Peña never said anything to the officers and never fired his rifle. He had not even expected to see police on his property when he opened the door; he expected that he would simply have to chase an animal away from his chickens, which is why he grabbed his rifle. Mr. Peña is a lawful permanent resident of the United States.
In August, 2007, Judge Earl Britt of the Eastern District of North Carolina ruled that a jury should get a chance to decide whether the search of Mr. Peña's property was racially motivated. However, the Court ruled that Mr. Peña was not entitled to a jury trial on the question of whether the officers' decision to shoot Mr. Peña was also racially motivated. The ACLU-NCLF has argued in its brief that both issues should be decided by a jury.
The following statement may be attributed to Katherine Lewis Parker, Legal Director of the ACLU of North Carolina Legal Foundation:
The case before this Court did not arise in a vacuum. As the immigration debate rages throughout the country, and particularly in North Carolina, with its high rate of Hispanic immigration, disturbing trends are developing with regard to racial profiling of the Hispanic community – against not only undocumented immigrants, but also against Hispanics who are American citizens, documented non-immigrants, and lawful permanent residents like Mr. Peña. The fact that Mr. Peña was shot in his own home by police who by their own admission were on his property as a result of sweeping racial assumptions about Hispanics simply serves to illustrate the terrible consequences of the increasingly toxic climate in which Hispanics in America – documented and undocumented – are beginning to find themselves. A North Carolina jury should get a chance to decide whether the actions of these officers were racially motivated, thereby violating the constitutional rights of this individual, who was simply minding his own business on his own land.
Stay Informed
Every month, you'll receive regular roundups of the most important civil rights and civil liberties developments. Remember: a well-informed citizenry is the best defense against tyranny.
By completing this form, I agree to receive occasional emails per the terms of the ACLU's privacy policy.
The Latest in Smart Justice
ACLU's Vision
The American Civil Liberties Union is a nonprofit organization whose mission is to defend and preserve the individual rights and liberties guaranteed to every person in this country by the Constitution and laws of the United States of America.
Learn More About Smart Justice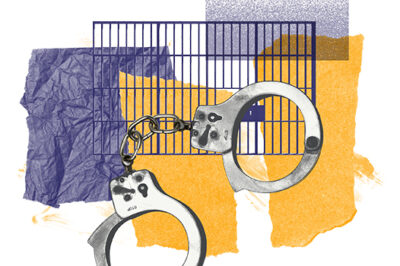 The ACLU Campaign for Smart Justice is an unprecedented, multiyear effort to reduce the U.S. jail and prison population by 50% and to challenge racism in the criminal legal system.