Appeals Court Finds Florida Law Mandating Drug Testing for Assistance Applicants Unconstitutional
December 3, 2014 2:25 pm
---
---
FOR IMMEDIATE RELEASE
CONTACT: 212-549-2666, media@aclu.org
MIAMI, FL – Today, a three-judge panel at the 11th Circuit U.S. Court of Appeals ruled that a 2011 Florida law mandating that all applicants for the state's Temporary Assistance for Needy Families (TANF) program submit to suspicionless drug tests violates the Constitution's protection against unreasonable government searches.
The law, championed by Florida Governor Rick Scott in his 2010 campaign for governor and before the legislature in 2011, was challenged in September 2011 by the American Civil Liberties Union (ACLU) of Florida and the Florida Justice Institute, on behalf of Luis Lebron, a single father, Navy veteran, and then-college student. The ACLU's Criminal Law Reform Project later joined the suit.
The 11th Circuit panel's order rejects arguments made by attorneys for the State of Florida that government has the authority to require people to submit to invasive searches of their bodily fluids without suspicion of wrongdoing, stating "the warrantless, suspicionless urinalysis drug testing of every Florida TANF applicant as a mandatory requirement for receiving Temporary Cash Assistance offends the Fourth Amendment."
"We are very pleased by the Court's opinion, which once again makes clear that the US Constitution forbids the State of Florida from subjecting ordinary private citizens to invasive and unwarranted searches," stated ACLU of Florida associate legal director Maria Kayanan. "This is a resounding affirmation of the values that the Fourth Amendment of the U.S. Constitution protects – that none of us can be forced to submit to invasive and humiliating searches at the whim of the government, and that the Constitution protects the poor and the wealthy alike. The Court has once again confirmed what we argued all along: that the state of Florida cannot treat an entire class of people like suspected criminals simply because they've asked the State for temporary assistance."
Today's ruling is the fourth time the State's arguments in support of the 2011 law have been rejected by a federal court since it was challenged by the ACLU of Florida shortly after going into effect. In October 2011, U.S. District Judge Mary Scriven enjoined enforcement of the law by entering a preliminary injunction. Governor Scott appealed that injunction, which was upheld by the 11th Circuit in February 2013. Judge Scriven issued a final judgment in December 2013, and the State appealed that ruling to the 11th Circuit as well.
Today's unanimous decision by a three-judge panel consisting of Judges Stanley Marcus, Frank M. Hull and District Judge Amy Totenberg, upholds Judge Scriven's December 2013 decision and finds that the law compelling people to submit their bodily fluids for government inspection as a condition of receiving TANF benefits violates the Constitution's protection against unreasonable and unwarranted government searches.
"Florida's suspicionless drug testing program for those seeking assistance clearly violated the Constitution," said Jason Williamson, Staff Attorney with the ACLU's Criminal Law Reform Project. "With today's decision, this prejudiced and intrusive treatment of the poor will come to an end."
Since the passage of the Florida law, many states have enacted various laws and policies mandating drug testing for applicants for certain state benefits, and have looked to the Florida case to determine whether to go forward with broad, suspicionless drug testing like the law struck down by the 11th Circuit today.
"The 11th Circuit has affirmed that that the 4th Amendment applies to everyone, even those applying for government assistance," stated Randall Berg, Executive Director of the Florida Justice Institute and co-counsel with the ACLU. "The same rationale for requiring suspicionless drug tests of TANF recipients could be used to require suspicionless searches for any kind of government benefit, whether it is social security, farm subsidies, or student scholarships. Today, the court has rejected that rationale, drawing a clear line that will keep us from going down that slippery slope."
From today's decision:
Of course, citizens do not abandon all hope of privacy by applying for government assistance. By virtue of poverty, TANF applicants are not stripped of their legitimate expectations of privacy — they are not employees in dangerous vocations or students subject to the parens patriae power of the state. And 'the collection and testing of urine intrudes upon expectations of privacy that society has long recognized as reasonable.'

[…]

The government's stated needs are general concerns, proffered only at a high level of abstraction and without empirical evidence, and thus do not justify an exception to the Fourth Amendment. […] Similarly, while it claims an interest in protecting children from drug use by TANF parents, the State has presented no evidence that children of TANF parents face a danger or harm from drug use that is different from the general threat to all children in all families. After all, the State acknowledges that drug use harms all individuals and families, but the State does not — and cannot — claim an entitlement to drug test all parents of all children.
The court's ruling is available here: https://aclufl.org/resources/lebron-v-dcf-11th-circuit-affirmance/
A 2012 review of the TANF mandatory urinalysis program found that the state of Florida spent more money reimbursing individuals for drug tests than the state saved on screening out the extremely small percentage. More information is available here: https://www.aclu.org/blog/criminal-law-reform-racial-justice/just-we-suspected-florida-saved-nothing-drug-testing-welfare
Stay Informed
Every month, you'll receive regular roundups of the most important civil rights and civil liberties developments. Remember: a well-informed citizenry is the best defense against tyranny.
By completing this form, I agree to receive occasional emails per the terms of the ACLU's privacy policy.
The Latest in Criminal Law Reform
ACLU's Vision
The American Civil Liberties Union is a nonprofit organization whose mission is to defend and preserve the individual rights and liberties guaranteed to every person in this country by the Constitution and laws of the United States of America.
Learn More About Criminal Law Reform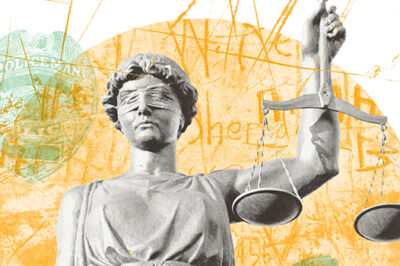 The Criminal Law Reform Project seeks to end harsh policies and racial inequities in the criminal justice system.