Civil Rights Advocates Urge NJ State Senate Committee to Severely Restrict Solitary Confinement
February 12, 2015 11:19 am
---
---
Inhumane isolation damages mental health of prisoners and poses dangers to society
February 12, 2015
FOR IMMEDIATE RELEASE
CONTACT: 212-549-2666, media@aclu.org
Members of the Campaign for Alternatives to Isolated Confinement, a coalition of groups committed to ending solitary confinement as currently practiced in New Jersey's jails and prisons, testified today in favor of a bill to severely restrict its use. The bill, S-2588, sponsored by State Senators Peter Barnes III and Raymond Lesniak, would impose limits and safeguards that have been shown to improve both institutional and community safety.
"I've been on both sides of solitary confinement, and I know that many people think of it as a temporary punishment that lasts only as long as the isolation itself," said Terrell A. Blount, a student in Rutgers University's Master of Public Administration program, who previously served three months in solitary confinement. "Based on what I've seen working with men who have served long sentences, some who served 10 years in isolation, solitary confinement is a sentence that lasts a lifetime. At the age of 21, I entered solitary myself, and I was assaulted by a man twice my age with a sentence four times longer than my own. Most people who serve time in solitary will re-enter society. And when they do, we should ask ourselves if we want them to be haunted by the torture they endured, or if we want them in a position where they can make the greatest contributions to society as possible. New Jersey needs this bill signed into law, as do the countless men and women in our state who have been subjected to the unjust and inhumane practice most commonly called solitary confinement."
Specifically, S-2588 would:
Reduce the length of time a person can be kept in solitary confinement to 15 consecutive days and no more than 20 in a 60-day period
Ban the solitary confinement of vulnerable populations, including children and prisoners with mental illness
Ensure access to due process, for people subjected to solitary confinement
Call on the Department of Corrections to develop safer and more humane alternatives
"Long-term solitary confinement is cruel, it's expensive, and it's ineffective," said ACLU-NJ Senior Staff Attorney Alexander Shalom. "This bill has the potential to bring New Jersey in line with other states across the country, from New York to Mississippi, that have made their prisons safer and increased the safety of society. Long term solitary confinement is clearly recognized as torture, and it's time New Jersey took steps to bring its use to an end. This bill is the best opportunity we've had."
In effect, the bill would encourage corrections authorities to seek effective safe alternatives and use isolation only as a last resort, in contrast to its current status as a routine form of punishment.
Solitary confinement refers to the practice of locking people in small cells for 20 or more hours at a time, whether alone or with others, without any sensory or mental stimulation. Research has clearly shown that such confinement inflicts devastating, sometimes irreparable trauma, especially for young people and people with mental illnesses. Studies have widely shown solitary confinement to be an expensive and ineffective practice that compromises safety inside correctional institutions as well as public safety in the community, where it interferes with successful prisoner re-entry and is associated with increased recidivism.
"Roughly 95 percent of those currently incarcerated will one day return home to our communities," said the Rev. Charles F. Boyer, pastor of St. James African Methodist Episcopal Church in Somerset, NJ, and a member of the National Religious Campaign Against Torture. "We believe it is a moral imperative that these individuals, our neighbors, return home prepared to contribute meaningfully within their communities."
Across the country, other states have improved corrections operations and public safety by instituting alternatives to solitary confinement. Most recently, New York severely limited its use of solitary confinement with legislation similar to S-5288, banning the solitary confinement of juveniles and people with mental illness. Washington state uses segregated housing sparingly, incorporating tactics such as restricting privileges. Maine State Prison's institutional violence decreased as a result of a reduction in use of solitary confinement. When Mississippi reduced its isolation of prisoners, the state not only saw drastic declines in prison violence, but saved more than $5 million.
"There are so many reasons not to use solitary confinement: the often permanent mental trauma, the increased violence, the added difficulties prisoners face upon reentry," said Bonnie Kerness, director of the American Friends Service Committee's Prison Watch Program. "The isolation and lack of human contact is considered no-touch torture, and for the sake of human rights, civil rights, and political rights, we must abolish it, and that starts here today with this bill."
The ACLU-NJ in 2013 filed a petition with the Juvenile Justice Commission to end the solitary confinement of children as punishment, and in 2014 filed a lawsuit on behalf of an inmate with multiple mental disorders held in solitary for months at a time in the Middlesex County Jail. While juveniles and people with mental illness in particular are most vulnerable to the devastating, permanent effects of solitary confinement, the practice inflicts heavy psychological damage in all groups of people.
"It is now past time to stop subjecting human beings in State custody to long term isolation, by supporting S2588 today, said attorney Jean Ross, a member of the People's Organization for Progress. "In New Jersey, the time to end this practice is now, and the way to end it is with this legislation. Because our state was the first to legislatively abolish the death penalty, we are optimistic that the New Jersey Legislature will also take this step to demonstrate that there are more effective and humane ways to keep us safe."
Read ACLU-NJ Senior Staff Attorney Alexander Shalom's testimony at www.aclu-nj.org.
Stay Informed
Every month, you'll receive regular roundups of the most important civil rights and civil liberties developments. Remember: a well-informed citizenry is the best defense against tyranny.
By completing this form, I agree to receive occasional emails per the terms of the ACLU's privacy policy.
The Latest in Prisoners' Rights
ACLU's Vision
The American Civil Liberties Union is a nonprofit organization whose mission is to defend and preserve the individual rights and liberties guaranteed to every person in this country by the Constitution and laws of the United States of America.
Learn More About Prisoners' Rights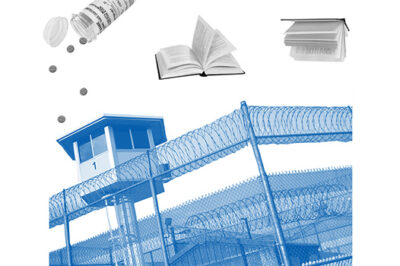 The National Prison Project is dedicated to ensuring that our nation's prisons, jails, and detention centers comply with the Constitution, domestic law, and human rights principles.