Groundbreaking New Report Exposes Impact of Solitary Confinement in Louisiana State Prisons
Largest Ever Survey of People Living in Solitary Reveals Mental Deterioration and Widespread Abuse in Isolation Units
June 25, 2019 11:30 am
---
---
NEW ORLEANS, June 25, 2019—A morning press event on the campus of Loyola University marks the release of a new report that includes harrowing first-hand accounts of prolonged isolation in Louisiana's state prisons, where at last count the Louisiana Department of Public Safety and Corrections (LADOC) held at least 17 percent of people in some form of solitary confinement—some 3,000 individuals in all. This percentage was double the next highest state's, and nearly four times the U.S. national average, making Louisiana an outlier state in an outlier country when it comes to the use of solitary confinement.
The report, LOUISIANA ON LOCKDOWN: A Report on the Use of Solitary Confinement in Louisiana State Prisons, With Testimony From the People Who Live It, is published by Solitary Watch, the ACLU of Louisiana, and the Jesuit Social Research Institute at Loyola University New Orleans. More than two years in the making, it is based primarily on a survey completed by 709 people in solitary in all nine of Louisiana's prisons, the largest ever survey of people living in solitary.
"For decades, solitary confinement occupied one of the darkest corners of the U.S. criminal justice system," said Jean Casella, Co-Director of Solitary Watch, a national watchdog group that investigates and reports on the subject. "Even now, most of what we know is based on data provided by corrections departments. That information is incomplete without the testimony of people who know what it means to live for months, years, or even decades in a 6-by-9-foot cell, cut off from nearly all human contact."
The responses to the survey paint a grim picture of long stretches of time spent in small cells that are often windowless, filthy, and/or subject to extreme temperatures, where individuals are denied basic human needs such as adequate food and daily exercise, and subject to many forms of abuse as well as to unending idleness and loneliness, resulting in physical and mental deterioration.
"These cells drive men mad," wrote Carl, who reported spending years in solitary. "I have personally witnessed one man take his life, another tried to by running the length of the tier and smashing his head into the front bars, sadly for him he still lives, if you can really call it that…" Those who survive the isolation, Carl wrote, are nonetheless destroyed by it: "Too much hurt, too much pain, too much confusion, we are lost, lost from God, lost from reality."
These responses are consistent with a growing body of evidence showing the devastating and often permanent psychological and physical harm caused by prolonged isolation. In 2015, the United Nations called on countries to prohibit the use of solitary beyond 15 days, declaring it cruel, inhumane, and degrading treatment that in many cases rises to the level of torture.
Among the report's other disturbing findings are the following:
Most survey respondents believed their mental health had worsened during their time in solitary, describing symptoms including anxiety, depression, paranoia, visual and auditory hallucinations, and difficulty interacting with others. Some expressed fear that they would "never be the same again."
More than 77 percent of people who responded to the survey said they had been held in solitary confinement for more than a year, and 30 percent said they had been there for more than five years. Nationally, less than 20 percent of individuals in solitary have been there for more than a year.
A majority said they were in solitary for breaking prison rules, including minor, nonviolent infractions, and many said they were there indefinitely, with no clear way of earning their way out through good behavior.
Approximately 80 percent of respondents reported that physical assaults at the hands of staff, as well as threats, intimidation, and racial intimidation, were common or very common in solitary confinement.
Most respondents said they had personally been subjected to additional punishments in solitary, including pepper spray or physical restraints, and a few described being punished by being placed in bare "strip" cells with only a paper gown to wear.
Over 25 percent of respondents reported engaging in self-harm, including cutting and head-banging, while in solitary, and most had witnessed it. But only 4 percent of those who had harmed themselves said they received counseling, while more than 26 percent said they were punished for it.
Nearly everyone who responded to the survey described serious neglect in the areas of medical and mental health care, which they said led to suffering, blindness, and even death.
"Solitary confinement raises significant constitutional concerns while undermining public safety and inflicting egregious harm on individuals and communities," said Congressman Cedric Richmond, a longtime advocate for ending the practice of solitary confinement. "This report is a stark reminder of the devastating impact solitary confinement has on human beings and of the urgent need for reform. Americans have waited long enough for a prison system that reflects their values and respects human dignity. The time to end solitary confinement is now."
"These powerful first-hand accounts describe in terrible detail how solitary confinement inflicts devastating physical and mental harm on those who experience it," said Katie Schwartzmann, Legal Director of the ACLU of Louisiana. "Louisiana's overuse of solitary confinement is well-documented, but by recounting these stories, this report has given people living in solitary confinement a way to share their experiences beyond the prison walls. We are hopeful that LADOC is listening."
LOUISIANA ON LOCKDOWN provides a list of detailed recommendations that include immediate limits on the use of solitary that would drastically reduce the number of people isolated in Louisiana's prisons:
An end to the use of solitary as a response to all but the most serious and violent prison offenses.
An immediate six-month limit on the length of all stays in isolation and ultimately for LADOC to comply with international standards, which limit detention in solitary confinement to 15 days maximum.
Creation of a transition program out of solitary.
Closure of lockdown units at two prisons.
A complete ban on solitary for minors under 18, people with mental illness, and other vulnerable individuals.
Creation of a task force that includes community members, as well as experts and prison officials, to bring Louisiana into compliance with UN standards.
Recognizing that the practice has adverse effects not only on incarcerated people, but on effective prison management and public safety, LADOC has recently shown a new openness to change. For several years, the department has been working in partnership with the Vera Institute for Justice's Safe Alternatives to Segregation Initiative, which issued its own report last month. LADOC has implemented initial reforms recommended by the Vera Institute, and committed to further changes in the future.
LOUISIANA ON LOCKDOWN is intended to add additional insights and an even greater sense of urgency to the push for change, said Dr. Sue Weishar, Policy and Research Fellow for Loyola's Jesuit Social Research Institute, "It is our hope that this report ensures that the voices of some of the most forgotten members of our community are finally heard, and that the suffering they so poignantly describe is brought to an end. Louisiana's correctional leaders must move forward with a renewed commitment to safeguarding the human rights and respecting the inherent human dignity of every person in their care and control."
In addition to the report authors, the press event features Dr. Ashley Howard, Assistant Professor of History at Loyola, whose students inputted survey responses and who were "devastated and transformed" by what they learned. Rev. Dan Krutz, Executive Director of the Louisiana Interchurch Conference, whose members have issued a powerful statement calling for an end to prolonged solitary confinement in Louisiana prisons and jails, will also speak at the event.
Vanessa Spinazola, Executive Director of the Justice and Accountability Center of Louisiana and a founding member of the Louisiana Stop Solitary Coalition, stresses that the kind of profound changes needed can never come entirely from within the corrections department. She notes that a grassroots movement that has come together to work toward an end to solitary confinement in Louisiana.
Among the leaders of this movement is Albert Woodfox, also a founding member of the Stop Solitary Coalition, who spent more than 43 years in solitary confinement in Louisiana and became known as one of the "Angola 3" before he was finally freed in 2016. Woodfox's recently published memoir Solitary has been called "a crushing account of the inhumanity of solitary confinement" (Publishers Weekly).
"I spent more than four decades in solitary and just celebrated my third anniversary of freedom," Woodfox said. "But one thing that the three of us made a vow to do is that when we went free, we would be the voice and face of the men and women and children that are still hidden behind the walls of the prisons, and in the solitary confinement cells of this state and this country. Part of doing that is working with the Louisiana Stop Solitary Coalition. Solitary confinement is the most cruel form of torture there is, and we must abolish it."
Many others with direct experience of solitary confinement will be present at the event, most of them members of VOTE (Voice of the Experienced), a New Orleans-based grassroots group "dedicated to restoring the full human and civil rights of those most impacted by the criminal (in)justice system."
Kiana Calloway, a solitary survivor and the Housing Justice Campaign Organizer for VOTE, will describe his own experiences in isolation. He will be joined by Rhonda Oliver, Executive Director of Women Determined, which secures housing and other support for women returning from prison, to read narratives from the surveys of people in solitary.
The final narrative they plan to read captures the devastation caused by solitary confinement, not only for the individuals who endure it, but also for the corrections system and for the families and communities to which many will one day return.
"Have you ever seen how a dog becomes after being locked up for a while?" Marvin wrote. "When you let that dog out on society what usually happens? Trouble, right? Well being in segregation for long periods of time have the same effect on a man. When let out, anxiety is high, fear is through the roof. This leads to antisocial behavior, substance abuse to self medicate the new mental anguish acquired from being caged like an animal. This in turn leads to destructive sometimes criminal behavior, which in turn can lead back to the same cage the man just left. Isn't this the definition of insanity? If so then it begs to differ that the system is INSANE! This produces men of insane minds, not productive citizens, who have been rehabilitated for society. I pray to God I will do good after being segregated for so long."
The full report is online at: solitarywatch.org/louisianaonlockdown
Stay Informed
Every month, you'll receive regular roundups of the most important civil rights and civil liberties developments. Remember: a well-informed citizenry is the best defense against tyranny.
By completing this form, I agree to receive occasional emails per the terms of the ACLU's privacy policy.
The Latest in Prisoners' Rights
ACLU's Vision
The American Civil Liberties Union is a nonprofit organization whose mission is to defend and preserve the individual rights and liberties guaranteed to every person in this country by the Constitution and laws of the United States of America.
Learn More About Prisoners' Rights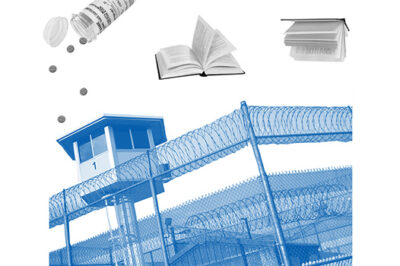 The National Prison Project is dedicated to ensuring that our nation's prisons, jails, and detention centers comply with the Constitution, domestic law, and human rights principles.