In Light of ACLU Lawsuit Charging the Federal Government with Funding Religious Activities, the Silver Ring Thing Removes Religious Content from Website
May 19, 2005 12:00 am
---
---
FOR IMMEDIATE RELEASE
Contact: Media@dcaclu.org
NEW YORK – In response to a lawsuit filed by the American Civil Liberties Union and Jenner & Block LLP against the federal government for funding religious activities in an abstinence-only program, the Silver Ring Thing today substantially altered and removed religious content from its website.

FEATURE
See changes made to silverringthing.com
PRESS RELEASES
Funding of Abstinence-Only Program Is Suspended (8/22/05)
ACLU Challenges Abstinence-Only Program (5/16/05)
LEGAL COMPLAINT
ACLU of Massachusetts v. Mike Leavitt, Secretary of U.S. Department of Health and Human Services
"The Silver Ring Thing is clearly worried about the content of its website," said Julie Sternberg, a senior staff attorney at the ACLU Reproductive Freedom Project. "They are going to great lengths to paint a picture of an organization that does not use taxpayer dollars to promote religion. Unfortunately, altering their website will not be enough to hide the overtly religious message that they have been promoting for years on the public's dime."
In the last 24 hours, www.silverringthing.com has undergone a facelift, the ACLU said. Among the removed items are the organization's newsletters, which contained a clear statement of the Silver Ring Thing's religious purpose: "The mission is to saturate the United States with a generation of young people who have taken a vow of sexual abstinence until marriage and put on the silver ring. This mission can only be achieved by offering a personal relationship with Jesus Christ as the best way to live a sexually pure life."
Additionally, the Silver Ring Thing's original "12 Step Follow-Up Program" has been modified. Prior to the lawsuit, the website contained only one version of a follow-up program. Now, the site offers a "10 Step Secular Follow-Up Program" and has renamed its 12-step version to include the words "faith-centered" in the title. The new program removes step two, which encourages using the Abstinence Study Bible and step four, which asks students to understand that "God has a plan for his or her life, and a plan for his or her sexuality." And "Deb's Diary," a section of the website that encouraged students to pursue faith and to find completion in Christ, has also been removed.
"A sanitized version of the website does not change the fact that the Silver Ring Thing in its core programming is nothing more than a vehicle for converting young people to Christianity," said Sarah Wunsch, a staff attorney at the ACLU of Massachusetts. "Taxpayer dollars should play no part in such a program."
"The Silver Ring Thing has long been quite open about the religious content in its abstinence-only sex education program," said Daniel Mach, a partner at Jenner & Block LLP. "The federal government had ample time to look into the program and see whether or not taxpayer dollars were being funneled into religious activities. It should not have taken a lawsuit for the Silver Ring Thing to scramble in an attempt to clean up its act."
The case at issue, ACLU of Massachusetts v. Leavitt, was filed in U.S. District Court for the District of Massachusetts on Monday. Lawyers on the case include Sternberg and Caroline Mala Corbin of the ACLU Reproductive Freedom Project, Mach, Victoria Jueds, Thomas Pulham, and Jessica Tillipman of Jenner & Block LLP, and Sarah Wunsch of the ACLU of Massachusetts.
The ACLU's Complaint is available online at: /reproductiverights/sexed/12603lgl20050516.html.
Stay Informed
Every month, you'll receive regular roundups of the most important civil rights and civil liberties developments. Remember: a well-informed citizenry is the best defense against tyranny.
The Latest in Religious Liberty
ACLU's Vision
The American Civil Liberties Union is a nonprofit organization whose mission is to defend and preserve the individual rights and liberties guaranteed to every person in this country by the Constitution and laws of the United States of America.
Learn More About Religious Liberty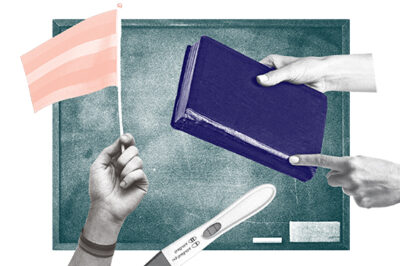 The ACLU strives to safeguard the First Amendment's guarantee of religious liberty by ensuring that laws and governmental practices neither promote religion nor interfere with its free exercise.