NYCLU Sues New York State Education Department over Approval of Facial Recognition System in Lockport
Lawsuit argues NYSED decision strips students of privacy protections
June 23, 2020 3:15 pm
---
---
NEW YORK – Today the New York Civil Liberties Union filed a lawsuit against the New York State Education Department (NYSED) for its harmful decision to approve a facial recognition technology system for use in Lockport City Schools, in violation of student data protection laws. Filed on behalf of Lockport parents Jim Shultz and Renee Cheatham, the lawsuit challenges the decision by NYSED to allow Lockport's facial recognition system to be activated. The lawsuit aims to have NYSED's approval of the system vacated and revoked, and have NYSED direct Lockport to deactivate its facial recognition system.
"NYSED's approval of this technology demonstrated a dangerous lack of oversight and an alarming misunderstanding of the way it analyzes student data," said Stefanie Coyle, Deputy Director of the Education Policy Center at the New York Civil Liberties Union. "It's NYSED's responsibility to protect students and provide expert-level oversight statewide, and it abdicated that responsibility with this decision. Facial recognition surveillance is intrusive, biased, and inaccurate, and it has no place in schools."
The Lockport facial recognition system engages in real-time collection, analysis, and retention of biometric information from each child in Lockport's schools, which include children as young as 5-years old. The collection and analysis of sensitive student data should require the District to comply with provisions of New York's Education Law that afford a high level of security to personally identifiable information.
Since 2018, the New York Civil Liberties Union has fought the implementation of face surveillance technology in Lockport. In June 2019, NYSED prohibited Lockport from testing its technology, and over the course of the year-and-a-half before finally approving the system, NYSED consistently voiced concerns, recognizing that the system implicated student data.
In November 2019, in a surprising reversal of its position, NYSED issued its approval of the system.
Last week, in a separate matter, the NYCLU sued NYSED for failing to respond to a request pursuant to NY's Freedom of Information Law regarding information about Lockport's system and its approval.
"Both Lockport and NYSED knew that face surveillance software is racially biased against people of color, and they apparently decided that was an acceptable price to pay in order to install an experimental security system," said Renee Cheatham, one of the plaintiffs in the suit. "Given that Lockport already has a history of disproportionately punishing Black children, this cannot be allowed to go forward. Any technology equipment purchased by the district should always be used for the education of our children, we need to always put them first."
Students' faces are continuously scanned by the system to see if they match any of the photos in the school's "Hot List" of people not allowed on school grounds. The data from the system is maintained for at least 60 days, according to the district's policy, and there are several carve-outs that allow for these images to be stored for even longer. There is also a risk that students, parents, or staff will be misidentified as people on the Hot List or that the stored information could be accessed by hackers.
"Face surveillance systems infringe on the privacy rights of students and raise the specter of schools sharing personally identifiable information with law enforcement or federal immigration authorities like ICE," said Beth Haroules, senior staff attorney at the NYCLU. "Despite district claims that the system will not catalog students, the technology and nature of the data collected do not allow for students to remain anonymous. The software is also inaccurate and is especially likely to misidentify women, young people, and people of color, disproportionately exposing them to the risks of misidentification and law enforcement."
In the months since NYSED approved the system, pressure has increased to shut it down. Students and parents from Lockport began organizing and debating the merits of the system. In the state legislature, Assembly Member Monica Wallace introduced a bill to impose a moratorium on biometric surveillance in schools, which was passed by the Assembly last year. State Senator Brian Kavanagh sponsored a same-as bill in the Senate. More than 100 state and national organizations have signed onto a memo in favor of the legislation.
"The Lockport facial recognition surveillance system was the product of a Board of Education falling for the sweet talk of a salesman who misrepresented himself as an independent security expert," said Jim Shultz, a Lockport parent and plaintiff in the suit. "Neither the school district or state education officials gave a thought to the radical impact this would have on student privacy."
NYCLU attorneys on the case include Beth Haroules, Stefanie Coyle, Molly Biklen and Lourdes Rosado.
You can find materials on the case here.
Stay Informed
Every month, you'll receive regular roundups of the most important civil rights and civil liberties developments. Remember: a well-informed citizenry is the best defense against tyranny.
The Latest in Privacy & Technology
ACLU's Vision
The American Civil Liberties Union is a nonprofit organization whose mission is to defend and preserve the individual rights and liberties guaranteed to every person in this country by the Constitution and laws of the United States of America.
Learn More About Privacy & Technology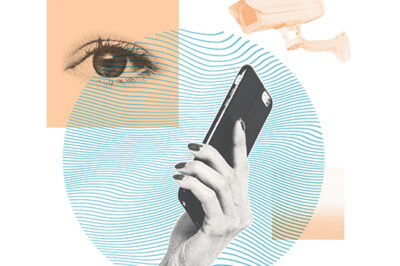 The ACLU works to expand the right to privacy, increase the control individuals have over their personal information, and ensure civil liberties are enhanced rather than compromised by technological innovation.