PA Police Veteran Testifies in Favor of State Death Penalty Moratorium Bill
February 22, 2000 12:00 am
---
---
FOR IMMEDIATE RELEASE
HARRISBURG, PA — At a public hearing today, Leslie Seymore, President of the Philadelphia Chapter of the American Civil Liberties Union of Pennsylvania and a 26-year veteran of the City of Philadelphia's Police Department, called on the state General Assembly to enact a death penalty moratorium and undertake a study of how the death penalty is implemented in the state.
Seymore joined an impressive group of attorneys, religious leaders and academics in calling for a moratorium and study.
Today's hearing comes at a time when considerable national attention is being paid to the problem of sentencing and executing the innocent. Earlier this month, the Governor of Illinois made headlines across the country when he announced a moratorium on executions due to the high number of death row prisoners exonerated in recent years. On February 10th, the Philadelphia City Council called for a moratorium on executions in Pennsylvania. And the following day, Senator Patrick Leahy of Vermont introduced new legislation seeking to ensure that death row inmates have access to DNA evidence and that courts may hear appeals based on DNA test results.
In her testimony, Seymore articulated the ACLU's concern about innocent persons being executed. "The fact that the death penalty is irreversible is especially significant in light of the studies that have found a significant percentage of people on death row are indeed innocent."
Seymore concluded her testimony with some personal observations made during her years as a police officer. She noted that there was no evidence that the death penalty acts as a deterrent. She referred to a survey of police chiefs that found that many of the chiefs do not believe that the death penalty significantly reduces the number of homicides.
"Many police chiefs feel that the political debate on the death penalty distracts legislators from focusing on realistic solutions to crime," Seymore noted. She suggested that all of the money being spent on capital punishment could be better used to fight crime by paying for improved police technology, brighter lighting in high crime areas and more probation and parole officers.
–Seymore's testimony follows–
TESTIMONY ON SENATE BILL 952
AMERICAN CIVIL LIBERTIES UNION OF PENNSYLVANIA
FEBRUARY 22, 2000
SENATE JUDICIARY COMMITTEE
Good morning Chairman Greenleaf and other members of the Pennsylvania Senate Judiciary Committee. My name is Leslie Seymore and I am testifying today on behalf of the American Civil Liberties Union of Pennsylvania. I want to thank you for scheduling this hearing and inviting us to present testimony today.
I was recently elected to be the President of the Philadelphia Chapter of the ACLU. I also sit on the Board of Directors of the ACLU of Pennsylvania. I believe that I bring a unique and important perspective to the ACLU because I was a Philadelphia police officer for many years. I have been actively involved with the ACLU since 1992. I have also been actively involved with the National Black Police Association and I have served as the national Chairperson of the Board of Directors of the National Black Police Association.
Today, I will express the ACLU's position on Senate Bill 952. I will add some of my own personal views about the death penalty, views that are largely based on my experience as a law enforcement officer.
The ACLU strongly supports Senate Bill 952. We are greatly troubled by the prospect of an innocent person being executed. The death penalty is irreversible. That fact is especially significant in light of studies that have found that a significant percentage of people on death row are indeed innocent. A study that was published in 1982 in the Stanford Law Review documented 350 capital cases in which it was proven after conviction that the defendant had not committed the crime. Of those 350 defendants, 23 have been executed while many others have spent decades behind bars.
Since 1976, 77 persons have been released from death row because they were not guilty of the crime for which they have been condemned to die. Thirty-three of these releases have occurred since 1990. Even in Pennsylvania, defendants have been released from death row! These defendants were spared death only because of the herculean efforts of students, journalists and committed attorneys.
The American Bar Association and many scholars have found that the factor that most often determines whether a defendant is sentenced to death, is not the nature of the crime, or the background of the defendant, but the quality of his lawyer. Too many death row inmates have substandard legal representation. Most capital defendants are indigent and most are represented by court-appointed lawyers. All too often these lawyers are inexperienced and underpaid and they are not provided with sufficient resources to undertake an appropriate investigation.
There is no reason to think that capital defendants in Pennsylvania consistently receive the kind of representation they deserve in these important cases. I bring to your attention the Pennsylvania Supreme Court's opinion in Commonwealth v. Perry (644 A.2d 705, 1994). In that case, which was from Philadelphia, the Pennsylvania Supreme Court vacated the death sentence and remanded the case for a new trial because defense counsel had been constitutionally ineffective in representing the defendant.
According to the Supreme Court's opinion, the defendant was arrested on March 17, 1989. The court appointed an attorney to represent him two days later. In May of 1989, defense counsel obtained authorization to retain a private investigator. Counsel waited until February 21, 1990 to hire an investigator. The trial commenced on February 26, 1990. The trial took place from March 1, 1990, through March 9, 1990.
At the hearing on post-verdict motions, it became clear that defense counsel had never interviewed the defendant, failed to investigate an eyewitness, did not direct the investigator to seek eyewitnesses, and failed to interview or call character witnesses that had been located. Perhaps most astonishing was defense counsel's admission on February 22, 1990, that he was unaware that this was a capital case. Defense counsel took no steps to prepare for the sentencing phase of the case.
The Pennsylvania Supreme Court critiqued the quality of defense counsel's work:
we do not think extensive analysis necessary to perceive the prejudice to appellant's defense. There is a reasonable probability that counsel's failure to interview his own client, failure to investigate a potential eyewitness, gross inattention to the capital nature of his client's plight, failure to prepare for the penalty phase of trial, failure to present known character witnesses, and presentation of such a pitiful parody of a defense case at the penalty hearing, in combination affected the outcome of the trial. (644 A.2d 709)
Unfortunately, this case is not a unique aberration. For many years in Philadelphia there were no standards for attorneys appointed in capital cases. Too many defendants were subjected to a cruel and unusual lottery. While the Supreme Court may have rectified the error in this case, the ACLU fears that there are many more cases where inadequate preparation resulted in a miscarriage of justice. We do not think that the responsibility for insuring adequate representation lies solely with our courts. The ACLU believes that both the executive and legislative branches of government must do far more to guarantee than any defendant who faces the possibility of a death sentence is represented by quality counsel with adequate resources at each and every stage of the criminal proceedings. We have no reason to think that there is sufficient commitment on the part of the legislative and executive branches for providing high quality legal representation to indigent individuals charged with capital offenses. A moratorium is certainly appropriate so that the legislature and Governor can have an opportunity to figure out how to rectify the problem of inadequate and unqualified counsel.
The ACLU is also very disturbed by the statistics that demonstrate that in Pennsylvania a disproportionate number of death row inmates are from one county – Philadelphia – and that more than 80% of those inmates are African-American or Latino. These figures are shocking and suggest that there is a real problem in this state with geographical and racial disparity. I know that there are other witnesses addressing those issues today and I expect that they will shed light on this sad state of affairs.
I would now like to offer some observations that I have made during my years as a law enforcement officer. Proponents of the death penalty suggest that capital punishment is an effective deterrent. FBI statistics prove the opposite. In the states where executions take place, the murder rate is higher than in the states without the death penalty. More police officers are killed in states with the death penalty than in states without the death penalty. I recall a survey of the International Association of Chiefs of Police that was conducted several years ago that found that many do not believe that the death penalty significantly reduces the number of homicides. They do not believe that murderers actually think about the possibilities of punishment when committing a crime. According to the same survey, many police chiefs feel that the political debate on the death penalty distracts legislators from focusing on realistic solutions to crime.
Furthermore, the exorbitant costs of capital punishment are actually making Americans less safe because badly needed resources are being diverted from proven, effective crime fighting strategies such as community policing. Millions of dollars that are being spent on capital punishment could be used to fight crime in many other ways, such as improving police technology, better lighting in high crime areas, more probation and parole officers who can better supervise defendants on probation and parole and a more efficient court system.
As a 26-year veteran of the City of Philadelphia Police Department, I have witnessed first-hand every conceivable act of violence. I have buried fellow police officers and friends killed in the line of duty. I have consoled grieving mothers whose babies have been brutally beaten outside their doorsteps. I have comforted youth witnessing their mothers and fathers being taken to jail. And after all of that, I have yet to witness any crime that in my opinion warrants the death penalty.
Violence only begets violence.
Stay Informed
Every month, you'll receive regular roundups of the most important civil rights and civil liberties developments. Remember: a well-informed citizenry is the best defense against tyranny.
By completing this form, I agree to receive occasional emails per the terms of the ACLU's privacy policy.
The Latest in Smart Justice
ACLU's Vision
The American Civil Liberties Union is a nonprofit organization whose mission is to defend and preserve the individual rights and liberties guaranteed to every person in this country by the Constitution and laws of the United States of America.
Learn More About Smart Justice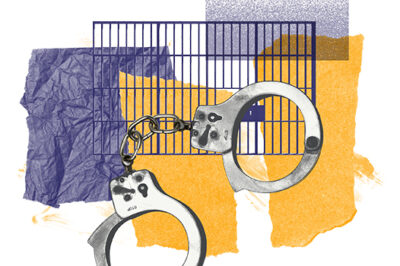 The ACLU Campaign for Smart Justice is an unprecedented, multiyear effort to reduce the U.S. jail and prison population by 50% and to challenge racism in the criminal legal system.