Statement of Laura W. Murphy, Director, ACLU Washington Legislative Office, on Launch of ACLU Safe and Free Campaign
October 16, 2002 12:00 am
---
---
FOR IMMEDIATE RELEASE
WASHINGTON– In the months since the tragic terrorist attacks of September 11 and the passage of the USA PATRIOT Act, my ACLU colleagues and I have spent a great deal of time on the road, talking to concerned Americans about the government's response to the terrorist attacks. From those gatherings – which have been larger and better attended than our meetings of any recent times – we know that there is an increasing groundswell of concern in America about President Bush's and Attorney General Ashcroft's determination to cut back on our freedom in the name of safety.
While there is no one in this country who is not concerned about our safety – including the people in this room today – we believe that a significant portion of the American public will not accept continual erosion of our freedom. And we're here today to announce a mobilization of ACLU members and other concerned activists to insure that members of Congress and elected officials at all levels hear that the American public does not want the government to treat liberty and security as mutually exclusive. We will work tirelessly so that our safety can be guaranteed simultaneously with our right to say what we want, befriend whoever we want, worship however we want and be who we are without fear that our lawful actions will land us on the government's radar screen.
What do we hope to accomplish with the Safe and Free Campaign? We will prevent further erosions of our liberty and achieve significant rollbacks of policies, executive orders or legislation that suppress American liberty and that are ineffective or unnecessary.
Under the overarching goal of safeguarding democracy in a time of crisis, we have six specific policy objectives. This morning, I'd like to briefly address three of them; you'll hear more about the other policy objectives as our campaign continues.
First, we will work to reverse the Attorney General's recent unilateral decision to rewrite guidelines that limit the ability of the FBI to engage in domestic spying. These guidelines were put in place after the Church Commission hearings of the mid-1970s disclosed the FBI's covert program to destroy the Rev. Dr. Martin Luther King Jr. and others who publicly disagreed with the government.
To achieve this policy goal, the ACLU national office will be working with our affiliates to help with a rapidly growing grassroots movement to pass city council resolutions to block intrusive federal actions that threaten constitutional rights and civil liberties. The Attorney General's new guidelines allow the FBI to work with municipal, county and state police departments to conduct joint operations that include spying on First Amendment-protected activities. Local governments have the power to tell their law enforcement officers not to spy without evidence of crime. And with the help of ACLU members and activists around the country, we will encourage them to say ""no"" as strongly as possible.
Second, we will lobby to repeal the anti-civil liberties provisions in the USA PATRIOT Act. Specifically, we seek to insure that:
Wiretapping is subject to meaningful judicial review.
Law enforcement agents provide notice when searching a home.
Non-citizens who are not dangerous terrorists are not subject to indefinite detention.
Dissident groups engaging in lawful activities — such as Operation Rescue, Greenpeace and PETA- are not swept up in an overbroad definition of domestic terrorism.
We are working with members of Congress to introduce legislation to repeal some of the more offensive provisions of the USA PATRIOT Act. Over the next few months, we will focus on several of the surveillance sections, some of which will expire in 2005 and others of which are supposed to be permanent. We will join ranks with the American Library Association and other groups to let the public know that librarians must turn over the names of people and what they read to the FBI. And, even more frightening, librarians commit a crime if they even reveal that the FBI has asked for this information.
The third goal I'd like to address today is the protection of basic privacy rights for all Americans. The technological growth that fueled the economic boom of the 1990s has also made possible the infrastructure to support a disturbing surveillance society. Worse, aspects of this surveillance society are being actively supported by the President and Attorney General as essential to national security and are gaining in acceptability.
Some members of Congress are supporting legislation to establish a de facto national ID card by standardizing our drivers' licenses. And the Bush Administration is supporting a registered passenger program that we believe could also lead to a national ID.
To fight these proposals, we've established a highly unusual right-left coalition — co-chaired by the Eagle Forum – to work against any type of national ID. We will be asking the public to help us with those efforts and to fight any effort to violate the privacy of drivers' or travelers' information.
So what will the ACLU do to mobilize the public? We are expanding our resources to educate, activate and organize. We will use these resources to educate the public about how vulnerable they are to government overreaching, to facilitate their ability to contact their elected and appointed officials at all levels of the government and to promote civic engagement through outreach to coalition partners.
The hallmark of our democracy is an engaged public. Through outreach to communities, churches, synagogues, mosques and town hall meetings across the country, we will mobilize concerned Americans to protect their rights.
Last December, Attorney General Ashcroft, the chief law enforcement officer of this country, effectively accused those who ""frighten peace-loving people with phantoms of lost liberty"" of siding with the terrorists.
Now more than ever, it is necessary to stand up for the Bill of Rights. We strongly believe that it is patriotic to question the actions of an overreaching government – one that seems determined to eliminate crucial checks and balances on its authority.
Stay Informed
Every month, you'll receive regular roundups of the most important civil rights and civil liberties developments. Remember: a well-informed citizenry is the best defense against tyranny.
By completing this form, I agree to receive occasional emails per the terms of the ACLU's privacy policy.
The Latest in National Security
ACLU's Vision
The American Civil Liberties Union is a nonprofit organization whose mission is to defend and preserve the individual rights and liberties guaranteed to every person in this country by the Constitution and laws of the United States of America.
Learn More About National Security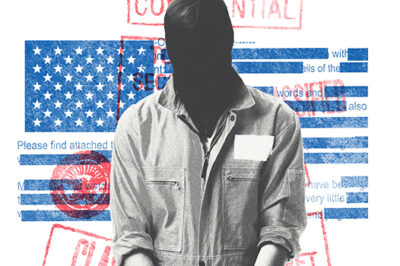 The ACLU's National Security Project is dedicated to ensuring that U.S. national security policies and practices are consistent with the Constitution, civil liberties, and human rights.