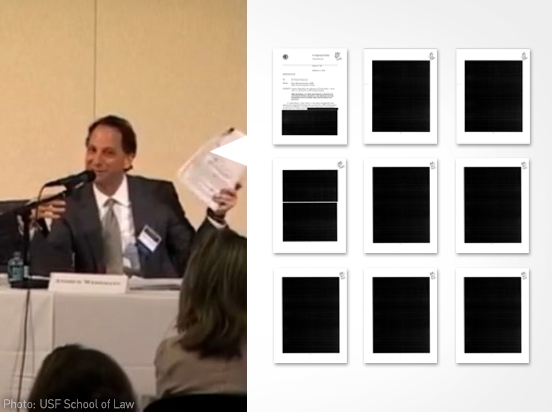 FOIA Request for Justice Department Policy Memos on GPS Location Tracking
Last Update:
March 12, 2014
What's at Stake
The ACLU filed a Freedom of Information Act request with the Department of Justice in July 2012 seeking the release of two memos providing guidance to federal prosecutors and investigators for using GPS devices and other location tracking technologies. The memos were written in response to the Supreme Court's landmark decision on location tracking, U.S. v. Jones. The ACLU filed a lawsuit to enforce the request in August 2012, and in January 2013, the government handed over the memos – but they were almost entirely redacted. Oral argument in the case is scheduled for August 15 in New York.
Summary
In January 2012, the Supreme Court ruled that the government's attachment of a GPS tracker to a car constitutes a "search" under the Fourth Amendment. The existence of the memos the ACLU is seeking was revealed when the FBI's general counsel discussed them at a law school talk that was posted online. You can see our original FOIA request here and the redacted copies the government turned over here and here.
With technological innovation making it easier than ever for the government to track our movements, it is crucial that we know how law enforcement employs new technologies against ordinary citizens. The Justice Department claims that it should not have to turn over the memos because they are attorney work-product. While we agree that executive branch lawyers should be able to freely discuss legal theories, once those opinions become official government policy the public has an absolute right to know what they are. Otherwise, the government is operating under secret law that makes accountability to the people impossible.
The ACLU will continue to fight for the release of the memos to ensure that the government respects Americans' privacy rights and the Constitution's protection against unreasonable searches.
Other Documents
Support our on-going litigation and work in the courts
Donate now