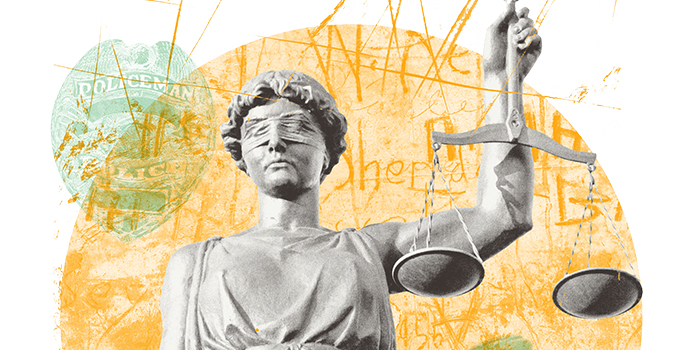 Lombardo v. City of Saint Louis, 20–391
Status:
Closed (Judgment)
Last Update:
December 7, 2021
What's at Stake
Whether a reasonable jury could find that police officers violate the Constitution's prohibition on excessive force when they kill a shackled and handcuffed arrestee inside of a jail cell by holding him face-down on the ground and pressing into his back until he suffocated, also known as compression asphyxiation.
Summary
The ACLU along with the National Association of Criminal Defense Lawyers filed an amicus brief urging the Supreme Court to grant certiorari to make clear that the Fourth Amendment prohibits the use of deadly force—including asphyxiation—against persons who pose no risk of death or serious bodily injury.
In this case, Nicholas Gilbert was arrested and booked into an individual cell for non-violent misdemeanors (trespassing, occupying a condemned building, and failing to appear in court for a traffic violation). Officers claim that Gilbert began to act strangely, indicating he may be having a mental health crisis, and in response they entered his cell. According to the officers, Gilbert resisted being handcuffed. But officers succeeded in moving him to a prone position on the ground, with his arms handcuffed behind his back and legs shackled. Thereafter, six officers—who together weighed more than 1300 pounds—spent the next 15 minutes pressing their weight into Gilbert's body. They kept doing so even as "he attempted to lift his body up" for air and said: "It hurts. Stop." Several officers testified that once Gilbert was shackled and handcuffed, he did not pose a risk of harm. Nonetheless, the Eighth Circuit held that no reasonable jury could find that the officers had used excessive force when they killed Nicholas Gilbert.
Before the Eighth Circuit's decision in this case, all six courts of appeals that had considered the issue agreed that the use of compression asphyxia against a restrained arrestee or detainee who poses no threat to officers or others is objectively unreasonable. By departing from the previously established national rule, the Eighth Circuit reached a decision that is inconsistent with the Supreme Court's deadly force cases, foundational Fourth Amendment Principles, and police practices across American jurisdictions.
The use-of-force standards at issue in this case affect a staggering number of Americans each year. For instance, in 2015, the average daily population of prisoners held pre-trial in local jails exceeded 400,000. In the same year, law enforcement officers made nearly 11 million arrests, initiating contacts annually with 27 million U.S. residents age 16 or older.
Unless the decision below is reversed, the use of deadly force by police and jailers in the Eighth Circuit will be governed by a wholly different standard than that in other jurisdictions. This gap in accountability will have the effect of delegating to individual officers in the Eighth Circuit the discretion to apply deadly force even where it is unnecessary and wholly disproportionate.
Support our on-going litigation and work in the courts
Donate now