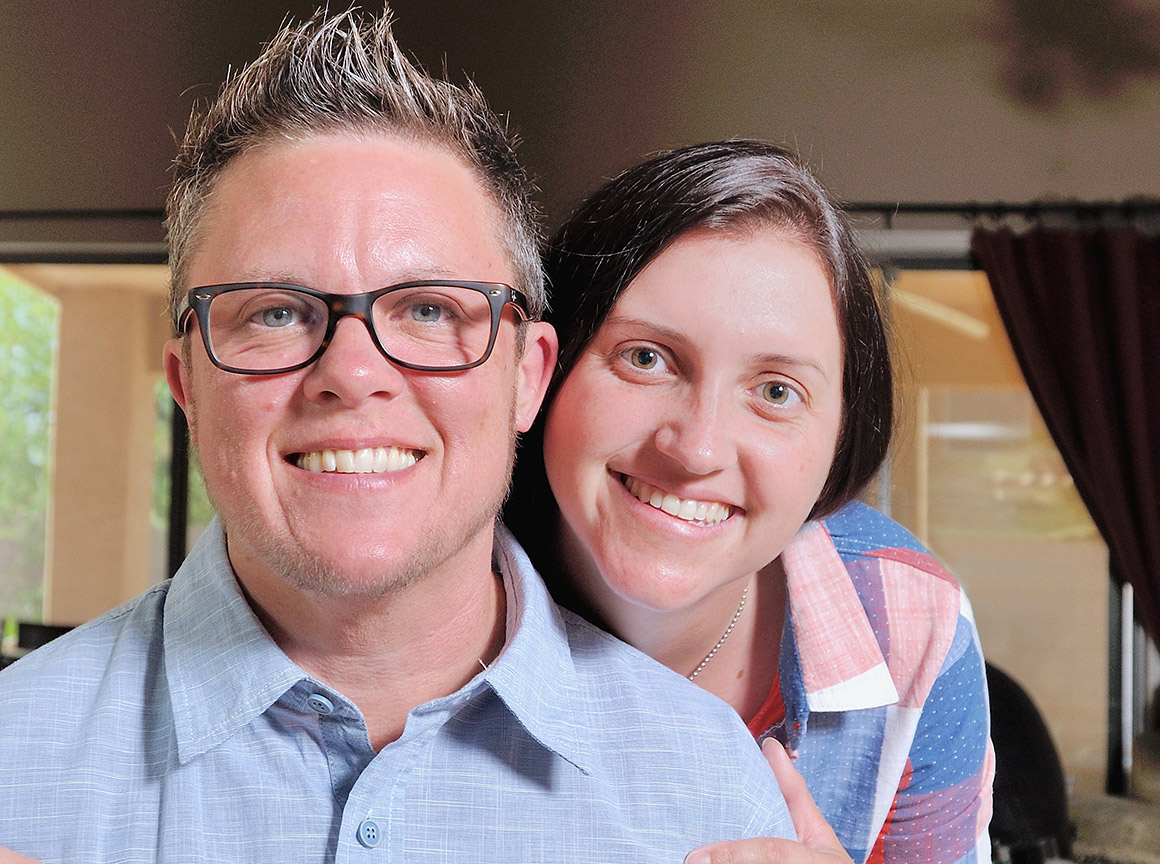 Robinson v. Dignity Health
Status:
Closed (Voluntarily Dismissed)
Last Update:
June 10, 2016
What's at Stake
The American Civil Liberties Union filed a federal lawsuit against the fifth largest health care system in the U.S., Dignity Health, because it denies transgender employees health insurance coverage for medically necessary transition-related health care.
Summary
The case was filed on behalf of Joe Robinson, an operating room nurse at Chandler Regional Medical Center in Chandler, Arizona. The lawsuit challenges his employer's discriminatory insurance policy, which contradicts widely accepted medical standards and violates federal law. The lawsuit argues that Dignity Health's refusal to provide insurance coverage for medically necessary transition-related care discriminates on the basis of sex, in violation of Title VII the Civil Rights Act and the Affordable Care Act.
Though Robinson's transition-related care, sometimes referred to as gender dysphoria treatment, is medically necessary, Dignity denied insurance coverage. "I was shocked when Dignity, which is supposed to be in the business of healing and holds itself out to the public as a bastion of 'humankindness,' told me they would not authorize insurance coverage for my doctor-prescribed treatment," Robinson said. "All I want is the same health benefits other, non-transgender Dignity employees receive, which is coverage for medically necessary treatments." Dignity's denial forced Robinson to pay thousands of dollars out of pocket for treatment. "We can't afford to get him all the care he needs, and that breaks my heart because I know that access to that care has a direct correlation to his health and happiness" says Robinson's fiancé Melissa Mayo, a recovery room nurse at Dignity. "Joe is suing to get the health care he needs and to strike down Dignity's discriminatory insurance policy. But you should not have to sue your employer in order to get them to do the right thing."
The lawsuit, Robinson v. Dignity Health, was filed in the U.S. District Court for the Northern District of California. Dignity Health, which operates 39 hospitals and more than 400 care centers in California, Nevada, and Arizona, has its corporate headquarters in San Francisco.
Robinson previously filed a discrimination charge with the Equal Employment Opportunity Commission, which issued a determination finding reasonable cause to believe that the Dignity Health insurance plan discriminates against Robinson on the basis of sex and authorized him to sue the health system.
Update (4/28/17): Case dismissed after settlement.
Legal Documents
Robinson v. Dignity - EEOC's Reply to Defendant's Response to EEOC's Amicus Brief

Date Filed: 09/08/2016

Court: District Court (N.D. Cal.)

Affiliate: Northern California, Arizona

Download Document

Robinson v. Dignity Health - Defendant's Reply in Support of Transfer for Improper Venue

Date Filed: 08/29/2016

Court: District Court (N.D. Cal.)

Affiliate: Northern California, Arizona

Download Document

Robinson v. Dignity Health - Defendant's Reply in Support of Motion to Dismiss

Date Filed: 08/29/2016

Court: District Court (N.D. Cal.)

Affiliate: Northern California, Arizona

Download Document

Robinson v. Dignity Health - Defendant's Response to EEOC Amicus Curiae Brief

Date Filed: 08/29/2016

Court: District Court (N.D. Cal.)

Affiliate: Northern California, Arizona

Download Document

Robinson v. Dignity Health - EEOC Amicus Brief

Date Filed: 08/22/2016

Court: District Court (N.D. Cal.)

Affiliate: Northern California, Arizona

Download Document

Robinson v. Dignity Health - Plaintiff's Response in Opposition to Motion to Dismiss

Date Filed: 08/15/2016

Court: District Court (N.D. Cal.)

Affiliate: Northern California, Arizona

Download Document

08/15/2016


Robinson v. Dignity Health - Plaintiff's Response in Opposition to Motion to Change Venue

Robinson v. Dignity Health - Plaintiff's Response in Opposition to Motion to Change Venue

Date Filed: 08/15/2016

Court: District Court (N.D. Cal.)

Affiliate: Northern California, Arizona

Download Document

Robinson v. Dignity Health - Defendant's Motion to Change Venue

Date Filed: 07/15/2016

Court: District Court (N.D. Cal.)

Affiliate: Northern California, Arizona

Download Document

Robinson v. Dignity Health - Defendant's Motion to Dismiss

Date Filed: 07/15/2016

Court: District Court (N.D. Cal.)

Affiliate: Northern California, Arizona

Download Document

06/06/2016


Robinson v. Dignity Health - Complaint

Robinson v. Dignity Health - Complaint

Date Filed: 06/06/2016

Court: District Court (N.D. Cal.)

Affiliate: Northern California, Arizona

Download Document
Support our on-going litigation and work in the courts
Donate now
Learn More About the Issues in This Case