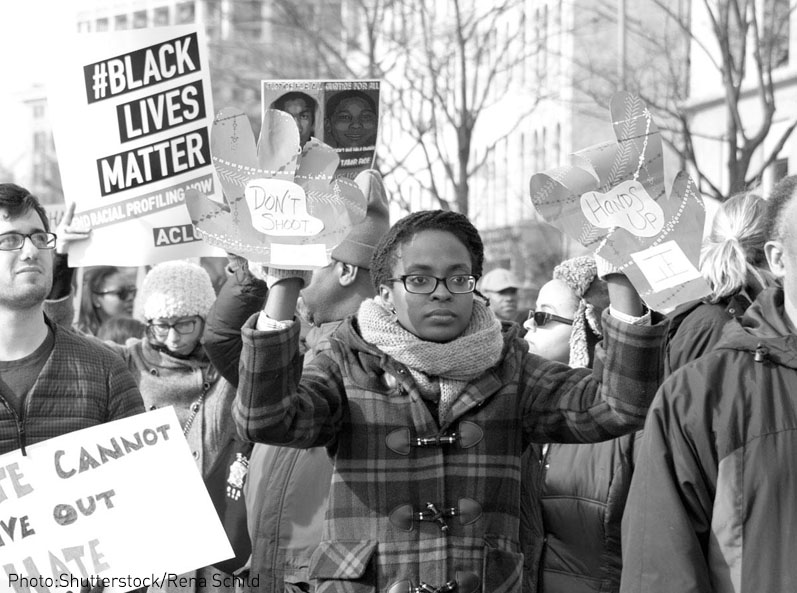 Voting Rights Trial in Ferguson
Status:
Closed (Judgment)
Last Update:
September 12, 2017
What's at Stake
On December 18, 2014, the ACLU filed a federal lawsuit challenging the Ferguson-Florissant School District's at-large electoral system used to elect school board members.
Summary
The case, Missouri NAACP v. Ferguson-Florissant School District, brought on behalf of the Missouri NAACP and African-American residents of the FFSD, charges that the District's electoral system locks African-Americans out of the political process. The at-large system violates the federal Voting Rights Act by diluting African-American voting strength. In the FFSD, African-Americans constitute a minority of the district's voting age population, but are systematically unable to elect candidates of their choice.
The Ferguson-Florissant School District has a history fraught with racial discrimination. The District, which spans several municipalities, was created by a 1975 desegregation order intended to remedy the effects of discrimination against African-American students. Yet, 40 years later, there are only two African-American members on the seven-member board in a district where African-Americans constitute 77 percent of the student body. The suit seeks to remedy the Section 2 violation by creating an electoral system with equal opportunities for African American residents to elect their candidates of choice. In January 2016, the court held a six-day bench trial, which you can read more about here.
On August 22, 2016 a federal court ruled that the at-large electoral process used by Missouri's Ferguson-Florissant School District dilutes the voting power of the African-American community, in violation of the Voting Rights Act. "The court agreed that the current at-large system dilutes African-Americans' voting power and undermines their voice in the political process. This ruling recognizes that voting in Ferguson-Florissant usually results in the election of candidates preferred by white voters only, and helps push back against decades of systemic racism," said Julie Ebenstein, staff attorney with the ACLU's Voting Rights Project. Read more here: https://www.aclu.org/news/federal-court-rules-ferguson-school-district-violated-voting-rights-act.
We moved to file our remedial proposals on August 28th. On September 1st, the defendants moved to amend the district court judgment and filed an interlocutory appeal in the Eighth Circuit, which the District Court denied on September 27th. The Eighth Circuit dismissed the Defendant's interlocutory appeal for lack of jurisdiction on October 25th. On November 21st, the court issued a remedial order, ordering that the school board implement a cumulative voting plan. On December 14th, the defendants' appealed to the Eighth Circuit. We submitted our Appellees' brief in the Eighth Circuit in March 2017.
UPDATE: Federal appeals court arguments are set for Dec. 13, 2017.
Other Documents
Support our on-going litigation and work in the courts
Donate now
Learn More About the Issues in This Case