Back to

News & Commentary
Leave It to Donald Trump to Come Up With the Wrong Way to Fire and Replace Jeff Sessions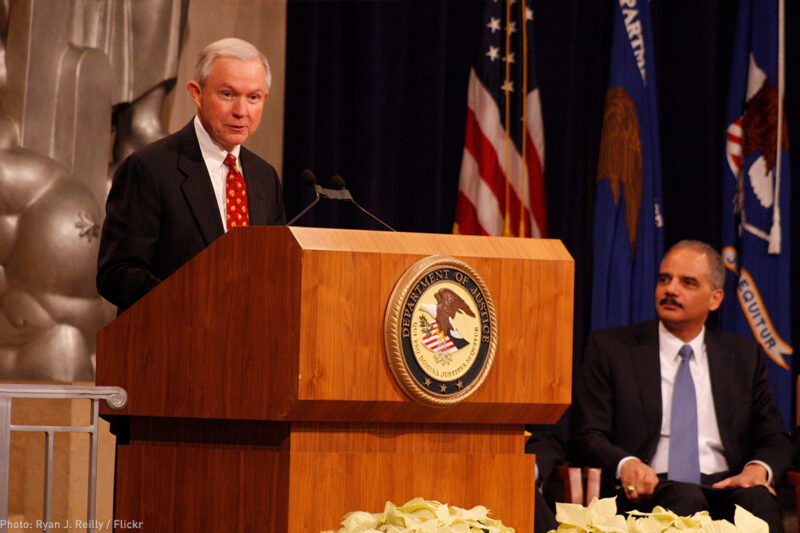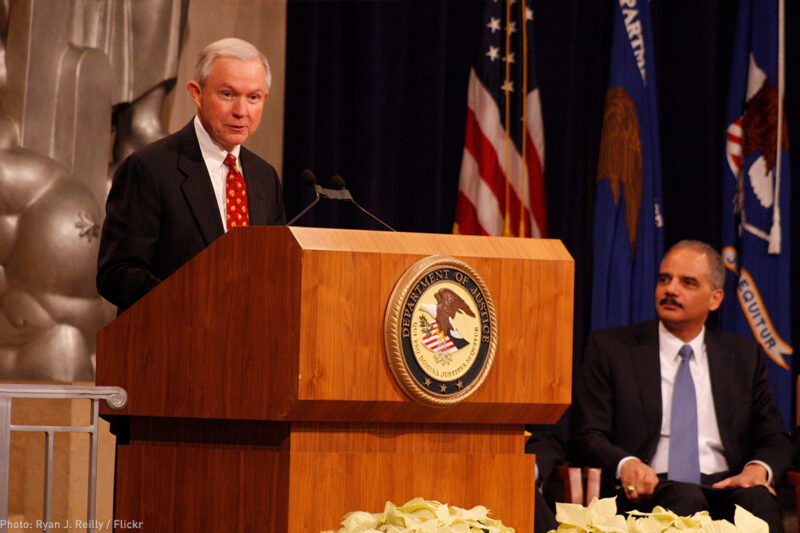 UPDATE: Before leaving for their August recess, members of Congress heard your concerns and made sure that President Trump cannot make a recess appointment to fire and replace Jeff Sessions without the Senate being able to hold hearings and votes on any new attorney general. Congress will meet briefly every three days during August so that there will not be a break long enough for the president to appoint without Senate approval.
He hasn't even been in office for six months yet, and Jeff Sessions is already well on his way to earning the title of worst attorney general for civil liberties and civil rights in modern history. We're using every tool in our toolbox to not only alert everyone to his near daily wrongdoings, but also to fight Jeff Sessions every step of the way as he tries to undo fundamental rights that protect each one of us.
There are certainly a lot of reasons to be outraged with Sessions' work as attorney general. But President Trump is not upset that Sessions is attacking the rights of immigrants, the LGBT community, or victims of occupation-style policing. Instead, the president is furious that Sessions recused himself from any role in the Russia investigation and won't corruptly interfere with a criminal investigation.
Think about that. It's only when Sessions is acting ethically that Trump wants to place his head squarely on the chopping block.
The president clearly wants an attorney general who will shut down, or pare back, the criminal investigation of Russian interference in the American presidential election and the alleged collusion by his campaign and associates. The criminal investigation led by Special Counsel Robert Mueller has prompted the president and his closest advisors, including family members, to lawyer up as new details of involvement with Russians continue to hit the front page.
The Trump White House is now hatching what may be the only wrong way to fire and replace Sessions. Within the next few days, Congress is going to give itself August off. If the Senate is in recess for more than 10 days, President Trump can fire Sessions and — on his own — appoint a new attorney general who can serve until January 2019, without ever getting approved by the Senate. The president reportedly is considering a "recess appointment" as a way to fire Sessions and replace him with the kind of attorney general who will be willing to do some dirty work for the president and his buddies.
It is now up to the Senate to stop this latest Trump plan dead in its tracks. Senators must oppose going into any recess that lasts longer than 10 days so that Trump cannot bypass the Senate in firing and replacing Sessions. The Senate can use a procedural tool, used very often in the past, to have what are known as short "pro forma" sessions every three days during August, so that the president will never get a chance to make a recess appointment of a new attorney general.
The ACLU sent a letter early this morning to every senator and member of the House of Representatives urging them to not go into a formal recess and give President Trump the opportunity to upend a criminal investigation of his own campaign. Call your senators and urge them to shut down this corrupt way of governing.
The new White House communications director said this week that an attorney general should be "a pretty good hockey goalie for the president." But that's not right. Sessions is not Trump's lawyer — and must never be.
The attorney general's duty requires independence: to uphold the rule of law, including the core principle that no one is above the law. Sessions correctly, even if belatedly and under pressure, recused himself from the investigation led by Special Counsel Mueller. He and any future attorney general must make the same commitment to the Senate and the American people that Mueller can follow the facts and enforce the law without any interference from the attorney general or the White House.
The Senate is on notice. It's up to all of us to tell our senators to shut down this potential threat to the rule of law.
Learn More About the Issues on This Page