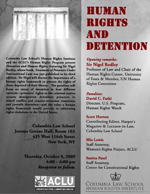 This week, on Thursday, October 8th from 4:00 to 6:00 p.m., human rights lawyers and advocates will gather to discuss the importance of a human rights framework to protect the rights of those deprived of their liberty.
This special event features Sir Nigel Rodley, whose book, The Treatment of Prisoners Under International Law, was just published in its third edition. Sir Nigel teaches human rights law at the University of Essex, served as the United Nations Special Rapporteur on Torture from 1993 – 2001 and is currently a member of the U.N. Human Rights Committee (which monitors compliance with the International Covenant on Civil and Political Rights). He will be joined by a panel of human rights lawyers and advocates discussing detention in four different contexts – prisoners' rights in the criminal justice system, prisoners in armed conflict and counter-terrorism situations, immigration detention and juvenile detention – and the value a human rights framework would provide in addressing rights violations in the United States.
The event is free and open to the public, and is co-sponsored by the ACLU Human Rights Program and Columbia Law School Human Rights Institute. It will take place in room 103 of Jerome Greene Hall, located in Columbia University Law School at 435 West 116th Street in New York City.
In addition to Sir Nigel, panelists include: David Fathi, Director, U.S. Program, Human Rights Watch; Scott Horton, contributing editor, Harper's Magazine and lecturer-in-law, Columbia Law School; Mie Lewis, staff attorney with the ACLU Women's Rights Project; and Sunita Patel, staff attorney, Center for Constitutional Rights. The panel will be moderated by Professor Peter Rosenblum, Faculty Co-Director of the Human Rights Institute at Columbia law school.
If you're in the New York area, please join us!
For event details, click here.