Back to

News & Commentary
AMP v. Myriad: The Fight to Take Back Our Genes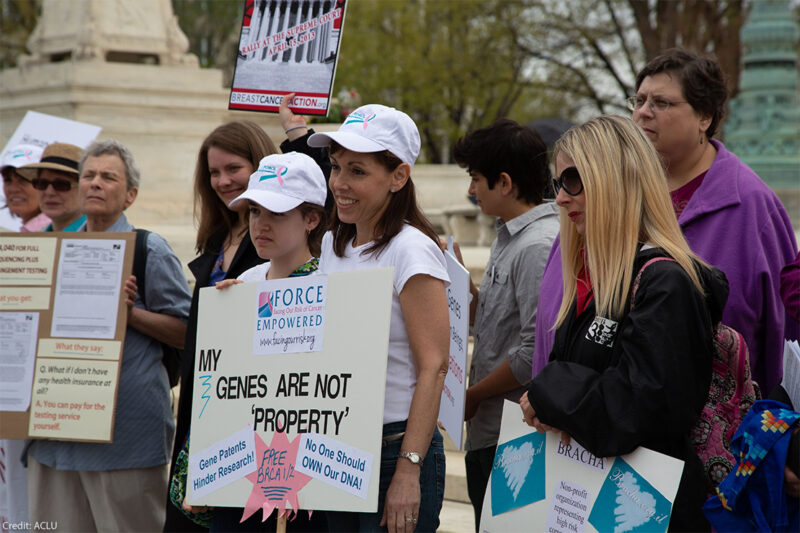 Ten years after the Supreme Court invalidated the patents on two human genes in AMP v. Myriad, we revisit the landmark case amid renewed calls for gene patenting.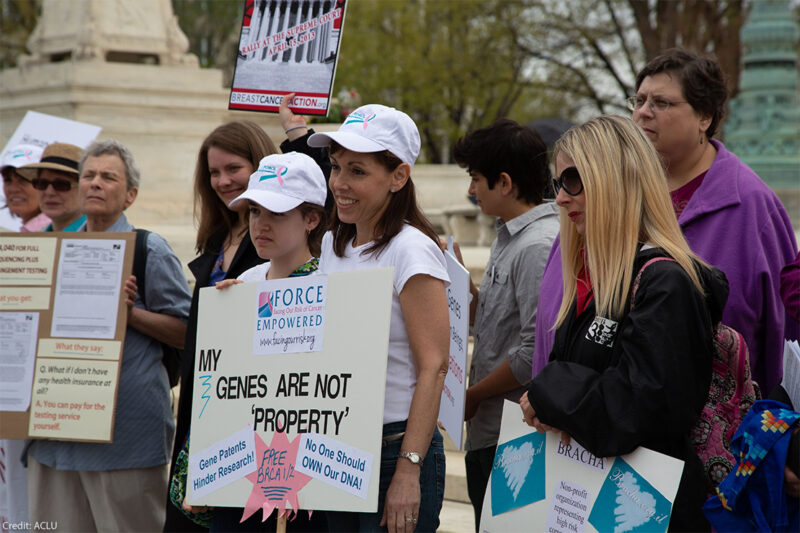 Should companies be able to patent human genes? For decades, the U.S. Patent and Trademark Office said yes, ultimately granting patents on thousands of genes.
Two of the genes that were patented are BRCA1 and BRCA2. The patent office approved exclusive rights over the genes because Myriad Genetics was the first to "isolate" them, or remove them from the body and cell. The patents on the genes allowed Myriad to exercise a monopoly on the genes in the United States, shutting down other labs from offering testing or second opinions and increasing the price to thousands of dollars per test.
The ACLU opposes patenting that would authorize private entities to control access to something as fundamental to humanity as our genes. In 2009, we filed a lawsuit on behalf of 20 researchers, genetic counselors, women patients, cancer survivors, breast cancer and women's health groups, and scientific associations representing 150,000 geneticists, pathologists, and laboratory professionals. The landmark case argued that human genes are products of nature, even when "isolated," drawing on 150 years of legal precedent forbidding patents on laws of nature, natural phenomena, and abstract ideas. The Supreme Court agreed. It invalidated the patents, in a unanimous decision written by Justice Clarence Thomas on June 13, 2013.
For Lisbeth Ceriani, a breast cancer survivor and plaintiff in our suit, the Supreme Court's ruling was not only a source of great joy, but also a step towards a more equitable health care system. During Ceriani's breast cancer diagnosis, she was informed that the BRCA genetic test she needed was inaccessible because the gene associated with her cancer, and the test, was under patent.
"It's not just some abstract scientific concept, it impacts people's daily lives, people's mothers and sisters and wives. [It impacts] their health care decision," Ceriani told the ACLU in 2017. "It's a basic human right to see your own blood, your own genes.
Ten years later, Myriad has now acknowledged the Supreme Court got it right. In a remarkable statement, it said: "[W]e applaud the incredible innovation in genomics and precision medicine that has occurred since the Court reached the decision limiting patents with respect to naturally occurring DNA. Myriad does not support patents on products of nature, including naturally occurring DNA and unmodified human genes."
Despite this consensus, our right to our own genetic information is at risk. For several years, a number of Congressmembers have supported legislation to restore patenting of laws of nature and abstract ideas, including human genes, and have made clear they will push this issue in the future. If passed, this legislation would overturn decades of Supreme Court precedent and would tear down some of the public's only protections from the worst patent abuses.
To help understand the devastating consequences that human gene patents could have on all of us, we spoke to four people who led the fight against human gene patenting:
Lisa Schlager, the vice president of public policy at Facing Our Risk of Cancer Empowered (FORCE), a national patient advocacy group that filed an amicus brief in support of our case.
Karen Weck, a professor of pathology and genetics at University of North Carolina at Chapel Hill and former president of the Association for Molecular Pathology, which was the lead organization plaintiff in the litigation.
Robert Nussbaum, a geneticist who served as an expert in the lawsuit while he was a professor at University of California San Francisco and is now Chief Medical Officer at Invitae, a genetic testing company.
Together, they share how the fight against human gene patenting has affected their health and their work. This conversation has been condensed for clarity.
ACLU: Let's go back to the beginning. When did you first encounter the BRCA genes?
SCHLAGER: In 1999, my paternal aunt was diagnosed with breast cancer at the age of 49. She reached out to share that she had undergone genetic testing through a study they were doing to explore the prevalence of BRCA mutations in patients and their families of Ashkenazi/Eastern European descent. My aunt had tested positive for a BRCA1 mutation, and the researchers indicated they would like to test family members. I was the next oldest female in the family, and underwent counseling and testing. Three months later, my husband and I met again with the genetic counselor and learned that I too, carry a BRCA1 mutation.
NUSSBAUM: I first became aware when breast-cancer research pioneer Mary-Claire King announced the existence, although not the identity of, the BRCA1 gene in 1990. King later helped lead the fight against patenting the gene to make access to testing easier and more accurate. It remains unknown how many families may have received false negative results and subsequently, missed opportunities to diagnose their cancer early or prevent it altogether.
ACLU: What was your initial reaction when you heard that genes were being patented?

NUSSBAUM: When I heard Myriad was patenting BRCA genes, I thought that this was a single company making a big money grab based on research done by numerous other researchers, and that [what Myriad was trying to do] would require the patenting of a natural product and shouldn't be patent-eligible. Gene patenting would be the worst thing that could happen, and would stifle innovation in the genetics and genomics testing space.
WECK: I was lucky to work at an institution that had negotiated with Myriad so that we could offer BRCA testing to women without insurance who could not afford their test. However, as someone who has been involved with molecular genetic testing for over 20 years, I experienced firsthand the inability to develop and offer clinical genetic testing for many genes that had been patented.
SCHLAGER: The BRCA gene patents resulted in exorbitant costs for testing, making it inaccessible to many people. The patents also hindered broader multigene panel testing where the BRCA genes could be combined with other mutations known to increase cancer risk such as ATM and PALB2. As with many access issues, this most affected underserved and underrepresented populations, creating greater health disparities.
ACLU: When the ACLU first brought a case against patenting these genes, why did you want to be involved?

SCHLAGER: As an organization representing people with or at risk of hereditary cancers, the patent case resonated with FORCE. At the time, all our staff were BRCA mutation carriers, as were most of our constituents. We saw the effects of gene patents on our community firsthand and wanted to support the effort.
ACLU: In your opinion or experience, what are the consequences of gene patents? Who does this harm?
WECK: The incredible advances we have seen in molecular diagnostics since the Myriad ruling clearly demonstrate the limiting effect gene patents once had on the field. In 2021, there were over 160,000 clinically orderable genetic tests offered in the U.S. which likely would not be the case if gene patents were still enforced.
For many years, gene patents prevented the scientific community from working together to develop novel diagnostics and treatments for rare and common diseases, including cancer, muscular dystrophy, Alzheimer's disease, and heart disease. It is important that we learn from those missteps and ensure that the freedom to innovate remains in place.
ACLU: Why is it important to you that we all have fair access to genetic material?
NUSSBAUM: Making it illegal to patent genes expands the genetic testing market, enables competition, and improves laboratory practices for genetic testing through standardizing next-generation-sequencing methods, variant classification, reporting, and counseling, plus acceleration of novel disease gene discoveries and better understanding of gene-disease relationships. Today, improved access to genetic testing is reducing health care inequity through more genetic testing in historically underserved populations and, consequently, better understanding of their genetic information.
WECK: The laboratory community's response to the COVID-19 pandemic provides a recent example of how the Myriad decision led to rapid and robust innovation in a very short time period. The RNA sequence of SARS-CoV-2 was posted publicly and immediately diagnostic developers throughout the world began validating and launching tests. According to the Government Accountability Office, from February 2020 to December 2021, the FDA received nearly 3,400 Emergency Use Authorization requests, an average of 150 per month! Had someone patented the genomic sequence of SARS-CoV-2, we could have had as few as a single test, and perhaps even available from only one laboratory, which by no means would have met the testing capacity needs over the past three years.
Learn More About the Issues on This Page