Back to

News & Commentary
Trump Administration Claims Preventing Young Immigrants from Accessing Abortion is Constitutional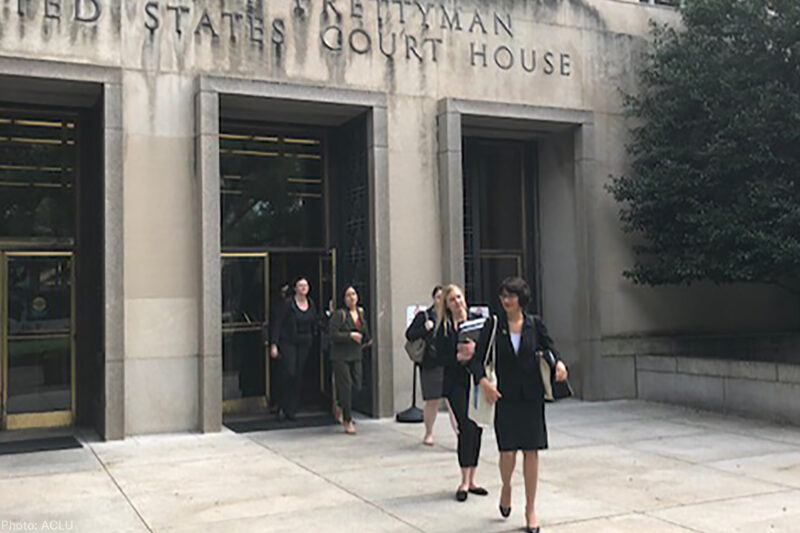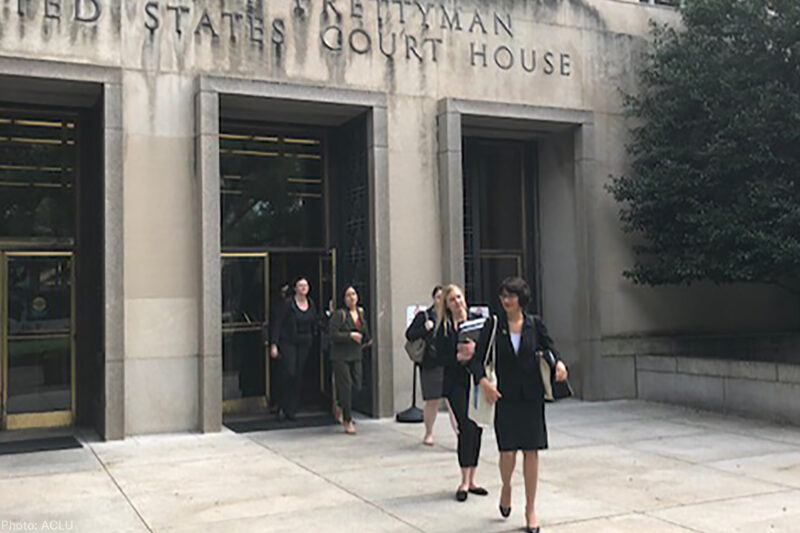 We were in a Washington, D.C., appeals court on Wednesday facing off yet again with the Trump administration over its patently unconstitutional policy of obstructing young immigrant women from accessing abortion.
Last September, a 17-year-old woman known as Jane Doe arrived in the United States and discovered she was pregnant. Even though she repeatedly made it clear that she wanted an abortion, had received a decision from a state court judge waiving Texas's requirement that she first obtain parental consent, and had access to private funding, the government refused to allow her to leave the shelter where she was staying to attend any abortion-related appointments.
We took the administration to court and won. Jane successfully obtained emergency relief from a Washington D.C. district court and was able to get her abortion. The government challenged that decision and it wound up before a three-judge panel of the Court of Appeals for the District of Columbia Circuit that included Judge Brett Kavanaugh, who issued a decision allowing the Trump administration to continue to block Jane's access to abortion. Fortunately, his decision was later overturned by the full panel of the appeals court.
In the weeks and months that followed, we heard about more young immigrant women who wanted abortions, but were being prevented by the federal government from getting them. We asked the court to certify these young women as a class and in March of 2018, the Washington D.C. district court issued an order temporarily blocking the Trump administration from enforcing its ban on abortion against all pregnant unaccompanied immigrant minors in its custody. Not unexpectedly, the government appealed the decision, which is why we were back in court before a three-judge panel of the D.C. appeals court earlier this week.
During the two-and-a-half hour hearing, the government doubled down on its absurd position that its ban on abortion is constitutional. The government's lawyer claimed that by preventing young women from leaving shelters to access abortion, the government was not placing a substantial obstacle in the way of them getting abortions, because the young women have the "option" of voluntarily departing the U.S. and returning to their home countries. In other words, "Go back to where you came from if you don't like the fact that we are violating your constitutional rights."
The Trump administration's rationale is absurd, not least because the voluntary departure process is lengthy. If a minor were to opt for voluntary deportation, it would force her to delay obtaining an abortion at increasing risk to her health, possibly pushing her past the point where she can have an abortion entirely, and thereby forcing her to carry her pregnancy to term. It also completely ignores that many minors come to the U.S. fleeing abuse and persecution in their home countries.
The government also argued that it should be allowed to prevent a minor from accessing the time-sensitive care she desires for an unspecified period of time while it continues to search for and reunite her with a sponsor. That too is an absurd proposition because the Constitution does not permit the government to outright block a minor from obtaining an abortion while it continues to search for a sponsor who may never materialize.
As we said in court on Wednesday, the government's policy, which amounts to "[a] blanket ban on abortion for anyone while they're in government custody," is blatantly unconstitutional under Roe v. Wade and decades of subsequent Supreme Court precedent concerning the right to abortion.
With argument over, we now await the federal appeals court decision. Fortunately, in the meantime, the district court's injunction remains in place, protecting all pregnant unaccompanied minors going forward from the government's unconstitutional policy. We're hopeful the appeals court will rule in favor of the Janes, but even if it does, we still have work to do.
The current injunction is only a temporary solution — its purpose is to prevent the government from inflicting additional harm on additional young women during the time it takes the district court to decide whether to strike down the government's policy permanently. This means we'll soon be back in the district court, fighting to make sure that the government's abortion ban is struck down for good.
More information about the case is available at: https://www.aclu.org/cases/garza-v-hargan-challenge-trump-administration