Back to

News & Commentary
Los Angeles Sheriff Endorses Report Recommending Swift Closure of Infamous Jail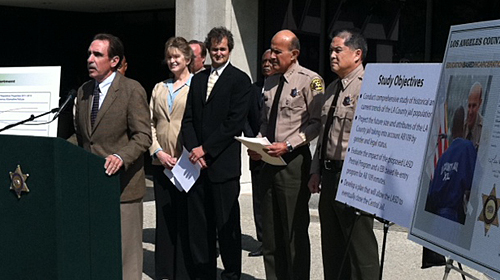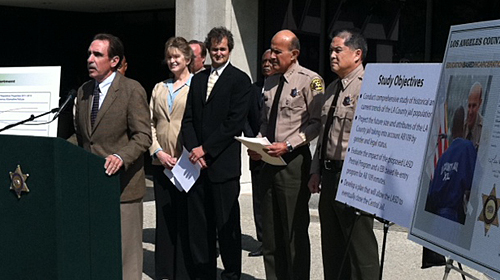 A groundbreaking report released this morning provides a roadmap for the closure of the notorious and violence-plagued Men's Central Jail in downtown Los Angeles. If the report's major recommendations are implemented, it could well lead to a major shift in criminal justice policy and practice — not only in Los Angeles but across the nation. (Pictured above: Dr. James Austin, the ACLU and Sheriff Lee Baca at a press conference announcing a groundbreaking new report that provides a roadmap for the closure of L.A.'s notorious Men's Central Jail.)
The report, "Evaluation of the Current and Future Los Angeles County Jail Population," is by Dr. James Austin, the nation's pre-eminent jail population management expert. It is tremendously important that Sheriff Lee Baca and other officials in the Los Angeles County Sheriff's Department (LASD) have already said they endorse it. But now it must be put into practice.
Los Angeles County Jails, with an average daily population heading towards 22,000, is the biggest jail system in the world, and one of the most troubled in the U.S. It includes Men's Central Jail, a windowless dungeon in downtown L.A. that has been plagued by a long-entrenched culture of savage deputy-on-inmate violence. Remarkably, today's report offers proposals that, if implemented, would make it possible for the LASD to close down Men's Central Jail within two years.
For years, the sheriff has argued that the only way L.A. County can safely house its vast jail population is by funding at least $1.4 billion in major new jail construction. The crisis reached a boiling point in recent months with the passage of AB 109, California's prison realignment plan, which will soon result in the influx of 7,000 more state prisoners into L.A. County's already grossly swollen jails population. But the Austin report, analyzing data largely supplied by LASD, demonstrates that no major new jail construction is required: what's needed is not billions of dollars for more jails, but instead thousands fewer people in those jails. The report therefore includes proposals for pre-trial release of people who have not yet been found guilty of a crime, as well as programs to allow low-risk convicted felons to be supervised in the community if they complete programs shown to cut down on recidivism. That Sheriff Baca strongly supports the Austin report and these recommendations indicates a seismic shift in attitude, a shift likely to reverberate and help trigger change around the nation.
The ACLU has been calling for change in the L.A. County Jails for years, most recently releasing a report in September 2011 that shone a spotlight on the abuses there and resulted in national media attention, and later filing a January 2012 lawsuit alleging a pattern and practice of deputy violence against prisoners in Men's Central Jail.
Under mounting pressure, the sheriff agreed to allow access to the jails for a study on the feasibility of closing Men's Central Jail earlier this year. Today's report by Dr. Austin is the result of that study. Dr. Austin's studies have prompted reform in the past: in 2007, a collaboration of the ACLU, the Mississippi Department of Corrections and Dr. Austin led to historic reform of Mississippi's solitary confinement policy, and to the permanent shuttering in 2010 of that state's notorious supermax prison — changes that are now inspiring other states to follow "the Mississippi model."
If Sheriff Baca implements the new report's recommendations for closing Men's Central Jail, his leadership will provide another dynamic national model for ending the nation's addiction to mass incarceration.
Learn more about prison abuse: Sign up for breaking news alerts, follow us on Twitter, and like us on Facebook.