Back to

News & Commentary
Private Prison Company Doctors Its Own Wikipedia Page and Fabricates Facts to Fight Bad Publicity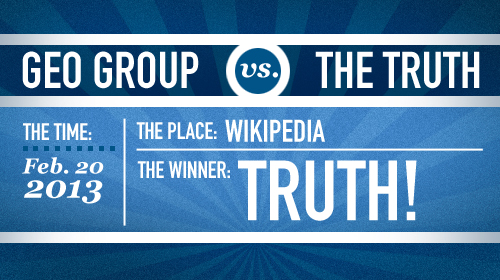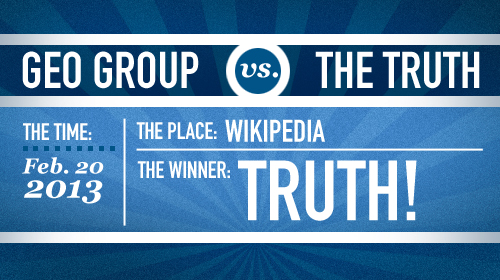 Recently, for-profit prison corporation GEO Group announced that it had secured the naming rights to the football stadium at Florida Atlantic University in exchange for a $6 million "donation" to the University's athletic program. Horrified to be associated with GEO's shameful record of prisoner abuse and neglect, students and faculty quickly rallied against the decision – and both the school and GEO Group were thrust into a national spotlight. Even The Colbert Report weighed in.
But this blog post isn't about FAU's decision to promote GEO. It's about GEO's reaction to being thrust into the light of public scrutiny.
The news coverage highlighted GEO's record of misdeeds – particularly the horrendous staff misconduct and unconstitutional conditions at Walnut Grove, a GEO-operated youth prison. Last year, a U.S. Department of Justice investigation concluded that staff sexual misconduct against the children and teenage prisoners at Walnut Grove was "brazen" and among the worst that DOJ had seen "in any facility anywhere in the nation." Despite knowing of this pervasive misconduct, GEO supervisors failed to institute policies, procedures, and training to prevent staff from having sexual relationships with youth entrusted to their care. GEO staff kicked, choked, hit, and pepper sprayed youth for reasons as trivial as looking at an officer wrong, or for no reason at all. They systematically failed to protect youth from being raped, stabbed, and severely beaten by others. GEO staff lied about the excessive use of force and failed to report the child abuse, despite the requirements of federal law. In the face of expert monitoring, investigations, and pending litigation, GEO staff failed to curtail their actions and supervisors remained indifferent to the constant violations. In response, a federal judge condemned the prison as a "cesspool of unconstitutional and inhuman acts and conditions."
News coverage also illustrated that Walnut Grove is only the tip of the iceberg. As The Palm Beach Post reported, "GEO's history of troubled prisons extends beyond one state, or one investigation: Rape, prisoner deaths, charges of lethal medical care and riots have dogged the prison operator for years."
When faced with such bad publicity, most companies try to put a positive spin on bad facts. But it takes a rare and special type of company to fabricate its own facts.
This is where Pablo Paez, the vice president for corporate relations at GEO, comes in. Last week, he e-mailed a statement to reporters decrying the news coverage as "unfair," particularly with regard to Walnut Grove. He wrote:
For instance, a number of media reports cite problems at a facility formerly operated by GEO in Mississippi, the Walnut Grove Correctional Facility, quoting a report by the Department of Justice issued in November 2010. What those media reports fail to disclose is that our company only assumed management of the facility in late August 2010, and the findings related to problems that preceded GEO's involvement at the facility, when it was operated by [a] different private operator.
What's stunning about this statement is that the timeline it describes is simply false. In fact, the DOJ issued its report condemning GEO in March 2012, almost two years after GEO's August 2010 takeover of Walnut Grove (the prison was part of the spoils of GEO's merger with fellow prison operator Cornell Companies). The DOJ report pointedly noted: "Following GEO and Cornell's merger, key personnel, policies and training at WGYCF [Walnut Grove Youth Correctional Facility] did not change substantially, despite GEO's claim that it made corrective reforms to reflect the GEO philosophy." Additionally, GEO's statement completely ignores the March 26, 2012 federal court order in a lawsuit against Walnut Grove, which noted that only days before the court's ruling, the "facility remained so understaffed that a teenage offender was brutally attacked by several other offenders while only one staffer was on site."
GEO's corporate relations department also made a series of highly unusual edits to the company's Wikipedia page shortly after the stadium story broke. On February 20, a user named Abraham Cohen rewrote the page, replacing the "Controversies" section (which previously described deaths, denials of medical care, and prisoner uprisings at GEO prisons) with quotes from GEO's annual report, and rewriting the first paragraph of the article to describe GEO as "the world's leading provider of correctional, detention, and community reentry services."
Bloggers quickly uncovered that Abraham Cohen was a FAU alumnus and corporate relations manager for GEO. But for days afterward, GEO repeatedly refused comment on the Wikipedia edits, and Abraham Cohen's account was deleted from Wikipedia.
On February 28, GEO's Cohen finally confirmed, in an article in the FAU school news magazine, that the Abraham Cohen Wikipedia account was controlled by him and GEO's social media staff. He told the magazine: "As a matter of policy our company as most companies in the world routinely updates our Wikipedia page to reflect accurate and factual information," and claimed that the negative information about GEO was "accidentally and temporally [sic] removed" as part of "the process of conducting our routine updates." Interestingly, however, the flurry of edits made on February 20 were the only edits Cohen's user account had ever made to GEO Group's Wikipedia page – casting serious doubt on his claim that this was indeed a routine update.
Taken together, these incidents suggest that GEO has a disturbing willingness to deny obvious, verifiable facts and attempt to erase them from the Internet when inconvenient. For a company in the prison business, this is alarming indeed. If we can't trust GEO to tell the truth, then we shouldn't entrust the lives of prisoners or correctional officers to them – let alone reward them generously with taxpayer money. But that is exactly what we do, to the tune of $1.6 billion each year.
Would you want your child to live under the care of a company with GEO's record of abuse, indifference, and dishonesty? And if or when the abuse abated, would you want GEO's flag to fly above your school or home? Me neither.
Learn more about private prisons and other civil liberty issues: Sign up for breaking news alerts, follow us on Twitter, and like us on Facebook.