Back to

News & Commentary
Shocking Video from Maine Prison Shows a Restrained Prisoner Being Tortured with Pepper Spray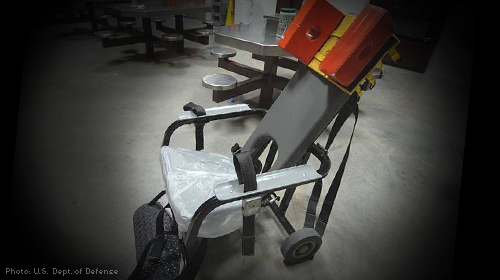 This is one of many examples of corrections staff abusing restraints and pepper spray, at times with deadly results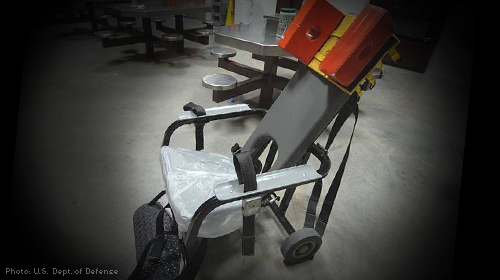 You're never going to win… Bottom line is the house wins every time.
That's what Maine Correctional Center Captain Shawn Welch said to a prisoner who was strapped into a restraint chair, his face coated with pepper spray and his legs shaking in pain and fear. The entire ordeal was captured in a disturbing video that recently hit the internet. After Captain Welch pepper sprayed prisoner Paul Schlosser in the face, Captain Welch ignored Schlosser's plea that he could not breathe; at one point, Captain Welch responds to Schlosser's pleas for help with the taunt, "Last I heard, I was as useless as tits on a bull."
See the graphic video here. Warning: clicking this link will take you to liveleak.com which can possibly install a permanent cookie.
How in the world did this come about?
A former military medic, Paul Schlosser has received treatment in prison for both bipolar disorder and depression. After being held in solitary confinement for two months, he began to cut himself – a common response to such long-term isolation. On June 7, 2012, Schlosser pulled off his bandages and refused to be treated. He was then strapped to a restraint chair and confronted by Captain Welch.
In the video, we see Schlosser immobilized in the restraint chair and surrounded by officers in riot gear. Schlosser remains compliant until one of the officers pins Schlosser's head to the back of the chair; Schlosser responds by squirming and then spitting at the officer. Without warning, Captain Welch suddenly coats Schlosser's face at close range with pepper spray from a canister only intended to be used on large crowds from a distance of twenty feet or more, according to an investigator's report. Schlosser chokes and fights for breath. He pleads, "I can't breathe, Captain," but Welch does nothing. Instead of following accepted professional standards and rinsing away the liquid, Welch puts a spit hood on Schlosser, effectively trapping the pepper spray against the man's face. For over 20 minutes, Welch, with canister in hand, paces in and out of the small area where Schlosser is being restrained, and refuses to let him wash the burning spray from his face and eyes.
Sadly, this is one of many examples of corrections staff abusing restraints and pepper spray, at times with deadly results:
Nick Christie died in 2006 after being pepper sprayed twelve times and spending six hours naked in a restraint chair. There, too, guards placed a spit hood over Mr. Christie, ensuring that he would breathe the liquid as long as he wore it. The case was later ruled a homicide.
Maricopa County Sheriff Joe Arpaio discontinued the use of restraint chairs in 2006 after three wrongful death lawsuits.
Jesse Lee Williams, Jr. was restrained when guards sprayed an entire can of pepper spray into a hood before putting it over his mouth as part of a savage beating. He died two days later.
Openness and accountability are two of the strongest bulwarks protecting prisoners from abuse. This is true whether the abuse occurs in a matter of minutes, such as when Arizona guards beat, tased, stripped, and left Marty Atencio to die in a cell, or days, like when Michigan guards strapped Timothy Souders to a cement slab until he died of hyperthermia and dehydration.
Unfortunately, instead of promoting openness and accountability, the Maine Department of Corrections has closed ranks to protect one of its own. Corrections Commissioner Joseph Ponte ignored the recommendation to fire Welch despite an internal investigation which found that Welch acted on a personal vendetta against Schlosser and not for any legitimate security reason. Now, the Department has focused its attention on ensuring no more videos are leaked, instead of ensuring no more torture happens.
Paul Schlosser is lucky to be alive. The next Paul Schlosser might not be so lucky.
See the video here (video source from LiveLeak.com).
Learn more about prisoner abuse and other civil liberty issues: Sign up for breaking news alerts, follow us on Twitter, and like us on Facebook.